This is usually the time of year that Amy & I start attending
Chicago Rush
games... yes, we have to get our
Arena Football League
(AFL) fix.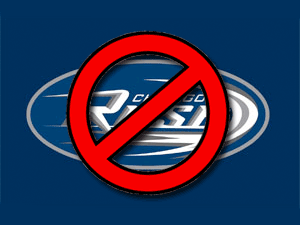 We've been attending games since 2001, and have pretty much seen every home game that the Rush has played in their 8 year existence. In fact, last season we even took the plunge and
bought season tickets
.
Things are different in 2009.
To start, there are no Chicago Rush games this year. In fact, there are no AFL games at all! Back in December, the
AFL cancelled the 2009 season
, citing financial difficulties and a desire to rework their economic model.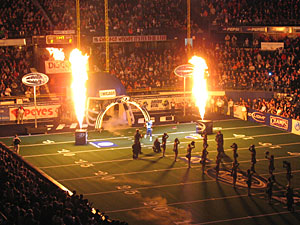 No fire-fueled introductions this season!
There were numerous factors that went into this, including incompetent owners, craptastic league leadership, spending that didn't equal revenues,
drastic rule changes
, and the overall perspective that Arena Football was "
the next big thing
", but in reality, it remained a niche sport in both attendance and ratings. Despite
high profile ownership
from folks associated with the NFL,
television contracts on NBC
and
ESPN
, and positive buzz, the truth of the matter is that the finances didn't support the dream.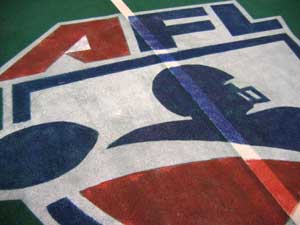 Is this the end of the AFL?
The league and owners -- in my opinion -- refused to acknowledge that the AFL was always going to be what it was known for in its 22-year existence... a niche offshoot of football that had localized appeal. There's nothing wrong with that, as long as your financial model and decision making supports that outcome. The AFL's current practices didn't, and thus they found themselves in a hole... or at least, that's what we were led to believe.
The public relations side of the Arena Football League has been stating that they will return in 2010 with a new season, though the realists question if that will happen. If it does, however, there will no doubt be a lot of changes, most likely being some teams not making the return.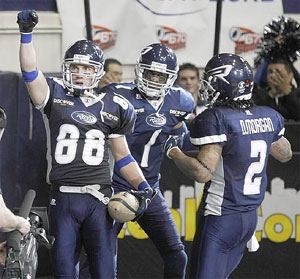 Say good-bye to the navy blue this year
(Source: ChicagoTribune.com)
As far as our local Chicago Rush, they were actually in pretty good shape overall, led by, what I personally believe, were a bunch of guys who may have not been the flashiest or high-profile, but at least had some common sense. The Rush have been near the top of the league as far as attendance, averaging 15,800+ last year at the Allstate Arena. Their owners noted that they
would have broke even in a few years
, which is a far cry from a majority of teams in the AFL. Chicago actually was not in favor of canceling the 2009 season, but in some heated backroom conversation, switched their vote in December and joined the majority to pull the plug. No one really knows what prompted them to jump sides.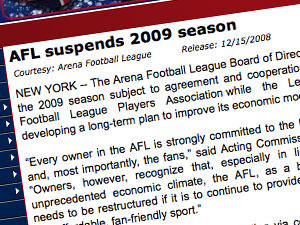 Gee, thanks Arena League!
So, in the meantime, the league is supposed to be spending 2009 reworking their financial plan, which no doubt involves working with the player's union to lower salaries and perhaps the shift to a
single-entity structure
(like
Major League Soccer
), among other things. We've had no solid word regarding how that is all going. One thing the AFL continues to excel at is an amazingly bad relationship with its fans and the press. If it wasn't for fan-organized news gathering organizations like
ArenaFan
or
support for local teams
, I think folks would have given up a long time ago. (Granted, it helped that Chicago's team was
actually good
, winning
ArenaBowl XX in 2006
.)
Where does that put Amy and I? Well, the Rush
refunded our season ticket money
last year, and did so rather quickly. Coaches, front office staff, and players pretty much were all laid off, minus a few here and there. (Taking a look at the
Rush's website
, it would appear the
web folks got the ax
!) When/if the league does return, it's going to be interesting to see how teams rebuild with new faces both on and off the field.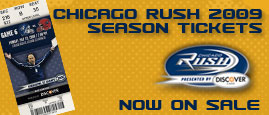 These banner ads were quickly pulled from the Rush website
However, while most AFL fans are out of luck, we here in Chicago have a rather unique opportunity. You see, while the Arena Football League may be considered the top-tier indoor league, gaining the highest profile and salaries, it by far isn't the only game in town. There are other indoor leagues as well, typically playing with slightly different rulesets. Heck, the AFL's minor league system,
AF2
, is alive and well in 2009, with 25 teams set to play in small markets.
There are AF2 teams north of us in Wisconsin (
Milwaukee Iron
), over on the Mississippi (
Quad City Steamwheelers
), and downstate in Peoria (
Peoria Pirates
). There's also an
Indoor Football League
(IFL) team in Bloomington (
Bloomington Extreme
).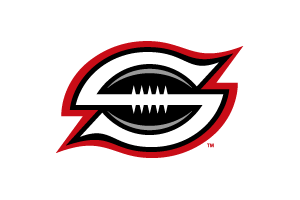 We looked at these options of different types of indoor ball, but the first alternate we're going to check out is only
20 miles further west
of where we were seeing Rush games... up I-90 to the Sears Centre in Hoffman Estates. There the 3-year-old
Chicago Slaughter
of the
Continental Indoor Football League
(CIFL) are kicking off their season on Friday.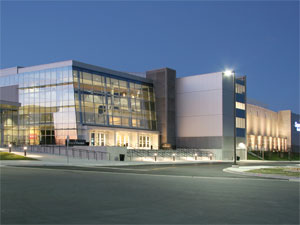 Sears Centre
(Source: SearsCentre.com)
Why the interest? Well, unlike other cities that had AFL teams, Chicago has a CIFL presence as well... which means that for
Rush players looking for local work
(including our quarterback), it wasn't very hard for them to find roster spots on the Slaughter. For example, here's some familiar faces, thanks to the
Chicago Examiner
:
Russ Michna (QB): Took over Rush's starting QB slot and posted an 8-3 record in 2008
DeJuan Alfonzo (LB/WR): Spent seven seasons with the Rush and holds the franchise record for career tackles
Reggie Gray (WR): Member of Rush's practice squad in 2008
Dennison Robinson (DB): 2008 AFL Defensive Player of the Year, led Rush with 13 INTs
Khreem Smith (DE): Played in 10 games for the Rush in 2008
The abundance of Rush talent on the Slaughter rosters has prompted fans on various message boards to nickname the team as the "Slush".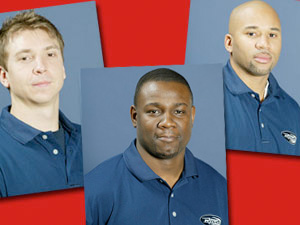 3 of the Rush players now on the Slaughter:
Russ Michna, Dennison Robinson, & DeJuan Alfonzo
(Source: ChicagoRush.com)
The
Sears Centre
is a substantially smaller arena, opened in 2006 primarily as a concert venue, but also host to minor league indoor soccer, lacrosse, hockey, and believe it or not,
lingerie football
. Its configured indoor seating capacity is 9,500 (Allstate Arena, where the Rush play, maxes out around 16,000). According to the Slaughter's own ticket sales marketing materials, the team averaged 5,642 people per game in 2008, which is about 10,000 less than the Rush, so we have to set our expectations pretty low there. It seems the the Sears Centre is probably on par with Grand Rapids' Van Andel Arena -- where we've seen
many Chicago Rush/Grand Rapids Rampage games
-- with seating on only 3 sides of the field.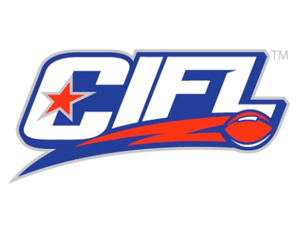 From what I've been able to tell, the primary difference in the rules of the CIFL vs. the AFL has to do with the number of players on the field. The AFL had 8 per team, while the CIFL restricts that to just 7, which I would imagine opens things up a bit given that there is space to move. There are also no nets in the endzones like the AFL (this is part of the Arena Football League's patented game system, thus why no other indoor league uses them other than AF2).
The season kicks off on Friday with the Slaughter taking on the
Milwaukee Bonecrushers
. While we still have hope that the Chicago Rush will return to play next year,
being a fan of alternative football
, we're curious to check out this unique opportunity. As for whether we'll support it long-term, that's to be determined. Stay tuned!