After a couple hours
spent on the mini golf course
, nothing beats stopping over at
Jack's Bar-B-Que
for a nice rib dinner. Too bad I didn't get one of those.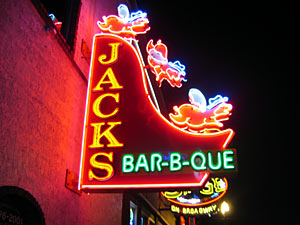 Back to Jack's
We drove downtown and parked, walking on over to the Broadway location of our favorite eatery. Since Jack's was on summer hours, they were open rather late (unlike when we visited last November, when they weren't even open at this location at all, forcing us to drive to the Trinity Lane location).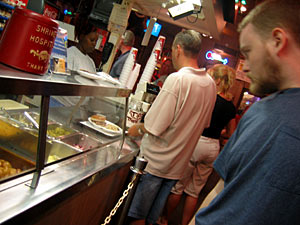 Darren ponders his food order
Downtown was rather busy. In fact, it was alive with activity! After all, wherever there are music and bars, there is action.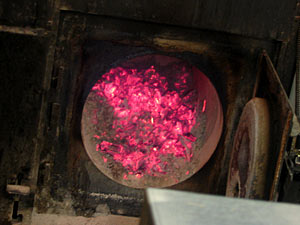 The wood in the fire makes it good!
We all ordered ribs, but unfortunately, for most of us, these didn't taste like the same
Jack's barbecue
wonderfulness that we have come to know and love.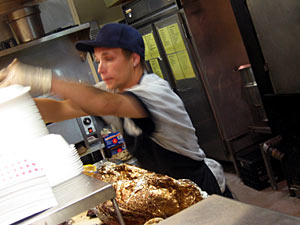 Jack's employee quickly prepares our ribs
I would probably best describe the rib items as "cartilage sticks." Yeah, kinda gross. This was the first time I was pretty ticked off at a Jack's experience. But Amy seemed to have great ribs. Go figure.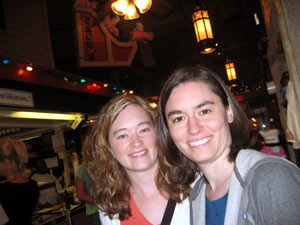 Amy and Christy await the food!
This was also the first time we've ever eaten on the 1st floor at the Broadway location (Jack owns the building and it has 2 floors plus an outdoor eating area). And it was hoppin'! Lots of young, beautiful folks coming in to grab a bite before trying to find an attractive member of the opposite sex to interact with. Or so it seemed.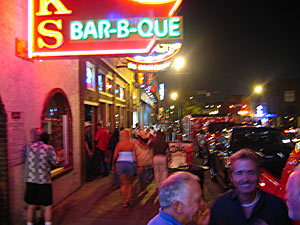 Broadway Ave. is hoppin'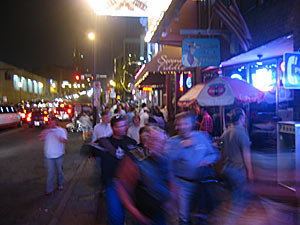 It's a busy night!
When we returned to the parked car, we caught up with someone in the lot a few spots over who was, well, let's just say that he was acting out an episode of
Seinfeld
and leave it at that.
What a way to end the day.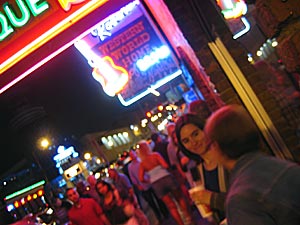 A drunk lady talks to Christy
(Oh, I should also mention that before heading to bed I started reading the novelization of
Star Wars: Episode III: Revenge of the Sith
. If you seen the movie already, it's a good compliment so far.)