Being the crazy AFL fans that we are, Amy and I drove down this past Sunday to see our
Chicago Rush
take on the
Indiana Firebirds
in Indianapolis, IN. The plan was to drive down early on Sunday, watch the game, and drive back the same day.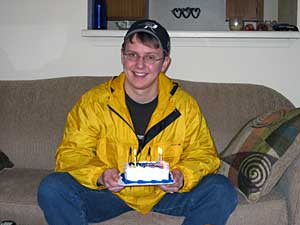 Free cake for Steve!
My sister lives in Indy, working as an Athletic Trainer, so we hooked up with her and her friend Patrick to attend the game. My birthday was also on Tuesday, so my loving sis gave me a nice little cake to celebrate before the game.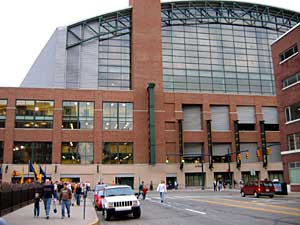 Gameday outside Conseco Fieldhouse
We'd never been to the
Conseco Fieldhouse
before. Back when I was in college at
Taylor
(Upland, IN), Indy was still stuck with
Market Square Arena
. Needless to say, the Fieldshouse was a big improvement. I really liked the way it looked from the outside. Plus, the location downtown was nice (and parking was WAY cheap!).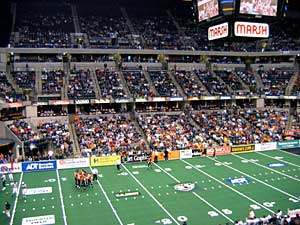 12,189 people in attendance
The interior of the building was also very impressive. Amy and I are used to the 2nd tier look of
Allstate Arena
-- it's not the main stadium in Chicago and it pretty much shows that. However, it's cozy and ideal for the AFL. I liked the high ceiling in Conseco and the glass windows at the top.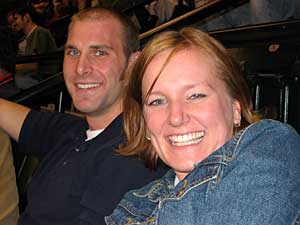 Patrick and Karen
My sister joined us for the game; she had attended one or two games previously in Chicago when the league schedule was summer-based. Her friend Patrick, however, didn't seem so excited to be there. And frankly, it was a boring game to watch. At least Indy had a mascot to keep the fans entertained.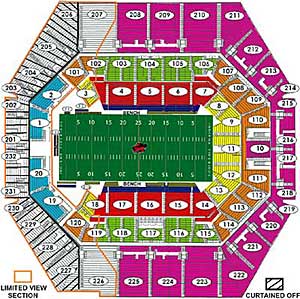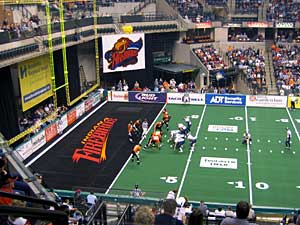 Note the lack of space behind this endzone
One unique element of the Fieldhouse is the fact that it has a little challenge in shoehorning in an AFL field. Because of the configuration, the field is actually located off-center, with fans sitting behind one endzone, and absolutely no room behind the other endzone. Very odd.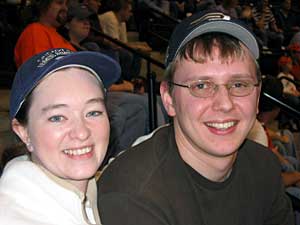 Amy & Steve (I look a little wasted)
Amy and I enjoyed the game, but we felt bad that the people we brought didn't like it as much. Indiana started new QB Adrian McPherson, who seemed to screw up with clock management at the end of the game. In fact, it was probably the reason we won 49-46.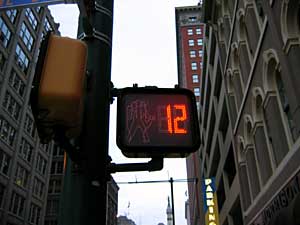 The street crossing signs count down -- interesting!
After the game, we all walked to
Rock Bottom Brewery
to grab a bite to eat before hitting the road. Our waiter was kinda messed up. Plus, they didn't have home-brewed root beer there. However, the rest of the meal was tasty.
We said our good-byes and trekked back to Chicago. It felt good to have won after driving all that way to see the game!