Back to Jack's
Day: 2
We decided to drop by the Nashville Visitors Center, which is located downtown in... where else, the
Gaylord Entertainment Center
(or GEC, for short). We picked up some more information about touristy things and then got a little hungry.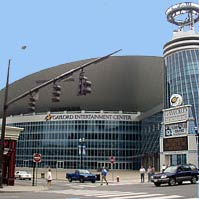 GEC: Home of the Nashville Predators... and more Gaylord stuff
Where do you go in downtown Nashville for lunch? Why,
Jack's Bar-B-Que
, of course! (
Download the theme song
, sung by Jack himself -- this is Music City USA, after all!). Finally, one of the main reasons we traveled to Nashville -- the aroma, the taste, and environment -- give me those ribs! We ordered two plates of ribs, tried every sauce Jack offered, and just enjoyed the experience. At one point we thought we actually saw Jack in the office there, but it turned out to be just some other old guy. I was all ready to get his autograph too. Maybe next time!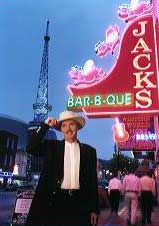 Jack and the flying pigs sign (with the GEC in the background)
For those interested in knowing more about this wonderful food destination... the place was started by a guy named Jack Cawthon, who was a food service guy (a man after my own heart!). He had a catering company started in 1976 that tailored to Nashville's social functions. People liked his special recipe for "good Nashville barbecue" and desired it to be more available. So he opened a restaurant: Jack's Bar-B-Que.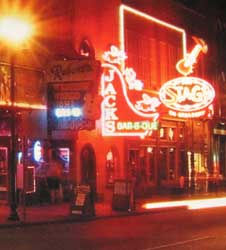 Jack's at night
It started in a tiny concrete building at First Avenue and Broadway, overlooking Riverfront Park. This area of Nashville was in massive decline, as all the businesses were moving to the suburbs. Many people attribute Jack's Bar-B-Que as starting the first revitalization of the area. The free standing building poured out a steady stream of hickory-flavored smoke, drawing people from all over to stop by on their visit to Nashville. Before you know it, positive buzz spread, and Jack's was featured in the
New York Times
, the
Los Angeles Times
, and
USA Today
.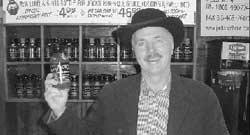 "Hi, I'm Jack. I can't sing, but buy my sauces!"
Around this time, the city was finally getting their act together and wanted to revitialize the area. New businesses, restaurants, and clubs were moving onto the street. So how did these governmental folks repay Jack for helping to start area growth? They revoked his lease and gave it to the Hard Rock Cafe to build one of their crappy chain restaurants
on his location
. So then Jack was without a home.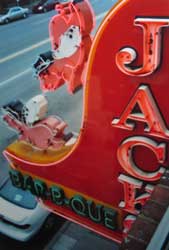 Viewing the sign from the 2nd floor
The city basically told him that pigs would fly before he would reopen again. However, the media, public opinion, and his customers were behind him. Through many unique circumstances, Jack was able to secure a building just down the street from his old location, steps away from the famous
Ryman Auditorium
. This time around he purchased the whole structure. Everyone was rooting for Jack to survive this transition. Well, he's come away with flying colors (he even opened a second location on the north side of town). And that is why you see flying pigs on Jack's electric sign!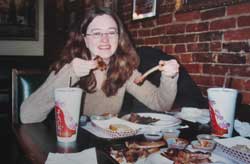 Amy loves Jack's Bar-B-Que
I don't need to go into how great these ribs are... I
did that
when I described our Smoky Mountain trip. Trust me, Jack's is worth the stop next time you are in Nashville.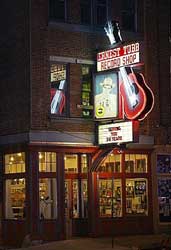 Ernest Tubb Record Shop
After lunch we browsed some stores around town, including the popular
Ernest Tubb Record Shop
. Forget chain music stores... if you want something that is in the country or bluegrass genre, this is the place to go. Very cool.
Story Navigation:
Previous - 1 2 3 4 5 6 7 8 9 10 11 12 13 14 15 16 17 - Next