3rd Place: Carson Pirie Scott

It's no surprise that once again
Carson Pirie Scott
sits at the bottom of the heap when it comes to State Street Christmas windows in downtown Chicago. It's like they don't even try.
Last year they presented a lame set of 5 windows
themed to FAO Schwarz, with whom they had a marketing partnership. This year those decorated windows are down to only 4, promoting something called
Club Libby Lu
.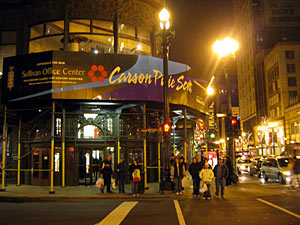 Carson Pirie Scott building under renovation
At first I thought that maybe Carson's wasn't doing any decorating because the exterior of their building is undergoing a series of rennovations. Thus, scaffolding and baracades blocked access to the windows, which were often dirty and not very appealing. I don't know if that's officially the case, as the presentation was just so bad, it's hard to know if it was intentional or not! The Carson's building features a landmark-status wrought-iron front, designed by acclaimed architect
Louis Sullivan
.

Apparently, Club Libby Lu is a mall-based store concept that was purchased by Carson Pirie Scott's parent company (
Saks Incorporated
) on May 6, 2003. The store is targeted at pre-teen girls "who receive the 'royal' treatment as they enter the pre-teen fantasyland for shopping, birthday parties, and special events." Beyond the mall-based locations, Saks is opening stores inside some of their department stores, like Carson Pirie Scott -- hence the goofy window display promoting such things.
The Club Libby Lu stores are organized into four shopping zones, and I think the four windows at Carson's were devoted to each of these zones. I'm not sure about that, but hey, they weren't very helpful in their presentation.
---
Window #1: The Style Studio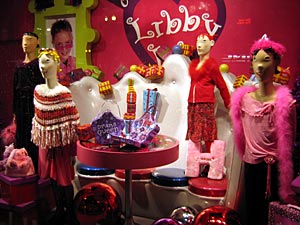 Showcasing make-overs, dress-up apparel, shoes, and accessories
---
Window #2: Libby's Bedroom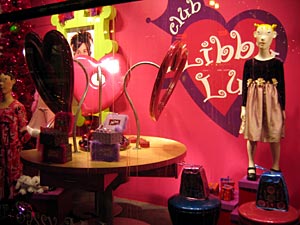 Featuring bedroom accessories, casual wear, and sleepwear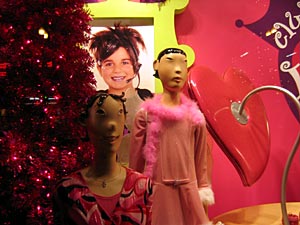 What's with the crazy girl in the background with the nutty hair and the Time-Life operator headset?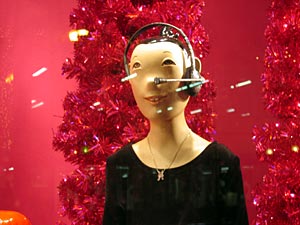 Apparently, the headset thing is a great fashion statement in the bedroom!
---
Window #3: Jewelry Box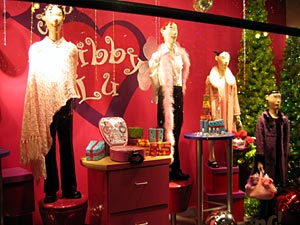 Home of the charm shop and jewelry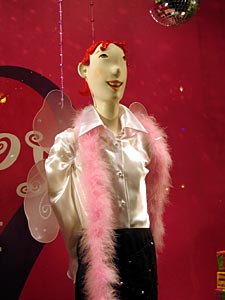 Victoria's Secret isn't the only place that can feature angel's wings in fashion!
---
Window #4: Libby's Laboratory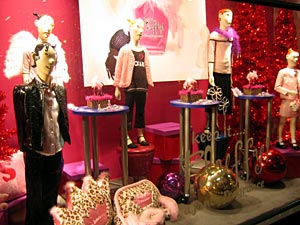 In case you need beauty and bath products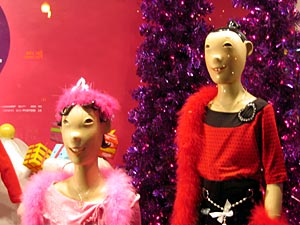 What's with the Asian mannequins with buck teeth?
---
I really don't know what the heck is going on at Carson Pirie Scott. This is an incredibly poor performance for State Street windows at Christmastime. I mean, here's a hint when designing holiday windows -- make sure they actually tie into winter, Christmas, or the holiday season, for pete's sake! Carson Pirie Scott did no such thing. Thank goodness we didn't spend much time here.
Coming up next: Will Marshall Field's move up from their disappointing 2nd Place finish last year? Find out as State Street Showdown 2004 continues...