I'm writing to you from my hotel room here in Kansas City, MO. This is the final city location for the 2006 collection of Children's Pastors' Conferences that Kidology is involved in assisting. Why am I here? I think I summed it up rather well at the beginning of the Live from Orlando series, so in case you are curious, you can get up to speed
here
.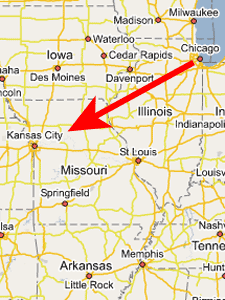 Kansas City is southwest of Chicago, in case you didn't know!
For those of you who
followed my adventures last year
, it's pretty well established that
I hate Kansas City
. It just doesn't have the excitement found in Anaheim and Orlando, that's for sure. Nevertheless, I'm here.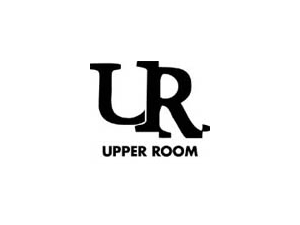 Logo for the Upper Room service
My day started out well enough. Amy and I ushered at the special service we attend at
church
... the Upper Room (I
wrote about it last year
). It's an alternate service hosted in the church gym with kickin' worship and a very intimate environment. As an experiment, they floor layout was changed a bit today, allowing folks to sit on 3 sides of the stage, rather than just in front of it. It was unique... and I liked that.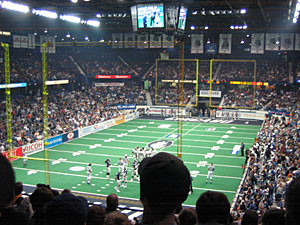 Rush vs. Saber Cats at Allstate Arena
When booking tickets to fly down here to KC, I asked the Kidology team to give me one of the latest flights possible out of Chicago. Why? So I could see the home Chicago Rush game before heading out. And boy, was it a good game! Basically, we played the San Jose Saber Cats... and pretty much stunk it up the whole game. Until a couple of turnovers brought us back in the hunt and we actually had a chance to win.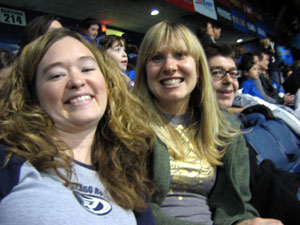 Amy, Leah, and Patrick
Amy and I brought our friends Patrick and Leah to the game to experience Arena Football for the first time. (You may remember them as being the unfortunate souls who got to experience
Jones Turkey & Gravy
and
Pumpkin Pie
sodas last December). They got to experience why we love this sport so much.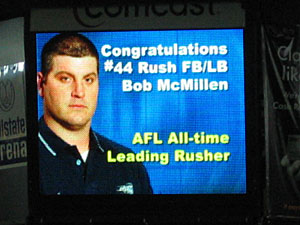 New AFL record by Bob... sorta
There were spectacular plays. Amazing hits. Awesome sacks. Great interceptions. Wonderful crowd interaction. Plus, our own Bob McMillen set the AFL's all-time leading rushing record with 1,384 yards. In a league that is driven by passing, that's a huge accomplishment. Unfortunately, just 2 plays later, McMillen had an 8 yard loss and surrendered the record. Looks like he'll be getting that back at the next game.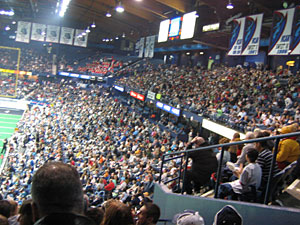 Not a bad crowd for Sunday afternoon... 12,950
In the end, it came down to the final seconds. The score was tied. On the last play of regulation, the Rush had a safety on San Jose, seemingly ending the game. The refs didn't see it that way and we went into overtime. San Jose had first possession. We picked off the ball. Eventually scored a TD. Won the game. Great ending!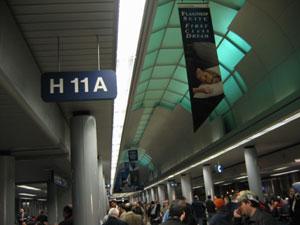 Gate H11... A?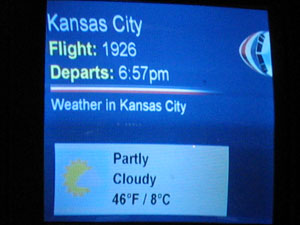 Looks OK in KC
After the game, it wasn't long before I was off to O'Hare to board an American Airlines flight down to Kansas City. I flew solo; my boss Karl is flying in Monday. Thankfully, the flight was pretty non-eventful, though our plane was quite packed with people.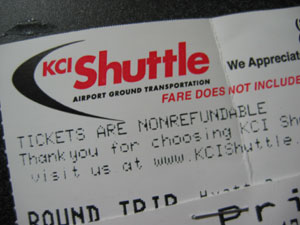 Try to avoid KCI Shuttle!
Upon arriving at the Kansas City airport, I had to take the
infamous KCI Shuttle
for a 30 minute drive to our downtown hotel, the Hyatt Crown Center (one of two hotels hosting the conference at this complex). Thankfully, the weather here is not too bad...
no snow
!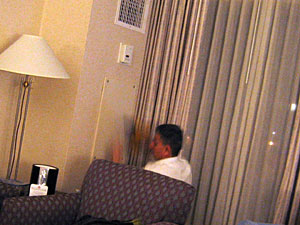 Engineer takes apart our vent thingy
Unfortunately, I've already had to call upon hotel maintenance to fix the climate control in our hotel room. It seems that it wasn't really responding to the temperature controls. Thankfully, after a visit from a building engineer, everything seems to be working pretty well now.
Anyway, I'm heading to bed. More conference fun awaits tomorrow!