On Sunday, September 26,
CNA Plaza
got some national exposure thanks to NBC's
Sunday Night Football
.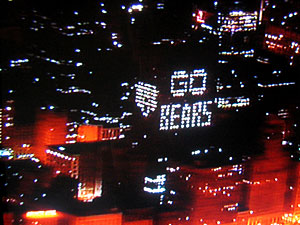 "Go Bears" on CNA Plaza during the football game
(Source: NBC/Steve's TV + Digital Camera)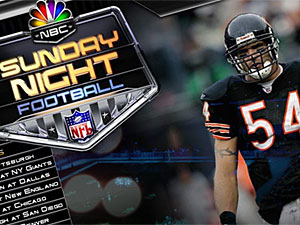 During that game, the
Chicago Bears
hosted the
Seattle Seahawks
at
Soldier Field
. Chicago ended up killing this fellow
NFC team
by the score of 37-6.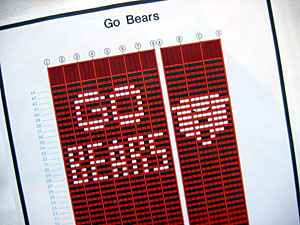 Exterior plan for "Go Bears" overlay
Not to miss a promotional beat, the folks at CNA ordered that "Go Bears" window signage be lit up that night, no doubt with the hope that they got some television exposure. This was the same lighting scheme that was
previously used in January
when the Bears were in the
NFL
playoffs. And yes, my Dad -- via his role as a building carpenter -- was involved in making this happen.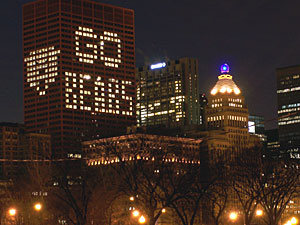 "Go Bears" window message
(January 2006)
Sure enough, toward the beginning of the 3rd quarter, as the broadcast was returning from a commercial break, CNA Plaza was featured in an aerial shot taken by a blimp or helicopter. Nothing was said about the building itself, but it was sandwiched between pieces of video that showed someone making a Chicago-style pizza. "
Mr. Traded for Rabbit
" Al Michaels read the sponsors before the CNA shot, and then he and John Madden discussed what kind of pizza each of them liked.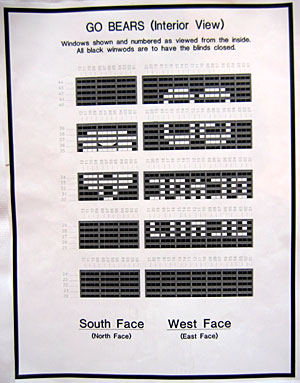 Interior view of plan; note how everything is backwards
Here's a transcript of how it appeared, complete with screenshots from the television broadcast:
---

[Return from commercial]



(Source: NBC/Steve's TV + Digital Camera)


Al: NBC's Sunday Night Football brought to you by refreshingly smooth Bud Light, Always worth it...



(Source: NBC/Steve's TV + Digital Camera)


Al: ...by Toyota, choose any direction as long as it's forward. Toyota. Moving forward...



(Source: NBC/Steve's TV + Digital Camera)


Al: ...by Comcast, watch more high def movies from Comcast, where HD movies live...



(Source: NBC/Steve's TV + Digital Camera)


Al: ...and by Levis, the original. Find your style at LevisStore.com.



(Source: NBC/Steve's TV + Digital Camera)


Al: Postgame snack. What do you think, John?

[dissolve to aerial shot of CNA Plaza, moving away from the building]



Hey, it's CNA Plaza!
(Source: NBC/Steve's TV + Digital Camera)


John: Are you a thin crust or a deep dish guy?

Al: Deep dish, but hold the vegetables. I don't want that green stuff in it.



Aerial camera pulls back, revealing more of Michigan Ave.
(Source: NBC/Steve's TV + Digital Camera)


John: Oh, so you're a Chicago pizza rather than a New York pizza guy.

Al: Absolutely. A thousand percent.

John: Basically, I'm a New York pizza guy.

Al: Really?

John: Yeah, I think so.

[dissolve to football field]



(Source: NBC/Steve's TV + Digital Camera)


Al: Thin crust? First and goal.

---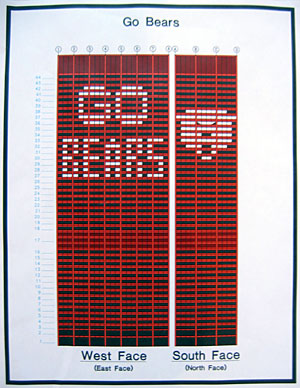 Full view of external plan for lighting
It looks like CNA got their money's worth with that little bit of aerial coverage.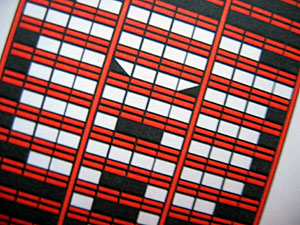 Note how the plan called for "angled eyes"
Dad provided me with the plans for the "Go Bears" signage and as I reviewed them in more detail, I noticed some peculiar. The "eyes" in the Bears logo that appeared on the north and south sides of the building had angles to them, making them more fierce. I don't think I've seen that before.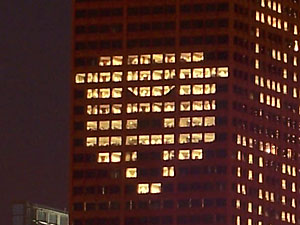 Closeup of implementation of "angled eyes"
(January 2006)
Following up on this observation, Dad informed me that they use foamboard cutouts to get those angled shapes in the windows. Currently, it's the only design that calls for this small bit of "cheating"... though when the building showed the Bulls logo back in the 1990s this technique was also used.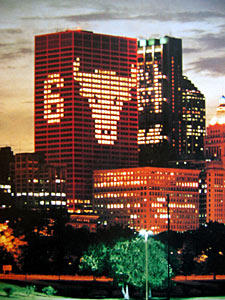 The Bulls logo used angled window elements as well in 1998
(Source: CNA poster)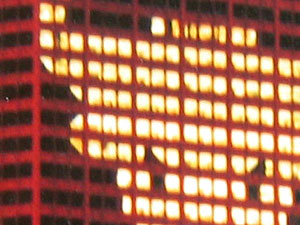 Closeup of angled Bulls window design
(Source: CNA poster)
Apparently CNA also has some other "secret" devices used to pull these displays off. Something called a
winwod
!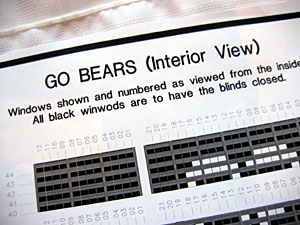 Ooops!
(OK, OK, it's a typo. No worries. Just found it a little funny!
)
Other featured CNA Plaza displays have included...
Thanks again to my friends at
CNA
for allowing me to share a little more "behind the scenes" information regarding these very cool lighted window messages!