As a person who does a lot of writing, both
professionally
and
just for fun
, it bugs me when words aren't spelled properly... or are intentionally spelled incorrectly.
Web 2.0
companies abuse this to this death.
Flickr
?
Digg
?
Del.icio.us
?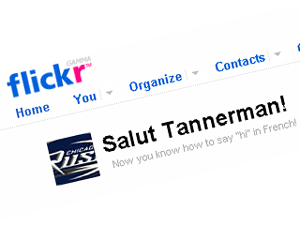 Someone failed spelling... and got rich
Yeah, we get it. You couldn't get the real spelling for your domain name, so you thought, "well, let's pretend we are hip and spell it differently." I had a freelance client once that had this problem...
BiznessBriefs.com
. They aren't around anymore. Of course, I was part of the problem when I consulted on the
naming of Joomp.com
... also gone.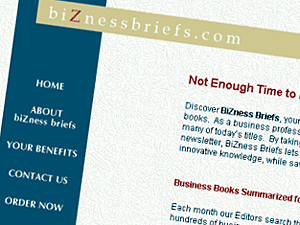 Good ole BiznessBriefs.com
Working in the children's ministry field, I see it all the time with the way the phrase "kids" is spelled. I cannot stand the intentional misspelling as "kidz". It's just wrong. It seems to be as abundant as children's pastors wearing denim shirts. But hey, I'm just a Web guy, so what do I know?
So you'd think I could escape this personal pet peeve when Amy and I attended an
Arena Football
game last Saturday night. Nope. Our beloved
Chicago Rush
were taking on the visiting
Nashville Kats
. Yes, Kats. With a "K". Grrrr. But it wasn't just the opposing team that had spelling issues. It appears that the Chicago Rush staff in charge of the scoreboard had issues spelling simple things like city names: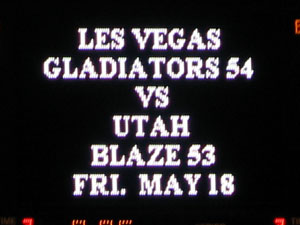 Who is Les?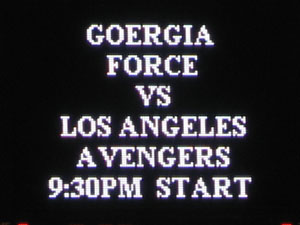 Someone should 'Force' a correction!
Anyway, off my little soapbox. Let's just say that the spelling was wrong. And as such, the Rush played all wrong. This was a game they could have won, but they didn't. They squandered it away as they fell to a team in their own division (bad), losing 44-27. Ouch. Granted our star player Bobby Sippio was out with an injury, but this was a totally winnable game with our other players.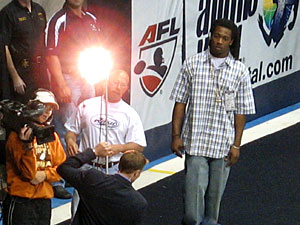 Bobby Sippio sidelined during this game
The Rush have seemed to finally catch the eye of the Chicago marketplace, as many non-Monday night games have been sellouts this season. The game we attended was the same way, which was unfortunate, because when the sellout was announced, Amy and I had not yet bought tickets.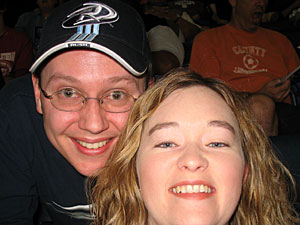 Behind-Each-Other Seating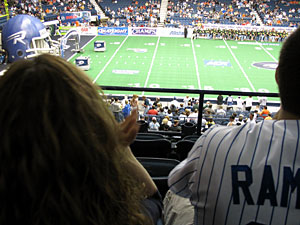 Our view... not bad!
But my amazing wife did some nice detective work and tracked us down some seats... not next to each other, but one in front of the other. It worked pretty well. Plus I got to share some words with a drunk guy, so how can you go wrong?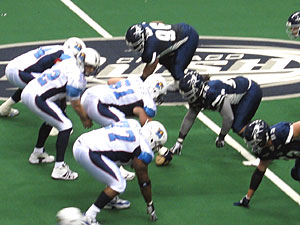 I still don't like the blue-on-blue color scheme
I think the game also illustrated clearly the pros/cons of the AFL's change in the substitution rules this season. Before, the AFL played "Ironman" football, with most players lining up on both offense and defense, playing both ways. This season, you are allowed to substitute offensive and defensive players more often, removing that tendency to go with two-way players.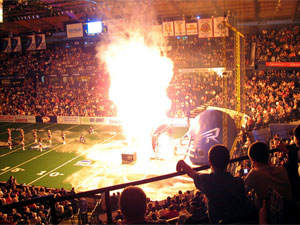 TannerWorld Junction member "FriarTuck" also attended the game...
... and shot this awesome photo during the introductions!
(Source: kristof.smugmug.com)
We've been blessed in Chicago having a league-leading player like Bobby Sippo make a zillion touchdowns for us, but when he goes down, do you have other players who can step up and fill the void? Not if you've stacked your roster with so many specialists. And, of course, your opposition has specialists as well, so they have a talent advantage on you. I've said it before, and I'll say it again... the substitution rules stink... and John Elway should die.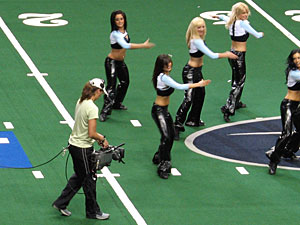 Female Cameraman, er, Cameraperson
That said, Chicago just played so poorly that it was embarrassing. Heck, folks started doing "
The Wave
" at the game. We don't do "The Wave" in Chicago! So when you are losing, you pay attention to other stuff. Like for example, the fact that the broadcast folks had a female cameraman working the floor of the game. I'm not sexist (I don't think), but given my background in TV/radio production, this was very odd to see. Typically those kind of jobs are dealt out to big guys because of the weight of the mobile equipment... and those guys tend to look kinda creepy. Not so in this case.
Which leads me to the only redeeming part of the game... the ability to take photos of the advertising sideboards on the other side of the stadium! You will recall we
started this analysis during the Colorado game
a few weeks ago by taking a look at the more expensive ad locations on the north side of the field.
This week we flip to the south side of the field, which is the area of sideboards NOT seen on television. Typically, these are cheaper than the other side because of that.
---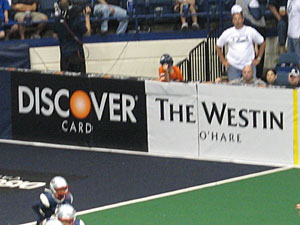 Discover Card
Picking up where we left off, it's yet another advertisement for the
Discover Card
. I've run out of things to say about Discover Card. Would anyone like to chime in?
The Westin O'Hare
The
Westin O'Hare
is located right near the Allstate Arena, which of course is in the flightpath of O'Hare International Airport. That's one reason why our stadium has wood beams in the ceiling... soundproofing.
---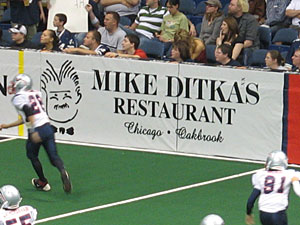 Mike Ditka's Restaurant
It's no secret that Mike Ditka is a partial owner of the Chicago Rush. And he's a beloved figure here in Chicago. Well, he has two restaurants... one
downtown
and one in the western suburbs... known mostly for their steaks.
---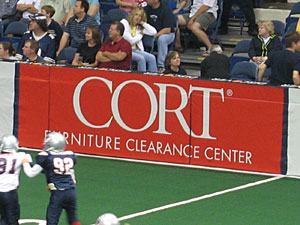 CORT Furniture Clearance Center
CORT
specializes in rental furniture, along with relocation and previously leased items. They are owned by Berkshire Hathaway, so I guess they can't be all bad, right?
---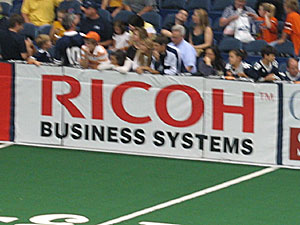 RICOH Business Systems
Need a copier or printer? Fax machine? Give
RICOH
a call. Did you know that they are a Japanese company that was established in 1936?
---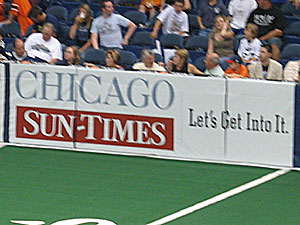 Chicago Sun-Times
The
Chicago Sun-Times
is Chicago's "other" paper next to the
Chicago Tribune
. Historically, the
Trib
is more "white collar," while the
Sun-Times
is "blue collar." While the Tribune Company was figuring out how to botch up journalism, the
Sun-Times
covered the Rush pretty much from Day 1.
---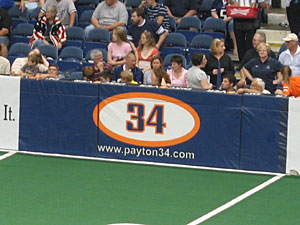 Walter and Connie Payton Foundation
Walter Payton
was a Chicago football legend. Beyond that, he was part of the original group that brought an AFL franchise back to Chicago. (Yes,
we had a team before
-- one of the original 4 AFL teams!) Unfortunately, he passed away before seeing the Rush play. Players wear his number on the back of their helmets.
---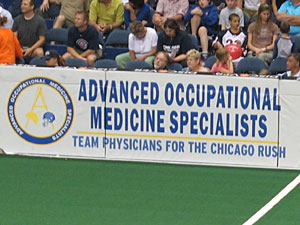 Advanced Occupational Medicine Specialists
From their website: "
Advanced Occupational Medicine Specialists
is an Occupational and Sports Medicine practice that uniquely incorporates primary care and sports medicine trained physicians, physical therapists, occupational therapists and athletic trainers. Our clinics provide medical services to over 400 companies in the Chicagoland area, as well as, nine sports medicine affiliations including the 2006 Arena Bowl Champions Chicago Rush professional arena football team." Need a job,
sis
?
---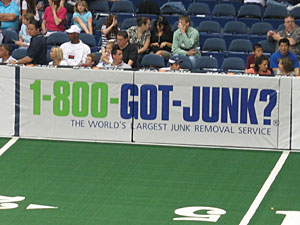 1-800-GOT JUNK?
With the way the Rush played their game, I think I need to call
1-800-GOT JUNK?
and have them haul the team away. Yuck.
---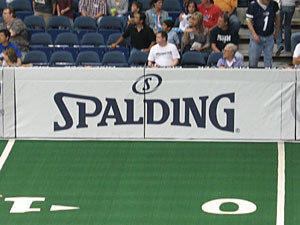 Spalding
Spalding
makes the official football for the AFL. You know, the one with the goofy blue stripe on it. And yes, they were responsible for the
pink one on Mother's Day
.
---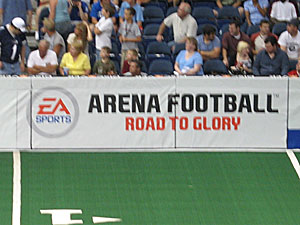 EA Sports Arena Football: Road to Glory
Believe it or not, this is the 2nd AFL video game to come out in the last couple of years.
Arena Football: Road to Glory
is the sequel to the original EA Sports game. Since I don't have a gaming system, I've never played them... but sure do want to!
---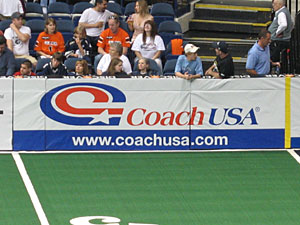 Coach USA
I'm pretty sure that
Coach USA
provides some charter services for the team. Ironically, they are owned by a company from Scotland.
---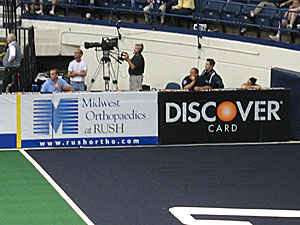 Midwest Orthopaedics at Rush
Apparently,
Midwest Orthopaedics at Rush
also provide sports medicine and related orthopaedic services to the Chicago Rush. Wow, two sports medicine sponsors... we must get really banged up!
Discover Card
So, running out of ideas, I googled the phrase "tell me something about Discover Card" and the first result was from Amazon.com pointing to a
user-made reading list
including
Moby-Dick
and
The Pillow Book of Sei Shonagon
. Mmmm, OK.
---
And before we wrap up this overview, there's one more banner hanging in the northwest corner of the playing area...
---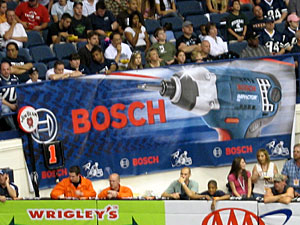 Bosch
Bosch
has been a sponsor for a couple of years.
Just like last year
, they still do a promotion for their Power Box. Though this time around, you bowl with the box to knock down inflatable pins.
---
Here's hoping that in the future we can talk more about the awesome game the Rush player and less about stuff we tried to focus on when our team got clobbered!