It's Election Day here in the good ole U.S. of A... and specifically in Chicago, it's a hopping place. The Democratic candidate -- Barack Obama, who is also one of Illinois' senators -- has setup his rally location downtown in Grant Park. That means lots of closed streets, increased security, and folks lining up to get in to the ticket-only event. Chicago officials are predicting quite a huge crowd!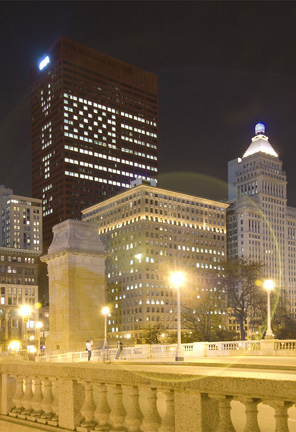 "VOTE" on CNA Plaza
(Source: CNA)
Given the media coverage and how an event like this thrusts Chicago onto the world's stage for a little while,
CNA Plaza
is getting into the act with one of their famed lighted window messages!
Featuring the American Flag on the West and East Sides of the building, this election-themed message also showcases the word "VOTE" on the North and South faces. You may recall that
CNA
has used the American Flag design previously for a
9/11 Remembrance
as well as to celebrate
Independence Day
in July. The inclusion of the "VOTE" phrase is new, however.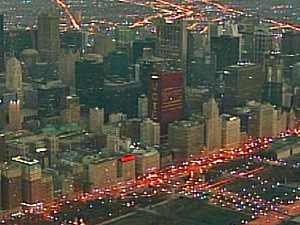 "AirFox was over downtown Chicago as the sun came up
- you can see the CNA building (the red one) with the word
VOTE running down the side, and an American Flag on the front.
Grant Park is in the foreground."
(Source: MyFoxChicago.com)
My Dad -- a building carpenter at CNA Plaza -- and his boss Neal are heavily involved in making these messages come to life on the building. This Election Day message is running November 3-4. Typically, photos of CNA Plaza's messages are taken from the Buckingham Fountain area of Grant Park. However, the fountain is currently under a rehabilitation project. Additionally, the security and limited access to Grant Park forced a slightly different perspective of the above photo.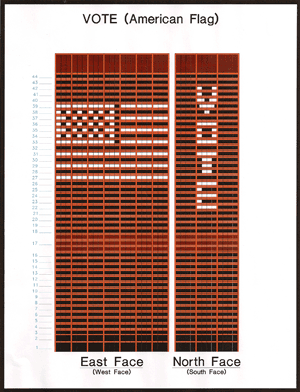 Here's the official building lighting plan
(Source: CNA)
I've included a map below authored by the
Chicago Tribune
that shows the location for the Obama rally. It's been modified to show the relationship between Grant Park and CNA Plaza.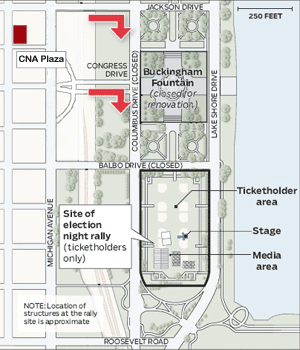 Original Source: Chicago Tribune
Modified by Steve Tanner
You can probably get a better feel for why CNA decided to light up the building for this event... it's going to be very visible (perhaps you'll even see it on national television!) So far, the local coverage of the building has been solid. Our local CBS O&O (WBBM) noted, "Very nicely done there, CNA insurance folks" and "The vote and the flag there on the CNA Building -- big… very, very nicely done.". Later, our Fox station (WFLD) mentioned, "The CNA Building is totally cool. Our hats off to those guys over there…"
Thanks again to the folks at
CNA
-- as well as my Dad and his boss Neal -- for providing a information about the Election Day lighted window message.
For more building images, visit our...
CNA Plaza Lighted Window Message Archive