A
2005 photo
I took at Disney's California Adventure — in the rain — was recently featured on the web show
Communicore Weekly
.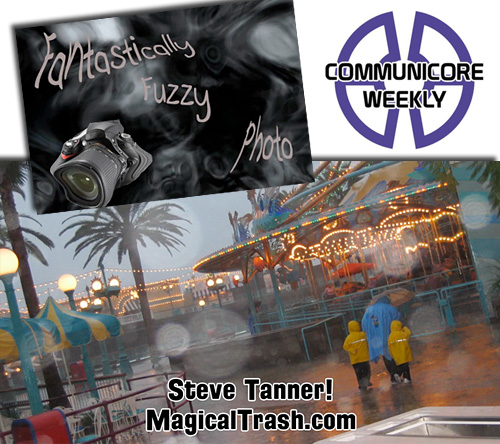 Steve's Winning "Fuzzy Photo"
Named after the section of Epcot that used to sit right behind Spaceship Earth (now known by the name Innoventions), the show is hosted by George Taylor (of
Imaginerding.com
) and Jeff Heimbuch (of
MiceChat.com
), two Disneyphiles I've gotten to know via Twitter thanks to
my passion for Disney trash cans
.
The show features multiple news and trivia segments, each with a catchy theme song.* The hosts perform voiceover on what is basically a photo slideshow.* During Show #3, they put a call out for something called "Fantastically Fuzzy Photos" — basically, blurry shots taken at Disney theme parks.
Watch Communicore Weekly
I submitted a photo (which included an old red DCA trash can) and was featured on Show #4 as a winner… of what, I have no idea!
If you have any interest in Disney at all,
Communicore Weekly
is edited tightly and provides a quick, but informative, glimpse into the current world of Disney stuff.*
Check it out!
View "Steve's Fuzzy Photo on Communicore Weekly" on SteveandAmySly.com