Disqualified: Macy's

Well, given that there are no other competitors in this year's
State Street Showdown
, you are stuck with Macy's. But per official
State Street Showdown
policy, we won't be awarding them 1st Place. Rather, they are disqualified. Why? Because they are Macy's. Enough said. Don't like it? Get your own
State Street Showdown
!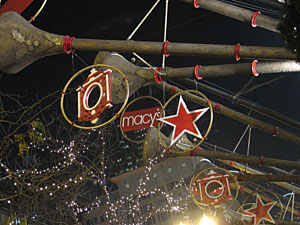 Look, trumpets with red things on them
It's been another rough year for Macy's on State Street. As has been publicly acknowledged by the company, those Marshall Field's stores that converted over to Macy's haven't been doing so well, with the biggest blight on the record being the State Street store, which folks have seemingly avoided in droves. While the rest of the new Macy's empire seems to be assimilating according to plan, State Street continues to be the renegade.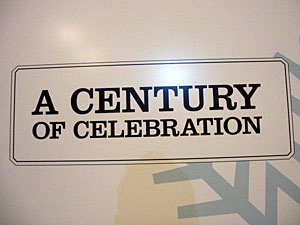 It's a fake holiday celebration!
Recently, those at Macy's, Inc. (which is what Federated Department Stores rebranded as when they converted all the stores over) have basically acknowledged that they are going to give up on trying to lure Marshall Field's shoppers back to the store and instead will focus on "new, younger customers." Sounds like a sound business strategy... not. Given that Macy's is far below par in service and quality when compared to Field's, I guess the new strategy is to go after the Target customer.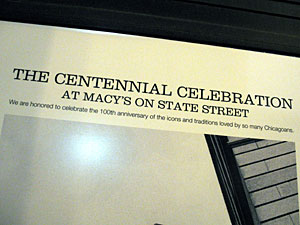 The Centennial Celebration
at Macy's on State Street

We are honored to celebrate the 100th anniversary
of the icons and traditions loved by so many Chicagoans.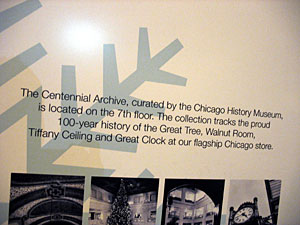 The Centennial Archive, curated by the Chicago History Museum,
is located on the 7th floor. The collection tracks the proud
100-year history of the Great Tree, Walnut Room, Tiffany
Ceiling and Great Clock at our flagship Chicago store.
For this Christmas season, Macy's tried to play the "we're celebrating the history of Chicago" card by pulling together a fake centential celebration of The Great Tree in the Walnut Room, while also tying it to other icons, like The Great Clock (which is not really 100 years old, but apparently, no one told them that). This was denoted with some signage on the outside of the building: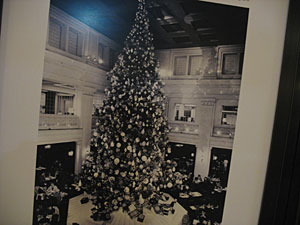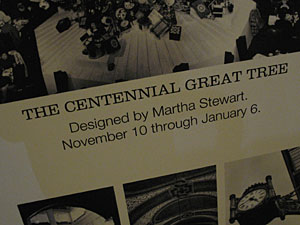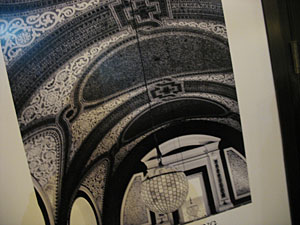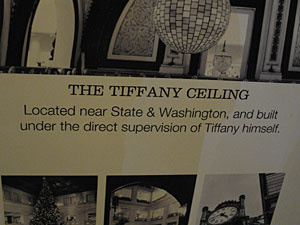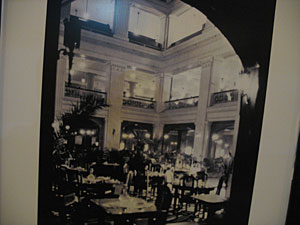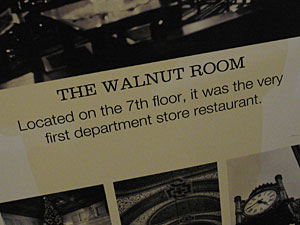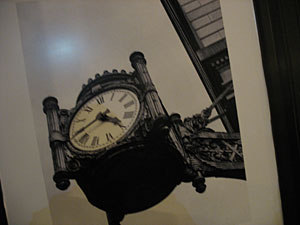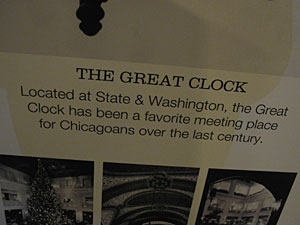 The Great Tree is located inside The Walnut Room, a historical restaurant inside Field's/Macy's. We've eaten there a few times during past Christmases, as it's sort of a Chicago Christmas tradition. Amy grabbed lunch there this year with a friend and didn't have much positive to say about the experience. I'll let her follow up later, but it was obvious that corners had been cut.
Additional, free from her exclusive deal with Kmart, Martha Stewart designed the ornaments for his year's Great Tree. Nothing quite says "this is Chicago" like a Martha Stewart tree. Thanks Macy's!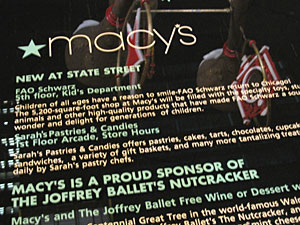 Macy's holiday offerings list
It seems that "quality" is a big buzzword that is used quite a bit by Marshall Field's supporters like myself when we compare the old vs. the new at Macy's. This isn't just in merchandising, or service, or food experience, but it seems to also extend to actual professionalism when it comes to signage. Case in point: The advertising on the outside of the building denoting all of Macy's holiday offerings. You see this displayed near the holiday windows, so all the shoppers will catch it as they walk by. The use of it is nothing new; Field's did it for years.
However, being a picky writer at times, especially when it comes to glaring copywriting errors, I can't believe some of the descriptions that showed up during this year's window displays.
First, let's get to the actual text as transcribed off the windows:
---

NEW AT STATE STREET

FAO Schwarz
5th floor, Kid's Department

Children of all ages have a reason to smile-FAO Schwarz return to Chicago! The 5,200-square-foot shop at Macy's will be filled with the specialty toys, stuffed animals and other high-quality products that have made FAO Schwarz a source of wonder and delight for generations of children.

Sarah's Pastries & Candies
1st Floor Arcade, Store Hours

Sarah's Pastries & Candies offers pastries, cakes, tarts, chocolates, cupcakes, gourmet sandwiches, a variety of gift baskets, and many more tantalizing treats all baked daily by Sarah's pastry chefs.

MACY'S IS A PROUD SPONSOR OF
THE JOFFREY BALLET'S NUTCRACKER

Macy's and The Joffrey Ballet Free Wine or Dessert with Meal Package

Dine under the Centennial Great Tree in the world-famous Walnut Room at Macy's on State Street after seeing The Joffrey Ballet's The Nutcracker, and you'll receive your choice of a glass of house wine or piece of Frango mint cheese cake free with the purchase of an entree. Just show your Joffrey Ballet Nutcracker ticket stub. Valid on performance date only.

TRADITIONS

40th Annual Animated Holiday Windows featuring The Joffrey Ballet's The Nutcracker
On display until January 6th, 2008

Story begins at the corner of State and Randolph St.

The Centennial Great Tree at Macy's on State Street
7th floor Walnut Room on display until January 6th, 2008

The Centennial Great Tree in the historic Walnut Room features a dazzling display of more than 15,000 lights, plus thousand of kugel ornaments and a spectacular tree topper all designed by Martha Stewart. All of the ornaments featured can be found for purchase in the 7th floor Martha Stewart shop.

---
Noting this text, let's take a look at how it was implemented.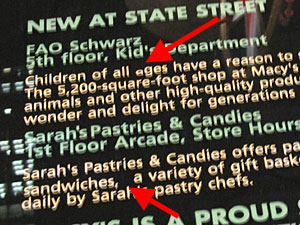 Spacing issues anyone?
In the above image, you'll note that the decal for the word "ages" is messed up. This was actually put on this way, as no human could touch it to mess it up after application. You'll also note extra spaces in some of the text descriptions. Where was the quality control on this?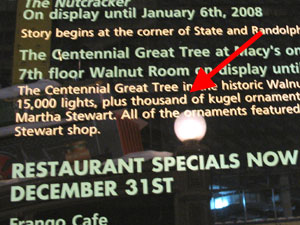 Spelling issues anyone?
Moving on, we have an actual misspelling. Instead of reading "plus thousand of kugel ornaments" it SHOULD read "plus thousands of kugel ornaments".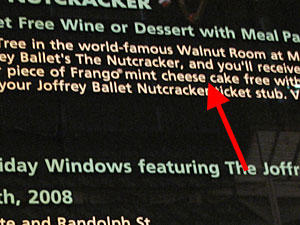 Eli's is based on your town, for pete's sake!
It's spelled "cheesecake"!
And how do you spell "cheesecake"? Apparently, it's two words according to Macy's.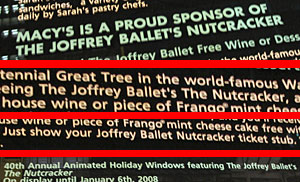 What a mess
Finally, there's a matter of consistency, both in how to refer to something, how to format something, and how to continually reference it in the same document. In the above collage, you'll note that we have various approaches to describe
The Nutcracker
, whether that be in italics, or not, or the word "The" appearing before it, or whether Joffrey Ballet is actually "The" Joffrey Ballet or not. It's just a mess. They made sure the little registered trademark symbol was on the word "Frango" but apparently couldn't actually spend time dealing with proofreading stuff.
I know it's all nit-picky items, but it's a combination of stuff like this that has many Chicagoans ticked off. You see a drop in quality, a "declining by degrees" so to speak. It's not apparent all at once, but taken together, it's like comparing Six Flags to the Magic Kingdom.
Finally, regarding the windows themselves. This year,
Macy's reduced the number of animated windows from 11 to 9
to tell a convoluted version of "The Nutcracker". I guess those last 2 windows really pushed the profit margin into the toilet. The last two windows? Oh, they are dedicated to the history of The Great Tree and Martha Stewart. Nice.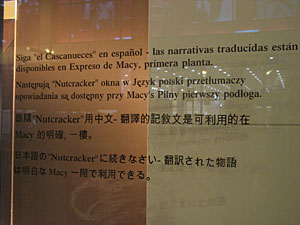 We're too lazy to translate outside...
Additionally, Amy and I noticed a message on every window written in 4 languages including Spanish. When translated, that message read, "Follow the "Nutcracker" in Spanish - translated narratives are available at Macy Express, first floor". So let me get this straight. If I want to follow along, I have to go to your customer service desk?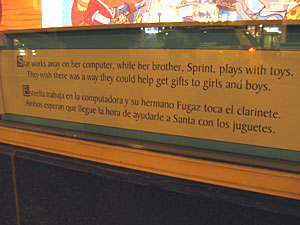 ... even though Sears proved it was possible in 2003-4
Never mind the fact that you printed this message on every single window and could have easily provided the translation there instead...
just like Sears did years ago
! That was just stupid.
So, let's get this over with...
---
Window #1
The party guests had begun to arrive
in the Walnut Room. Clara greeting them all,
"Merry Christmas!"
To Clara, Godfather Drosselmeyer gave
the most special gift--a wooden Nutcracker.
"Thank You! He's wonderful!"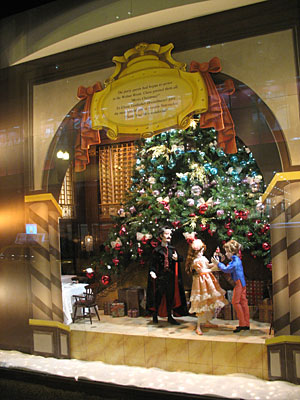 This is what the windows all looked like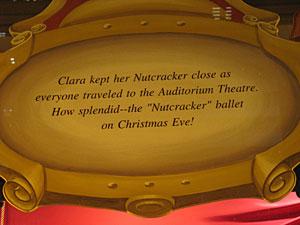 An example of the narrative, which was posted above each window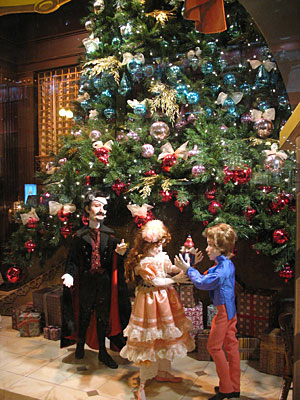 Pirate man hanging out at Christmas tree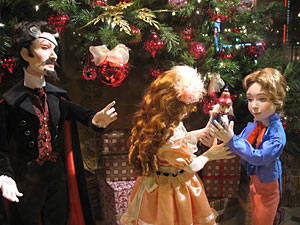 Why do we always have this creepy looking kids?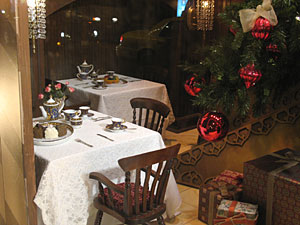 Set is designed to look like the Walnut Room
(Oh goody, the Walnut Room... because this story could ONLY take place there, right? "Hi, we're Macy's... see, we care about Chicago!")
---
Window #2
Clara kept her Nutcracker close as
everyone traveled to the Auditorium Theatre.
How splendid--the "Nutcracker" ballet
on Christmas Eve!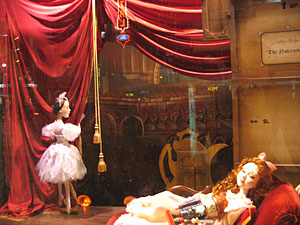 Why would this girl be hanging out backstage?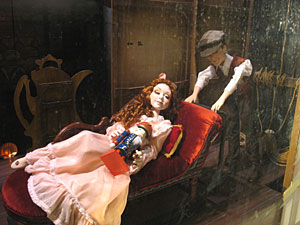 Sleeping with a doll... no one had an issue with this?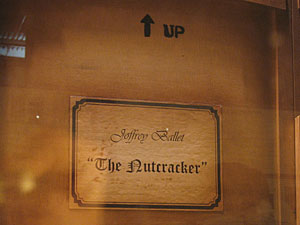 See, it's the Joffrey Ballet! Local! Local!
(This window is an obvious weak attempt to "localize" the story by referring to such Chicago destinations as the
Auditorium Theatre
and the
Joffrey Ballet
.)
---
Window #3
As she gently napped, Clara's dreams
sprang to life, complete with creatures stirring
beneath the tree. Mice! "Nutcracker, save me
from these menacing mice!"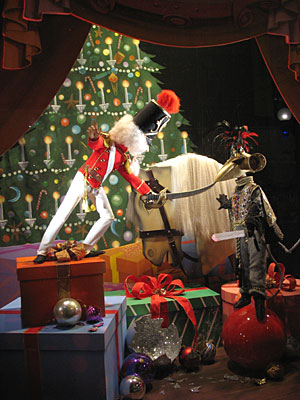 Nutcracker vs. Mouse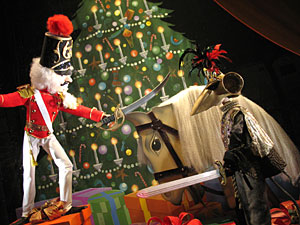 The mouse has armor
(It might just be my appreciation for
Battlestar Galactica
, but why does this scene seem like a Soldier vs. a Cylon Mouse?)
---
Window #4
The battle cleared and cannon fire was
replaced by falling snow. "Where am I?", Clara
wondered. It was as if she had traveled into an
enchanted land and, indeed, she had.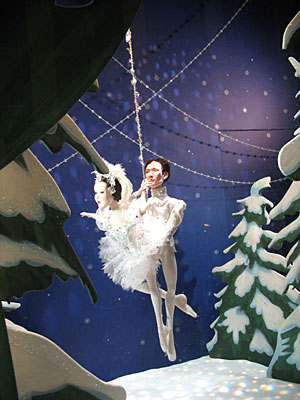 Let's fly around!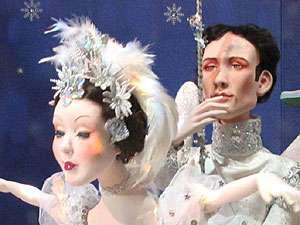 Again, why the creepy faces that scare kids?
(It's obvious that the window display folks have used the same design firm for many, many years, as the characters all look the same. All the time. Doesn't matter which story. How about some creativity?)
---
Window #5
One tempting concoction after
another danced before her--Arabian coffee,
Spanish chocolate and more.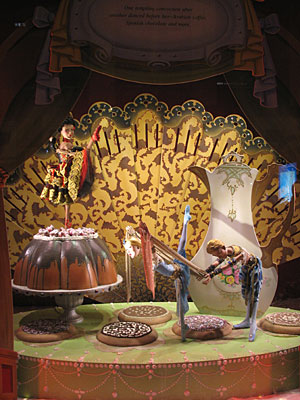 Arabian coffee & Spanish chocolate? Huh?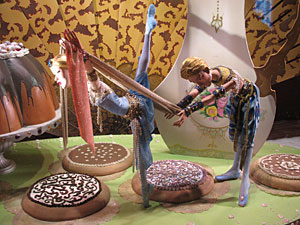 What do these items have to do with anything?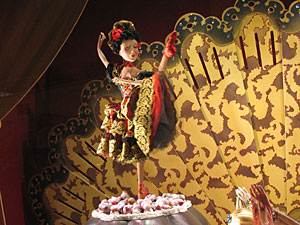 I'm totally lost
---
Window #6
Next came Mother Ginger and
her Polichinelles--Clara could barely
contain her delight!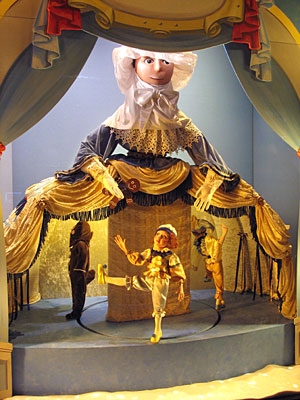 Let's dance under the creepy lady's dress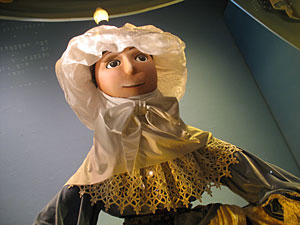 Why am I here?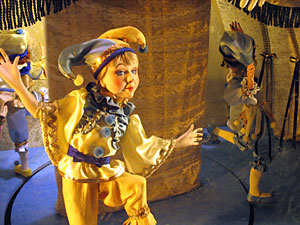 This is a Polichinelles?
(How would you like to explain what the heck a "Polichinelles" is to your kid?)
---
Window #7
In the midst of a winter fantasy,
a bouquet of beautiful flowers waltzed
across the stage.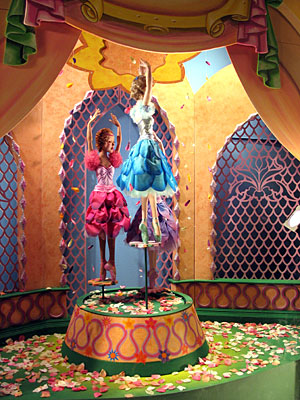 It's spinning, dancing people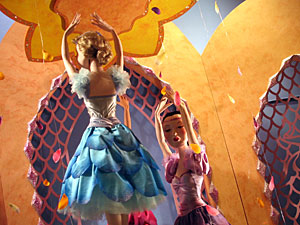 And that's pretty much it
---
Window #8
Of all the dances, perhaps the
"grand pas de deux" was her favorite.
Clara loved to see her Nutcracker Prince
dance with the Sugar Plum Fairy.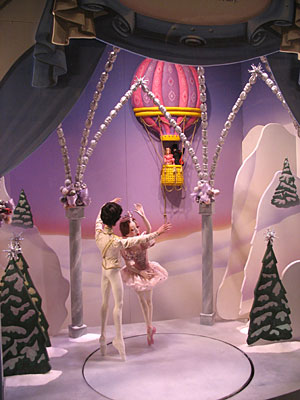 Let's dance in the snow!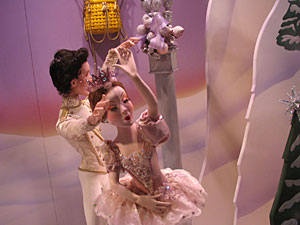 Boy, doesn't she look happy?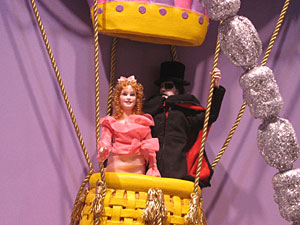 Who is this girl with the creepy guy?
---
Window #9
But all dreams--no matter how
wonderful--must come to an end. As clara
sailed across Chicago with Drosselmeyer,
she saw familiar sights and swore she
would remember this night forever.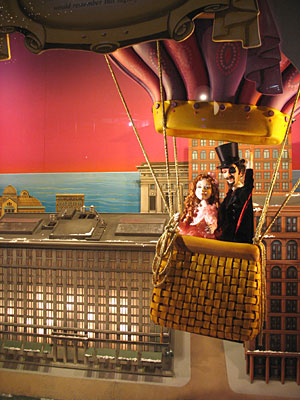 Flying with creepy guy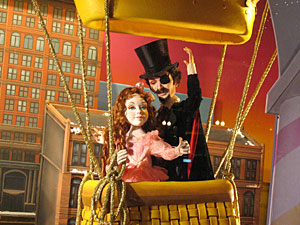 "This is fun!"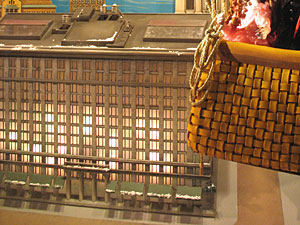 This is supposed to be the Field's building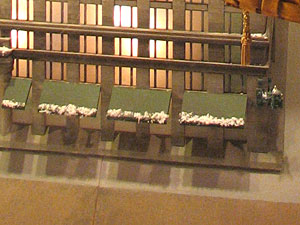 Even down to the old green awnings
(How insulting is it that this is supposed to be a Chicago reference with the Field's building included, yet shows the old green awnings that Field's used -- and which were replaced by Macy's black awnings with red communist stars!)
---
Windows #10-11
"You want more story? Oh sorry, we didn't put story in the last two windows, even though it's been that way for YEARS! But hey, check out the crap we threw in there instead to advertise our freakin' store!"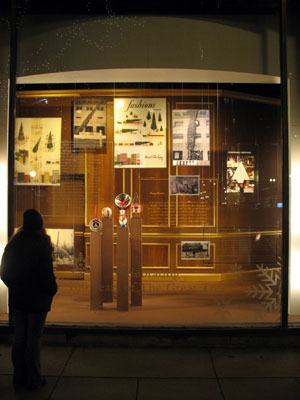 Amy in front of Window #10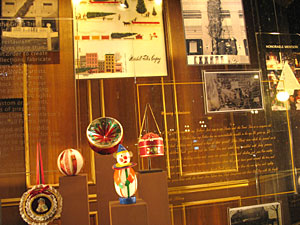 Apparently, this is supposed to be historical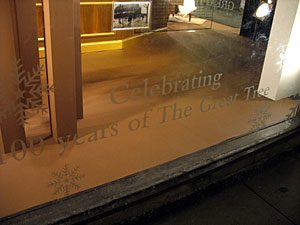 "Let's celebrate a tree!"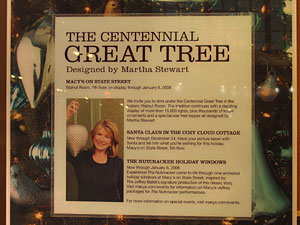 "I'm Martha Steward... look at my tree!"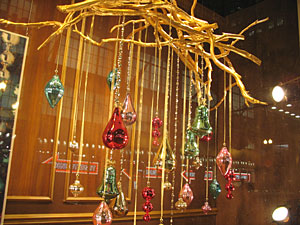 "I designed these ornaments!"
Of course, the fact that they left out Windows #10-11 was bad enough. Not that they are important. They just sit directly below one of the most famous shopping icons: The Great Clock...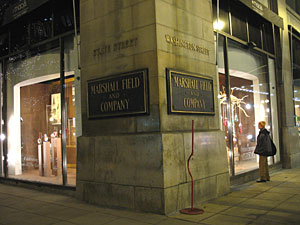 The corner of State & Washington, Windows #10-11...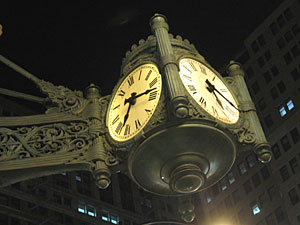 ... directly under The Great Clock
---
I hate Macy's.