After coming off a nice
win in Week 1 over the defending AFL champion San Jose SaberCats
, Week 2 brought us back to Allstate Arena to watch our
Chicago Rush
take on Jon "I'm a has-been rockstar but I think I'm a sports team owner" Bon Jovi's
Philadelphia Soul
.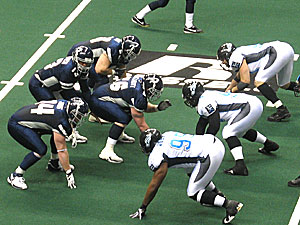 Rush vs. Soul
It was Allstate Hand-Clapper Day, something that seems to happen every year. They gave us these plastic hand-clappers to make noise during the game... because you're in good hands with Allstate... get it?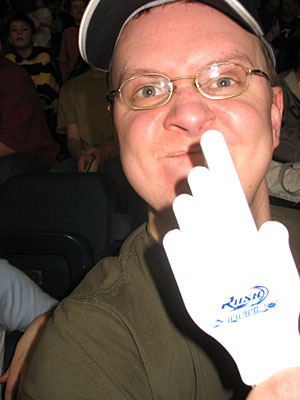 Thanks Allstate!
It was a Sunday noon game, which are always a challenge when it comes to attendance. This was a tradition started when the AFL was broadcast on NBC and they wanted games on Sunday afternoons just like NFL season. It doesn't always work that well in most markets, however.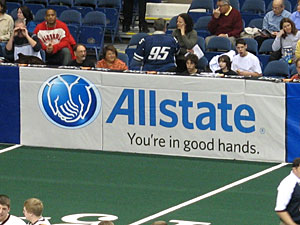 Allstate sideboard replaced last week's ad for "10,000 BC"
Maybe more AFL fans go to church vs. NFL fans... who knows? I have a feeling it has a lot to do with group ticket sales... Cub Scouts, church groups, etc. They obviously won't show if the time isn't right. Just a hunch.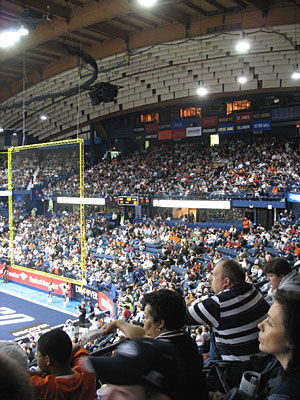 East Endzone attendance check:
Not bad!
Luckily, Chicago has consistently done a nice job of working to fill the stands for oddly timed games. In fact, the commissioner of the AFL, David Baker (i.e. Hagrid, because the guy is like this huge bulk of a man),
recently talked to some folks at Forbes
and mentioned that 6 teams in the AFL are profitable, with many being very close to that point.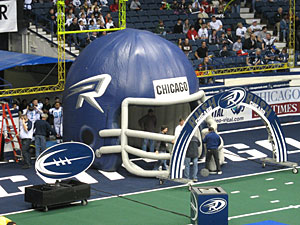 Getting setup for the pregame introductions
In the back of my mind, I sort of think Chicago is one of those in the profitable column. They aren't flashy nor do they have all the bells and whistles of other franchises, but they tend to be consistently solid. Again, a hunch.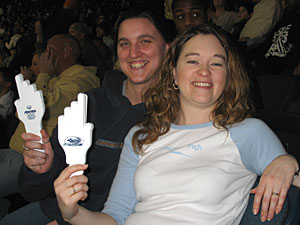 Jeb & Amy show off their hand-clappers
For reasons beyond their control, my parents were unable to join us for the game, so we brought our friend Jeb to enjoy the game with us. Jeb also works in the social services field, so her and Amy hit it off pretty well. We got to know her thanks to our involvement with our church's
former-Upper Room service
.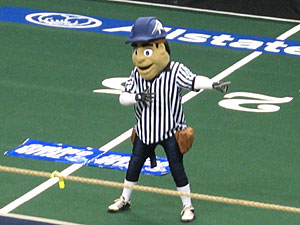 Our mascot, Grabowski, moderating a tug-of-war
The game itself was pretty painful to watch. We didn't play well at all. (We lost the cointoss... it was inevitable!) Our QB, who is like one of the oldest players in the league, threw the ball to the opposing team a few times. Maybe he's becoming colorblind or something. Not really sure. In any case, I sure was yelling at our team a lot.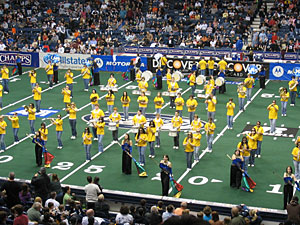 Fun halftime show: A high school marching band
Things were looking up after halftime when we held them to just a field goal at the end of the 2nd Half, and prevented them from scoring with their possession in the beginning of the 3rd (in Arena Football, if you can win the cointoss, and score on back-to-back possessions at the end of the 2nd/top of the 3rd, that's huge!) But alas, it was not to be. Philly ended up kicking our butts, 49-60. Ouch.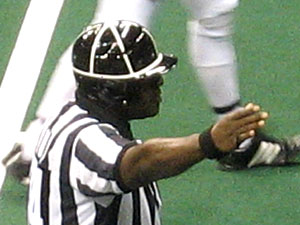 Ref wears hard protective helmet...
So, when our team doesn't do well, I look for other stuff to check out. Which is why I took a look at the hats the head ref was wearing. Instead of a simple black baseball-style hat, he was actually wearing what was more like a hard batter's helmet.
The AFL has been experimenting with various things this year to better protect players and officials from concussions and the like (something the NFL hasn't really done yet). For example, they are experimenting with a device nicknamed the "
Shockometer
" that helps to warn athletic trainers and staff regarding a players' condition after a hard hit. They've also been trying to protect the refs more, as on an AFL field, there really isn't a lot of room to avoid players. Thus the hard helmet.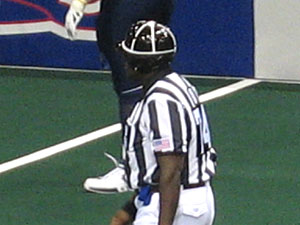 ... but those white stripes have got to go!
But frankly, the implementation we saw... well, it was lame. Don't put white stripes on it and make it look like a baseball hat. It's not. That just looks silly. Remove the stripes! Better yet, give him something more mobile, like a hockey-type mask/helmet, sort of like what was worn by the camera guys back when the XFL had them on the field behind the players.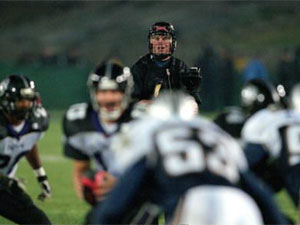 XFL: Note the camera guy in the back
(Source: ViewImages.com)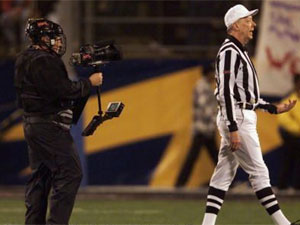 XFL: Camera guys were on the field in that league
(Source: ViewImages.com)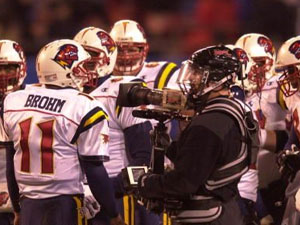 XFL: Note the helmet on the cameraman
(Source: ViewImages.com)
It's a great idea to protect the refs, but I think it can be done with a better look! I know there are probably issues with visibility and the like, so it's an idea that needs to be thought about a little. In the short term, just remove the white lines!