After a nice
win over the Colorado Crush in Week 4
, the
Chicago Rush
welcomed the
Arizona Rattlers
in Week 5.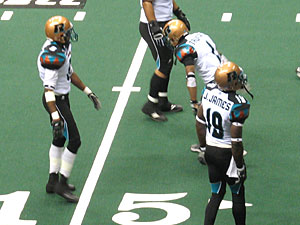 Arizona got new ugly uniforms in the offseason...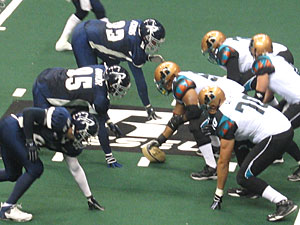 ... which didn't matter, because they still lost
This game was interesting for a couple reasons. The first is that Chicago's QB, Sherdrick Bonner, used to play for Arizona. But bigger than that, the Rattlers, who last season had a 4-12 record, guaranteed their 2008 season ticket holders a playoff berth... or they would give them their money back.
Video: 2008 Chicago Rush pregame introductions...
The theme? "One's Not Enough!"
Apparently, our Coach -- Mike Hohensee -- didn't think too highly of that... instead interpreting such a gimmick as a disgrace to the league. Thus, it was sort of on his mind to contribute another loss to Arizona.
In the end, the Rush did just that, beating Arizona 59-35. Nice.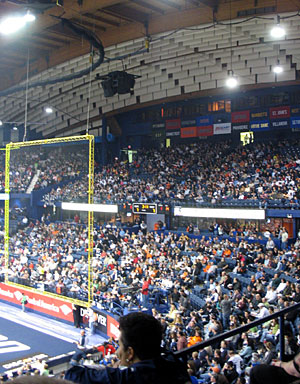 East Endzone attendance check:
Less than last week: 15,058 in attendance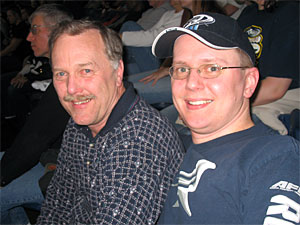 Dad & Steve
For this game Amy and I were supposed to be joined by my parents in our season ticket seats, but Mom got the flu, so it was just Dad this time around. We grabbed a bite to eat before the game, which was fun.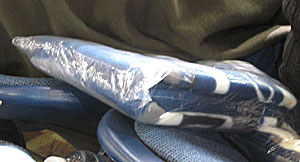 This is the free blanket we didn't get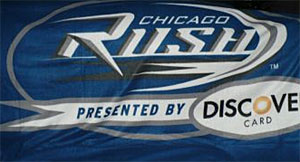 It looks like this opened up
Unfortunately, because the Rush are now opening the gates 90 minutes before kickoff (rather than 60), we missed out on the free promotional giveaway. In this case it was actually decent... a Rush sports blanket. That was quite a bummer to miss out on, but it's not the end of the world.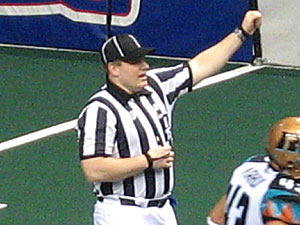 The ref with a normal hat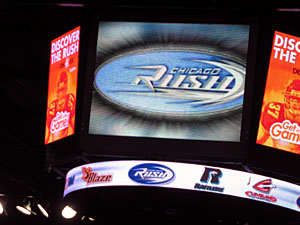 Just a photo of the scoreboard... no reason
Some notes from the game experience. First of all, remember the goofy referees
"batting helmet" hats we saw back in Week 2
? Tonight it seemed that the refs were back to the normal hats. What's up with that?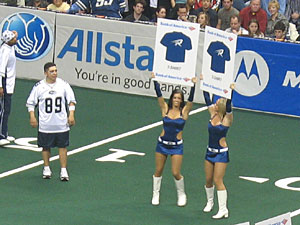 Amazingly bad Bank of America promotion
(It's been "rebooted" every game this season)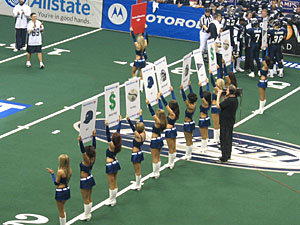 I miss LaSalle Bank already!
This is where I backup and talk about the Chicago Rush promotions in 2008. In short, they've been pretty lame. I'm not sure if this has to do with the sponsors, or perhaps a marketing staff with little imagination, but there's a lot of room for improvement.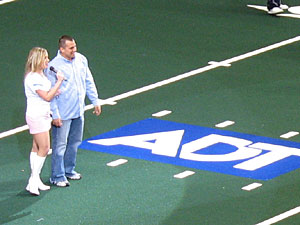 It's FakeBeth!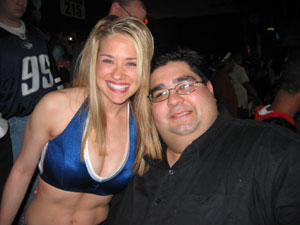 2006 Flashback: Emcee Beth & our friend Nick
Now, granted, they are without their traditional Promotions Emcee Beth (
you member Beth, right?
) She's currently pregnant and out of commission, so we've been stuck with what I like to term "FakeBeth". FakeBeth isn't really doing it for us, that's for sure.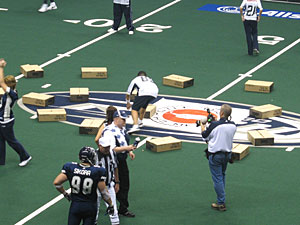 Goofy Chipotle promotion
It's like the promotions folks have about 1-3 "promotion ideas" in their minds and just interchange sponsors for each. There's been very little innovation, especially when compared to previous years of Rush games. It's all been capped off by probably one of the worst promotions in Rush history... TopGolf. We've written about this before... you know, the "let's watch as two people play videogame golf... while STANDING ON THE FIELD!" For this game, I actually got our section to start booing the promotion. It was awesome! (Though Amy wanted to disown me).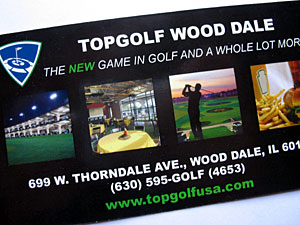 TopGolf... you got ripped off
I think next time I'm going to bring protest sign. It's not that I don't like the sponsors or whatnot. It's more that there's been very little thinking about how to properly promote them to the fans AND add to the game experience. I feel sorry for sponsor dollars wasted for pretty ineffective marketing.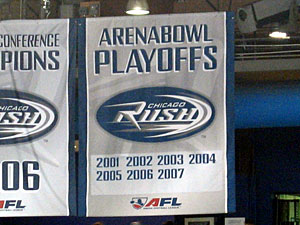 Does this look cheap... they glued on the years
to add more to this banner... rather than reprint
Anyway, another win is another win... which is a good thing. But there was just some excitement missing from the whole experience... and maybe from all the AFL games so far this season. There's a certain "ho-hum" factor at play that I can't really put my finger on.