Back in Week 8 of the
Arena Football
season, we caught a home game between the
Chicago Rush
and the
Grand Rapids Rampage
. The Rampage are our closest rival these days... just a few hours away. Amy and I have
made the trip
up there a
couple times
for away games.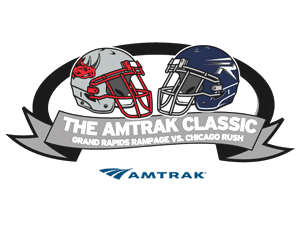 Seriously, it's called the "Amtrak Classic"
Well, it seems that our
government-owned passenger railroad monopoly
,
Amtrak
, was suckered into sponsoring a new made-up competition called the Amtrak Classic.
Back when it was announced in January
, I thought it was just some prank or funny name.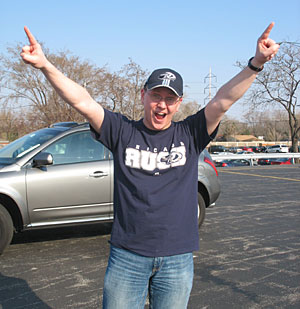 Steve celebrates another Rush win!
But sure enough, it was actually a name branded upon the home-and-home matchups between the Rush and Rampage. The idea behind the sponsorship was the because there was an Amtrak line that connected the two cities, it would be a great way to encourage fans to travel between them. There's also a trophy that is awarded to the winning team, so basically it's just trying to make more of a competition/rivalry between Grand Rapids and Chicago.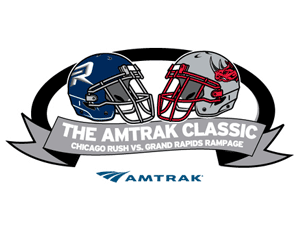 Note how the logo changes based on home/away teams
The first Amtrak Classic was back in March in Grand Rapids. Amy and I actually contemplated traveling to Michigan for the game... until we looked at Amtrak's train schedule. In order to make the scheduled game on a Friday night, we would have had to ride Amtrak's "Pere Marquette" line almost a complete day before the game, because the arrival time in Grand Rapids was actually AFTER the kickoff time for the game. Yeah, nice planning there! It didn't really matter, the Rush won that game 64-35. In fact, I think the entire reason for the promotion is just to help Grand Rapids' lagging attendance problems. The Rush away game was their highest attendance of the season... and that's not saying much!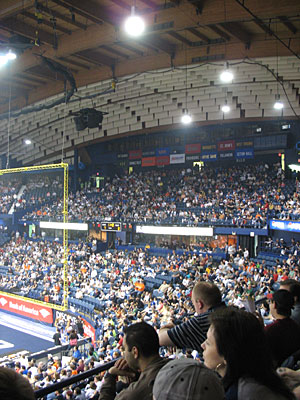 East Endzone attendance check:
A solid 16,112 in attendance!
Anyway, since they are in our division, we play Grand Rapids twice, thus they were in town for the 2nd half of the Amtrak Classic. I didn't check on the train arrival times for this game, but I felt sorry for anyone who had to figure out what train to take into
Union Station
, where to transfer to the
Blue Line
, and how to get from the
Rosemont station
to the
Allstate Arena
!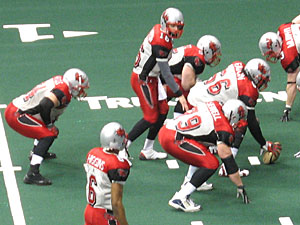 Not a huge fan of Grand Rapids' new uniforms
Prior to this season starting, Grand Rapids got their uniforms redesigned by
Russell Athletic
, continuing the downward spiral of AFL uniform design. It's like musical chairs the way the league signs uniform sponsors who insist on forcing teams to adapt the looks of the 3-4 templates they already have in existence. The Rush suffered this fate a few years back and it really downgraded their uniforms, namely with the fonts and the sidestriping. In any case, the Grand Rapids set wasn't as
horrendous as the new Arizona Rattlers duds
, but they didn't look all that great either.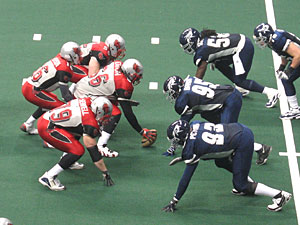 These two teams battled it out till the end
Anyway, as far as the game itself, it shouldn't have been close, but it actually was. This was surprising to all of us in attendance, which included Amy & I, as well as my parents. In the end it came down to some last-minute plays, giving the Rush a 55-52 win in front of 16,112 fans. Too close for comfort. It was a sloppy game by the Rush, that's for sure! In any case, it continued Chicago's dominance at home, moving our overall record to 6-2, with a 4-1 home record.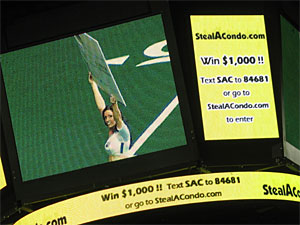 Creepfest: StealACondo.com promotions
One more note before I wrap this up. One of the Rush sponsors this season is
StealACondo.com
. If that name alone doesn't implicate sliminess, then you should check out their promotions! They don't actually revolve around selling of the product. Nope, you really don't know what StealACondo.com is about. What you do know is that if you text your phone number during the game to them, you have a chance to win $1,000 via random drawing.
Of course, no one is thinking about all the e-mail/phone number harvesting that's actually taking place during this promotion. It's not until you read the fine print of the promotion (via their website) that this nice little diddy shows up: "Name Removal Notification System: If you would like your name removed from Sponsor's mailing list, please call 1-800-507-2500 and your name will be removed within 60 days of the request." In other words, be prepared to get spammed! The whole thing just comes off as a little creepy. Not a high caliber sponsor by any means, but when you are an AFL team, you'll take any sponsorship money you can find!