On Friday, Amy & I sojourned to Hoffman Estates in order to see the
Chicago Slaughter
take on the
Milwaukee Bonecrushers
in their season opener at the Sears Centre.
As I wrote about previously
, the Slaughter play in the
CIFL
... and this year
feature many former Chicago Rush players
on their roster -- players who aren't doing much since the
AFL cancelled its 2009 season
.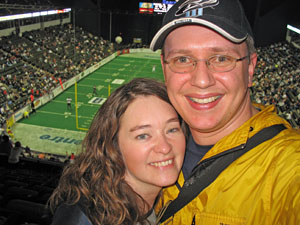 Amy & Steve at the Chicago Slaughter game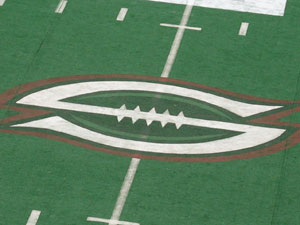 Team logo at midfield
We had never been to a Chicago Slaughter game before -- or for that matter, any non-AFL indoor football. And frankly, we were quite skeptical, given the "lower" status that this league had vs. our experience with the Rush over the past 8 seasons. However, that said, we also tried to keep a very open mind, knowing that pricepoints were different, salaries were lower, and some familiar players were taking on a new experience.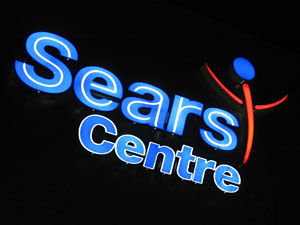 Stadium logo on the outside of building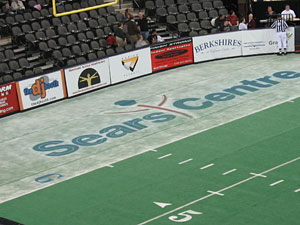 Yes, that endzone needs a new paint job badly!
The first big change was the stadium itself. The
Sears Centre
is a rather new facility, having opened in 2006. It's obviously more modern than the Allstate Arena, something we noticed when we didn't have to freeze outside first while having our tickets scanned upen entry.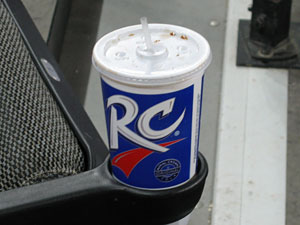 RC Cola is the official beverage
(BevReview.com Tidbit: RC is owned by the Dr Pepper Snapple Group)
Seats were comfy, amenities were modern, and frankly, I was impressed with the quality sound system in place. (For those
BevReview.com
fans out there, you should know that the official soft drink of the Sears Center is
RC Cola
. Yeah, you heard me. Stop laughing!)
Video: A look at the field setup in Sears Centre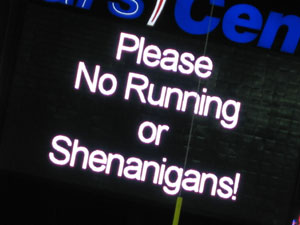 This message was shown after the game... seriously!
We were able to get first row seats in the upper deck at the center of the field for just $8 (thanks to a 2-for-1 special... parking was $10). Frankly, there were a LOT of seats to go around. Sears Centre holds about 9,500 for indoor football; attendance at this game was reported to be 4,798. (In contrast, the home opener for the Chicago Rush last season
attracted 15,409
). Our seats were located above and behind the sideline team boxes, so we got to look down upon all the activity there.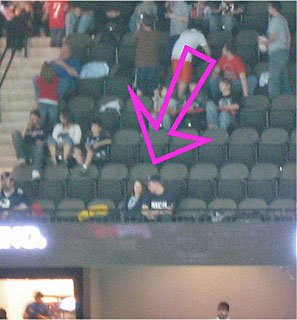 Here's where we sat
(Photo courtesy of "FriarTuck")
A couple seats over was a Rush season ticket holder who purchased season tickets to the Slaughter (they offered a 10% discount to folks in that position; Amy & I didn't take up the offer). Behind us sat an older couple as well as a father/son, all of which were Rush fans who had seen games at the Allstate Arena. Thus, it made for an interesting evening of comparison and counterpoint.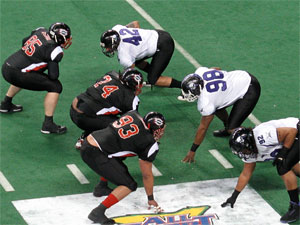 Oh yeah, there was a football game
The evening was put in perspective when the planned kickoff time of 7:05 p.m. came and went without anything actually happening. Apparently, Milwaukee's team was stuck in traffic. Yes, a team that isn't that far from Chicago really couldn't anticipate that they might hit some bad rush hour experiences on Friday night. Go figure! Kickoff ended up being close to an hour later, with the time being filled by pretty much nothing but an impromptu routine by the Slaughter dancers. When the game did officially start, the first action was a flag being thrown on Milwaukee for being late. I think it was a 15-20 yard penalty [correction: just 5 yards]; I couldn't quite remember. It was both hilarious and sad at the same time.

Video: Pregame Introductions, Mascot, & Cheerleaders
Before kickoff, however, there was a little pregame show. This involved the mascot (Sergeant Slaughter, who looked nothing like the
wrestler
/
G.I. Joe character
) coming out and doing... something. This was followed by the
HIP Salon
Dancers, the dance team of the Chicago Slaughter sponsored by some hair place in Schaumburg. Eventually we got to the team introduction, which unlike the
pyrotechnics and big production we were used to
with the Rush, simply involved some simple smoke and light effects along with a video that ran WAY TOO LONG.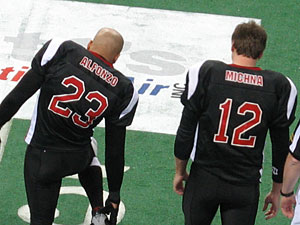 Rush Alumni: DeJuan Alfonzo & Russ Michna
Featured in the introductions, however, were many former Rush players, including Russ Michna (QB - name mispronounced by the announcer), DeJuan Alfonzo (LB/WR - name also mispronounced by the announcer), Donovan Morgan (WR), Dennison Robinson (DB), and Khreem Smith (DE). They didn't hide the facts regarding these players' AFL accomplishments, including Robinson as the 2008 AFL Defensive Player of the Year. When many of these familiar faces came out, the crowd noise did improve, probably based on the number of Rush fans in the audience... albeit, a small audience.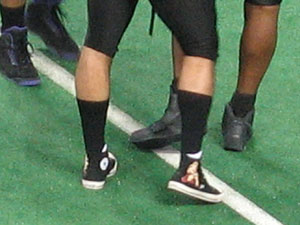 Is this Milwaukee player wearing Converse All-Stars?
And thus setup the trend for the evening. The more experienced Rush players making a majority of the plays and scores for the Slaughter, ripping Milwaukee apart like these were some grade school team. It got so bad, it wasn't even funny. It's like the Slaughter had brought in 'ringers' to boost their team, which is pretty much what they did. In the end, the Slaughter won 84-24, just short of setting a new high score record for the league. There was a different class of player on the field and it showed.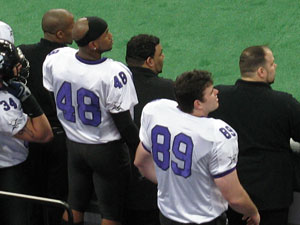 Milwaukee didn't have player names on uniforms
Milwaukee was not only late to the game, but their players didn't have their names on the back of their jerseys, were sharing helmets, and
according to The Chicago Sports Review
, "their media relations guy also served as play-by-play for the internet radio broadcast."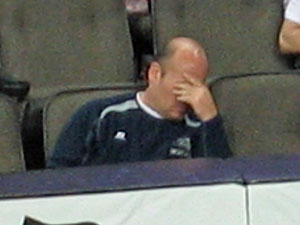 Former Rush Coach Mike Hohensee frustrated with quality of play
(Digitally Enhanced)
Even looking through the official game story published by the Chicago Slaughter it's evident that the Rush influence is very strong. Here's the story, with any former Chicago Rush player noted in
bold
:
---

Slaughter Takes Down Bonecrushers in Season Opener

Hoffman Estates, IL -- The Chicago Slaughter routed the Milwaukee Bonecrushers, 84-24, in front of 4,798 fans at the Sears Centre in Hoffman Estates. LB DeJuan Alfonzo led the team with four touchdowns, two on offense, one on defense, and one after a blocked field goal on special teams. DB Dennison Robinson led the defense with an interception returned for a touchdwon, as Milwaukee was held to only one touchdown scored in the second half of play. QB Russ Michna paced the offense with 240 yards passing and four touchdowns through the air. "I am having a lot of fun," Michna said. "It's really a great time. I was wondering what the turnout of fans would be, but it was great. And I think that helped us play well. We're confident and we were confident from the first play of the game. We know we have to be good at what we do."



The scoreboard at the end of the game


Alfonzo was key to the Slaughter in all facts of the game, as his three touchdowns in the first half kept the game out of reach very early.

"Being with the team is challenging," Alfonzo said. "It's a new experience which makes me feel younger again. I am learning a lot and I am enjoying what I am able to do."

Robinson also commented on the impact of the former Rush players on the Slaughter team.

"It worked out well," Robinson said. "One of us signed first, and then the rest of us got interested in coming. We wanted a chance to stay in this area and to keep playing football. We're leaders of the team, mainly because we have more experience. But we take nothing for granted. We're trying to lead by example."

The Slaughter scored their first touchdown of the year at the 3:17 mark of the first quarter, as FB Nick Cosentino scored the first of his two rushing touchdowns with a one-yard rush. Austin Smith scored a touchdown on the defensive side of the ball, as he recovered a fumble in the Milwaukee endzone.

The Slaughter now enter a bye-week, as they get ready to face the Rock River Raptors on Friday, March 27th at 7:00pm at the Sears Centre Arena.

---

Video: Missed Field Goal is not returnable in the CIFL
There were some interesting new rules we learned along the way while watching this CIFL game. For example, after a touchdown, it's illegal to throw the ball overhand into the crowd (but underhand is fine, for some reason). We got penalized for doing that, but then again, looking at the score, it didn't really matter. There are no rebound nets next to the field goal posts, so if you miss, it just gets caught in a safety net to keep it out of the audience; the ball is not live as it is in the AFL.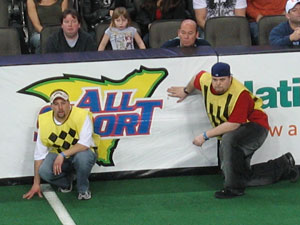 The line marker guys get to stay on the field
Also, the guys who run out on the field and move the 1st down markers... apparently, they can stay on the field in the CIFL. In the AFL, they have to run off beyond the endzones.

Video: Touchdown music is VERY familiar!
We did find it funny that when a touchdown was scored, the familiar sounds of
Kernkraft 400
were played over the PA system. This tune -- which is now used quite heavily in sports arenas around the country -- had been
used for years at Rush games to denote a touchdown
. Now, I don't know if the Slaughter used this tune in the first 2 years of their existence, or if it was a "let's be like the Rush" move, but either way, it was welcomed.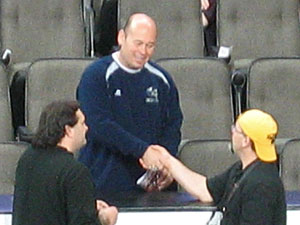 Coach Ho greets fans who miss the Rush
(Digitally Enhanced)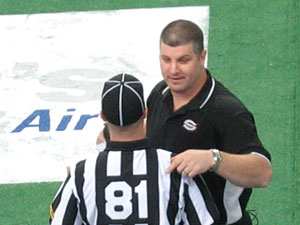 Former Rush player/coach Bob McMillen coaching the Slaughter
(Digitally Enhanced)
What hasn't been mentioned yet is the Rush influence via coaching. For example, former Rush Coach Mike Hohensee was there in his Rush team shirt, sitting in the first row next to the field. He greeted the players he knew, lots of folks came over to talk to him, and at times, seemed really frustrated with the lower level of play from Milwaukee. Additionally,
former Rush player and coach Bob McMillen
was calling plays for the Slaughter for most of the night.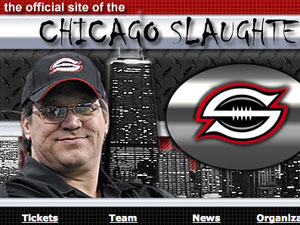 Does this face on a website sell tickets? (Answer: NOPE!)
(Source: ChicagoSlaughter.com)
Which brings me to this point. The Chicago Slaughter are supposedly coached by
Steve McMichael
. That name probably doesn't mean much to anyone outside of Chicago, but he was a member of the '85 Chicago Bears team that won the Super Bowl. The Slaughter have used his name and face to bring a local Windy City presence to the game, with other historic Bears players tied to the team as well.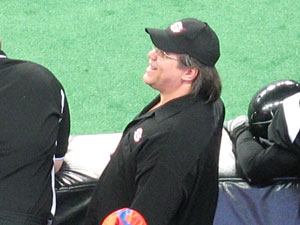 'Coach' Steve McMichael doing what he does best... stand around
But personally, all I saw during Friday night's game was this arrogant, fat punk stand around in the player's box and wave at others... this after being all "hey, look at me" during the team introductions. He wasn't even wearing a coach's headset during the game. I don't care if he is a legend in Chicago sports history, you are an embarrassment to whatever positive reputation the Slaughter hope to have. Mongo, Coach Ho you are not!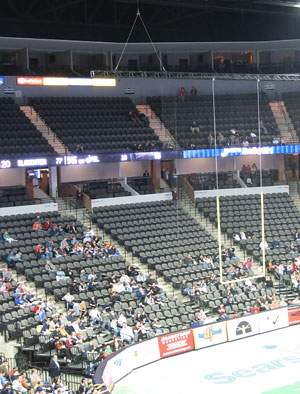 Remember last season's "Allstate Arena East Endzone Attendance Check"?
Here's the Chicago Slaughter Version: West Endzone Attendance Check
Reported game attendance: 4,798
As the game wore on, a lot of people left. Blowouts aren't very fun when that happens, and usually stadiums start doing things like "The Wave" to keep people occupied... but there wasn't even enough folks in the stands to make that work. Also evident was the lack of "between play" promotions run by the Slaughter to keep the fans engaged.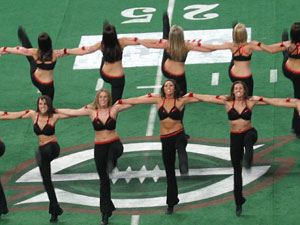 Hey, it's the dance team... killing time
There was just a lot of dead space there, and for a team that doesn't even have to deal with TV timeouts or commercial breaks, that's pretty weak. Speaking of advertising, there were a lot of smaller ads on the sideboards all around the playing area. Whether those folks are active advertisers or not, I don't know, but I did get a chuckle out of the variety of sponsors the Slaughter had attracted.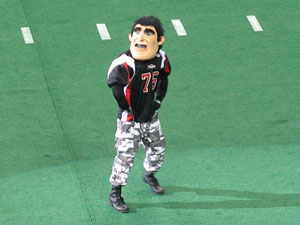 I'm still not sure what this mascot is supposed to be
It was fun to run into so many familiar faces from Chicago Rush online fandom while at the Slaughter game. For example, I knew that fellow
TannerWorld Junction
member
FriarTuck
would be in attendance, but unfortunately we crossed paths while trying to find each other. However, he did snap a fun photo of Amy & I sitting across from him in the upper deck.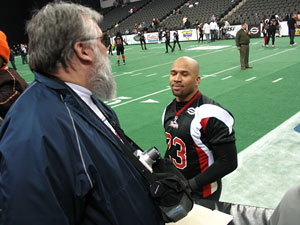 "Bruiser" talks to DeJuan Alfonzo after the game
We also said "hi" to indoor football fan
Bruiser
(who just recently joined us here at the Junction) and his wife. His nickname is taken from Chicago's first AFL team (
Chicago Bruisers
, 1987-1989), so he knows his history. It's that long perspective of knowledge that prompts others on various message boards to depict him as a curmudgeon, but given how the
AFL imploded this year
, it must be said that his negativity and concern over the AFL's direction was accurate.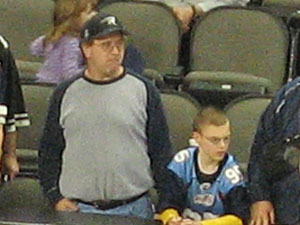 "RUSH43" and son
(Digitally Enhanced)
Finally, we ran into
RUSH43
, who drove up from Kentucky with his son to see the game... something he did when the Rush were playing. That guy puts on the miles! We had a chance to
talk to him
a couple times previously, including when Amy & I drove down to see a
Nashville Kats/Chicago Rush game in 2005
.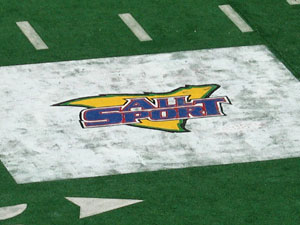 You know it's bad when you have the
3rd place sports drink as a sponsor [Dr Pepper Snapple]
(BevReview.com Tidbit: 1st Place is Gatorade [Pepsi],
2nd Place is Powerade [Coke])
I know my write-up here is probably on the negative side. Yeah, it is. As long time
SteveandAmySly.com
readers know, I've long viewed Rush games as not just sporting events, but entertainment and marketing initiatives. You pay some money, you expect to be entertained in return. Die-hard sports fans might disagree, but I think you need to view things as a transaction (which is why I have no problem booing or bad mouthing my own team when they don't deliver on expectations).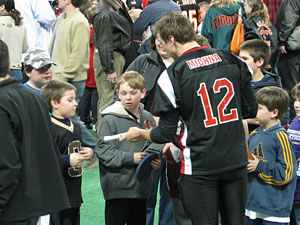 Russ Michna signs autographs after the game
So how did this Chicago Slaughter experience make us feel? Well, as I noted, we have to be realistic with our expectations because the CIFL is at an entirely different pricepoint than the AFL was. It's barebones and it shows. If Amy & I were not there to cheer our former Chicago Rush alum on, I think it would have been a complete disaster for us. Eventually, as the game went to beyond-blowout status, you just got bored while watching... and that's never good. If the "Slush" continue this dominance in the CIFL, then it can either go two ways. They start attracting fans because of their winning ways... or they keep folks from showing up because they will assume it will be a blowout.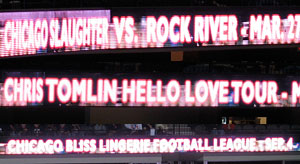 I put together this composite of upcoming events from the video screens:
Slaughter, Chris Tomlin, and Lingerie Football?
(I think Yanni is appearing soon as well!)
As for us attending another game, we're going to keep our eyes on the next game the Slaughter play -- an away game in Rockford, IL against the
Rock River Raptors
on March 21. If that game is a blowout as well, then I think future games might be quite boring to attend. However, if it's close or if the Slaughter lose, then there might actually be something to cheer for at the next home game. We'll see.
(P.S. Don't forget to take a
look at some photos that FriarTuck shot
at this game as well!)
(P.P.S. Want to be alerted on future posts like this?
Follow me on Twitter
!)