Amy & I were out of town Easter weekend. Meanwhile, our local
CIFL
team, the
Chicago Slaughter
, took on the
Marion Mayhem
(Marion, OH) in a home game at the Sears Centre. Why do we care about the Slaughter? Because the
Chicago Rush aren't playing this year
and the Slaughter features many former Rush players.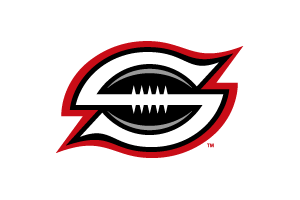 We couldn't make the game, but Jerome Cusson, freelance writer for
The Chicago Sports Review
(and
someone I met in person a few weeks ago
) wrote up a story on the game activities. With his permission, we're reprinting those notes.
In summary, the Chicago Slaughter won 74-60, bumping their record up to 5-0.
---
Michna Leads Slaughter Over Mayhem
by Jerome Cusson
In his second year as a starter in indoor football, Russ Michna admits to sometimes trying too hard. Spectacular plays will be mixed in with one or two mistakes a game. This time, Michna was good enough to set a CIFL record in yardage with 305 and tie the record for most touchdown passes with eight.
"We have one or two bad plays by me each week," Michna said. "It's frustrating but once I get rid of that, the team will be a well-oiled machine. It's difficult to get the momentum going at the beginning of the game. That's the kind of adjustment we are making at the half. My mistake sometimes is to come out and try to do too much."

Video: Interviews by Adam Rosen
Thanks to Michna, his wide receivers, and even the kicker the Chicago Slaughter (5-0) maintained their undefeated record by defeating the Marion Mayhem (3-2) 74-60.
Two weeks ago, Michna made it clear how much he enjoyed when teams blitzed him because he was able to attack deep. He once again commented on after the game about blitzing by opposing defenses.
"I don't understand it," Michna said, "It just doesn't make sense."
Three Slaughter wide receivers made Michna's record possible. Donovan Morgan led all receivers with seven catches for 147 yards and four touchdowns. Dontrell Jackson added nine catches for 89 yards and two touchdowns. Reggie Gray's receiving stats may not have been impressive on paper, three catches for 24 yards and a touchdown, but Gray recovered three onside kicks in the first half.
Defensively, the Slaughter struggled as Dennison Robinson missed over a quarter of action with an apparent shoulder action, and Khreem Smith unavailable for most of the first half due to flight problems in Dallas. Brandon Fields was one defensive bright spot as he led the team with eight tackles and an interception. DeJuan Alfonzo did not seemed phased by the high score because he understands what the arena game is all about.
"Every game isn't going to be like our first game when we won 84-24," said Alfonzo. "You expect high scores in indoor games and if it is a tight game, it's alright as long as we come out on top. It's all about the win after all and now we are 5-0. Our overall goal is to just win one game at a time, moving towards winning the championship."
Slaughter kicker Chris Nendick also had an interesting evening as successfully onside kicked to his teammates three times. He also made eight extra points and kicked a field goal in the third quarter.
The game also featured 21 penalties and 108 yards, leading to Donovan Morgan making an impassioned comment about what has become a disturbing trend.
"Penalties are the stupid plays in the game. Russ throwing a bad ball or an interception is not stupid. That's not a bad play. That happens. I've never seen a perfect football game ever played. Things like that are gonna happen. But we can control the penalties that get called on us. We can control that. If the ball comes out of Russ wrong, we can't control that. But those penalties, that's something we can control, and that's something we really need to work on because we go out there and let our emotions control us instead of controlling our emotions. And that's the big problem we have on this team. And it kinda takes you out of the game and slows the game down. Our team needs to learn that penalties can kill you. Yes, we're undefeated but if we continue to do that, it's going to hurt us in the long run."
The Slaughter's next game in on the road against the Fort Wayne Freedom. The Freedom are 2-2 and coming off an overtime loss to the Wisconsin Wolfpack. It is a homecoming of sorts for Alfonzo as he attended Indiana State. The hometown linebacker said he will have approximately 200 friends and family there for the game. The next Slaughter home game will be against the Milwaukee Bonecrushers on April 25.
Other Notes
: Defensive back Austin Smith was cut after the Wheeling game for disciplinary reasons. On the night before Easter, the Slaughter drew 3,955 at the Sears Centre.
Source
---
Indoor Football Notes (4/7/09)
by Jerome Cusson
Light news week so far, but let's get right to it anyway.
Slaughter Notes
* Two members of the Chicago Slaughter won "Player of the Week" honors. Russ Michna was named offensive player of the week while Reggie Gray took special teams honors. Corey Roberson of the Wisconsin Wolfpack was named defensive player of the week.
*
Slaughter video for this week
. Once again, Adam did a fantastic job putting this together.
* The Chicago Slaughter do indeed play the Fort Wayne Freedom Saturday at 6:30p.m. local time. For those curious (or really really bored), you can listen in in on the game through the CIFL website. One would hope there are nowhere near as many audio issues this week.
* Not really a Slaughter note, but I just want to make mention of the fact that after this week's game, myself and/or Adam Rosen will be at every game for sure except the game in Madison. If you had been there with us, you certainly would know why. Anyway, expect the best coverage of the Chicago Slaughter right here on this website for the rest of the season.
As the Bonecrushers Turn
I had the opportunity to speak with former Bonecrushers' head coach LeRoy McFadden on Saturday, and I'll have a follow-up next week after hopefully speaking with a representative from the team.
The Bonecrushers did make some interesting news as they won a game against the Wheeling Wildcats. How they did it is anyone's guess. Their team website did not even make mention of a head coach being hired until after the game was over. This was the first time Milwaukee won at their home facility, U.S. Celluar, ever. Wheeling still has yet to pick up their first win.
For the record, the head coach is Carlos Craig, the man who used to be their defensive coordinator.
Covering the Slaughter
Last week, I made some comments about the Chicago Rush and talking about what a fantastic organization they were and how well they treated fans and media. I also made it clear how much I hoped the AFL would return next year in some form or another. I was somewhat amused to find that certain people took this to mean I was somehow demeaning the Slaughter.
The odds are I wouldn't be covering the Slaughter if the Rush were still around. Then again, I can think of five players, one coach, and quite a few fans (judging from the Rush jerseys I've seen at Sears Centre) wouldn't be around either. What we all have in common is we've made due with what's been given to us. I enjoy the indoor football product as much as the next person, and I thoroughly enjoy covering the games because the guys are way more accessible and the games are pretty darn exciting most of the time.
I'm hopeful the AFL comes back, but I know perfectly the challenges being faced by the league. However, if they do come back with a sound plan and in place, I'll show them the same willingness to come back as I did towards the MLB and the NBA. At least we don't have a situation here where it's millionaires vs. billionaries.
Until next week, enjoy the games.
Source
(C) 2009 Jerome Cusson - Used by Permission