Indianapolis, IN to Nashville, TN
Distance: 313 miles
Before we knew it, we had rid ourselves of
Indiana
, the self-proclaimed "
Crossroads of America
" -- because no one really wants to stop there -- and crossed the border into
Kentucky
.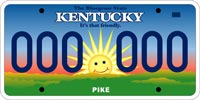 Originally, our plans were to drive from Indy, take I-65 through
Louisville, KY
, onto
Mammoth Cave, KY
, where we would stop for a cave tour, and then to
Nashville, TN
. Because we were behind schedule, we skipped the cave tours and proceeded directly to Music City USA.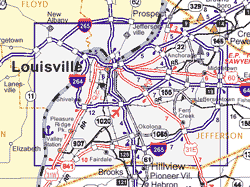 By the way, it should be mentioned that Kentucky wins the "Steve and Amy Award for Best State Map." The
Kentucky Transportation Cabinet
provided the easiest to read map, using a great combination of colors, symbols, and icons. I really liked the well-marked exit numbers, mileage indicators, and clear marking of time zones. This last point was important as the state is split right down the middle between the Central and Eastern Time Zones. Way to go Kentucky! Loser maps included
Illinois
,
Indiana
, and
Tennessee
(they had the worst joke of a map).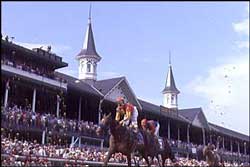 Along the way, it felt like we were playing "catch up" the whole time due to the delay caused by car repair. But we were determined to make this work... if it killed us! Driving through Louisville was entertaining, as there was a lot to gaze at along the way, including mass amounts of advertising for the
Louisville Slugger Museum
and
Churchill Downs
, home of the
Kentucky Derby
.

Did you know that they make
Louisville Slugger
baseball bats in Louisville? I didn't get the connection until we drove through the city; go figure. Maybe Sammy Sosa should check this place out, as I doubt they deal in cork. We would have liked to catch a
Louisville Fire
AF2
game, however the team was playing away when we passed through town. I'm sure if we would have had time, Amy would have loved to drop by
Six Flags Kentucky Kingdom
as well!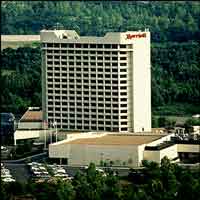 We arrived at our hotel, the beautiful
Nashville Airport Marriott
, at 7:40 p.m. The hotel was on the outside edge of Nashville and it was quite spectacular. Geared towards large conventions and tourists, it featured both an indoor and outdoor pool, multiple restaurants, and some really large rooms. We were fortunate to get a corner room on the 8th floor, which was unique because it had angled windows overlooking the horizon. And compared to my sister's rock hard bed (sorry sis), the mattress at the Marriott was like sleeping on sheep... without all the counting and stuff.
We headed into downtown Nashville to catch a bite to eat and soak up the nightlife. What I didn't know is that icons you usually associate with Nashville (like the
Grand Ole Opry
and a lot of the music attractions) aren't located downtown. In fact, this area was rather hip and lively, probably due to the fact that there was a large number of people here in preparation for the upcoming
Fan Fair
.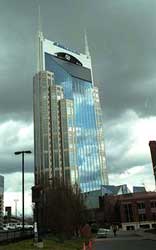 What you get instead is an area that is very contemporary and tourist-friendly. You also get some pretty radical architecture, such as the
BellSouth Building
, which has been nicknamed the "Batman Building" because of it's obvious
Gotham City
resemblance. The
Gaylord Entertainment Center
, home to the
NHL
's
Nashville Predators
, also has quite a bold design. Here's hoping that the owner of the
NFL
's
Tennessee Titans
(which plays nearby in
The Coliseum
) can work out a deal with GEC's owner to bring the
AFL
's
Nashville Cats
back into action next year!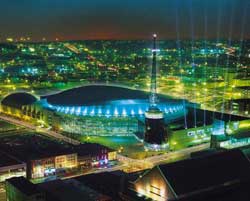 As we walked down the streets, some punk in a car yelled out to me "It's Saturday night in Nashville!" in sort of a goofy drawl. Um, OK. Thanks for upholding the Southern Hick stereotype. But I was thankful that he pointed out the obvious to me. I might have not known otherwise. It's unfortunate that due to our rather rushed schedule I wasn't able to get to know the locals a little better.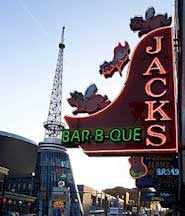 On the main thoroughfare through town, right below the electric sign featuring pigs that fly, lies the highlight of our brief encounter with Nashville:
Jack's Bar-B-Que
(there's a catchy song that plays when you visit Jack's website). Located a hop, skip, and jump from the historic
Ryman Auditorium
, this Nashville mainstay had the best ribs and sauce I had ever had. I wish I had some of their ribs right now!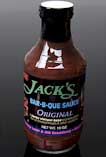 When we were walking down the street, looking for a unique place to eat, the smell coming from Jack's just roped us in. The meat fell off the ribs, plus they had 3 great flavors of sauces... one was regular, one had a vinegar taste, and the final one had quite a kick.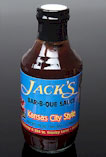 What's interesting about Jack's is the history of the location. In 1976, no one visited downtown Nashville, and then Jack's and a couple other businesses opened near the river, drawing the crowds in by revitalizing the area.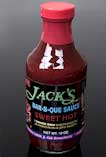 Ironically, the successful rebirth of downtown Nashville, largely attributed to Jack's help, ended up hurting his business. Jack's landlord broke his lease in order to sell the building to a crappy
Hard Rock Cafe
that Nashville desperately wanted. Jack relocated up the street to a more famous location, bought the building this time around, and has had more success than ever. It's quite an awesome success story and we were glad to patronize the establishment!
After a great meal, we headed back to the hotel, crashed after a long day of driving, and got ready to hit the road back up to
Mammoth Cave, KY
the next day. Yes, we were crazy.
Story Navigation:
Previous - 1 2 3 4 5 6 7 8 - Next