We're wrapping up our look at the U.S. Olympic Broadcaster Logos as we jump into the 2000s and beyond! If you've missed previous installments, make sure you catch up with our
Introduction
, then jump into the
1960s
,
1970s
,
1980s
, and
1990s
The 2000s brought us NBCs reign and their proclamation as "America's Olympic Network," owning the rights to every Winter and Summer Games throughout the decade and a few beyond. Including 2010, NBC produced 3 Winter event and 3 Summer events.
Interestingly, it also brought us customized Broadcaster Logos for each year, which makes things interesting!
---
2000 Summer Olympics
Sydney, Australia
-
More Info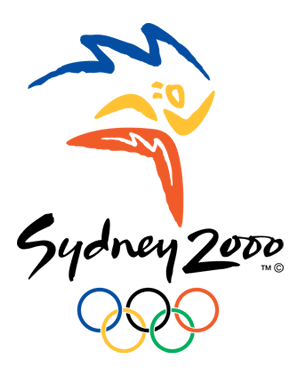 The rights to Olympics in the 2000s were often sold off in "bundles," with the IOC grouping Winter and Summer Games together as packages. This is the case with the 2000 Syndey Games, as they were bundled with the 2002 Salt Lake Games. NBC paid $1.2 billion for the rights to both, with $795 million being the payout for the 2000 Summer Olympics. In turn, the network produced 441.5 hours of coverage from "down under."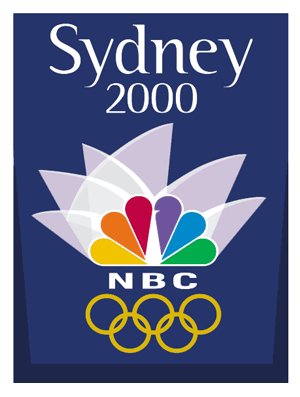 NBC 2000 Summer Olympics Logo
Thankfully, NBC started to get a little more creative with their Olympic Broadcaster Logos during this decade, continuing the customization they started at the
1996 Atlanta Games
. In this case, they used the iconic Sydney Opera House as the anchor for their logo, complimented by the NBC Peacock and the Olympic rings.
Of note is the start by the network to put the words "NBC" in smaller type between the Peacock on the Rings themselves, a trend that would continue in latter Games, often with "NBC" being replaced by sister networks (CNBC, MSNBC), which marked the return of NBC to carrying events on cable -- but much differently than the
1992 Olympics Triplecast disaster
.
NBC's coverage was pretty much all tape-delayed due to the 15-hour time difference, with the exception being a live broadcast of a Men's Basketball game featuring US vs. France.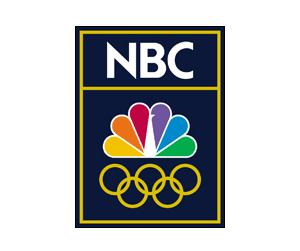 NBC Olympics Brand Logo
Also introduced in the 1990s was a standardized "NBC Olympics Brand" logo that referred to the general coverage of NBC, vs. a specific Olympics itself. This was often seen via more official channels, as well as the nightly "copyright" message that NBC presented.
---
2002 Winter Olympics
Salt Lake City, Utah, United States
-
More Info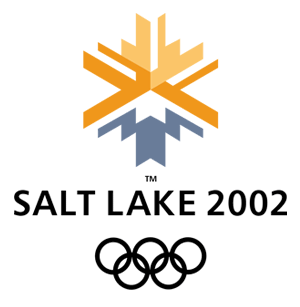 Ah, the Salt Lake City Games of 2002. Held in a post-9/11 era and packed with its own set of controversies, including
bribery to win the Games
, a
figure skating judging scandal
, and a very strong home country "patriotic" tone.
Nevertheless, NBC continued their broadcasts, this time on home soil. They paid $545 million for the rights and produced 376 hours of coverage. 207 of those hours were shown on sister cable networks CNBC and MSNBC. But believe it or not, this was the network's first Winter Olympics since the
1972 Sapporo Games
, with
CBS owning the rights through the 90s
.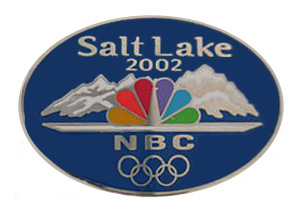 NBC 2002 Winter Olympics Logo (Pin Version)
Starting what eventually becomes a bland trend for NBC, their Olympics Broadcaster Logo for Salt Lake features mountains. You'll see this again in the 2006 and 2010 Games as well. Apparently, the only visual element that can define the Winter Olympics is mountains. It's a pretty bad design cop-out, in my opinion, and doesn't factor in any local host city personality.
Above is a look at the logo as illustrated on a lapel pin, so it's missing some of the fine detail seen in the actual broadcasted version.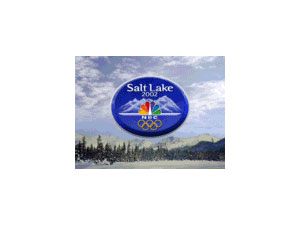 NBC 2002 Winter Olympics Logo
This poor-quality example above is a screenshot of the logo as used during telecasts. You can see the differences between this version and the lapel pin version. Unfortunately, these are the best quality images I've been able to find regarding the 2002 logo.
---
2004 Summer Olympics
Athens, Greece
-
More Info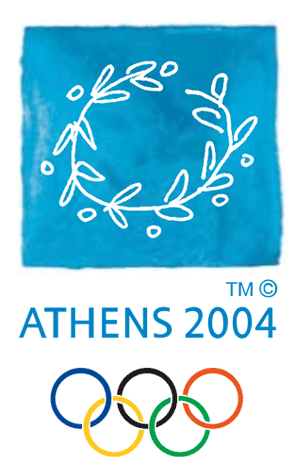 After not getting the Olympics on the ceremonial 100th anniversary of the Games in 1996 (
Atlanta hosted those
), Athens finally got their shot in 2004.
NBC continued their coverage of the Olympics, once again with a multi-year deal penned with the IOC covering 3 different events. It produced a record-breaking $2.3 billion television rights agreement, with $793 million designated towards the Athens Games.
This Summer Olympics produced 1210 hours of coverage on "The Networks of NBC". That breaks down to 226 hours on NBC, 133.5 hours on MSNBC, 111 hours on CNBC, 122 hours on Bravo, 49 hours on USA, and 169.5 hours on Telemundo (the first non-English Olympics coverage designated to a U.S. broadcaster).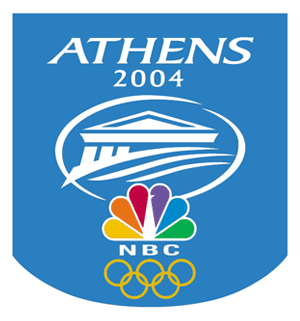 NBC 2004 Summer Olympics Logo
NBC returned to thematic Olympics Broadcaster Logo design with their take on Athens, featuring a light blue icon denoting the Parthenon and some "swooshes" above the now-ever present NBC Peacock, "NBC", and Olympic Rings. In contrast, the official host city emblem featured a crown of olive branches.
---
2006 Winter Olympics
Torino, Italy
-
More Info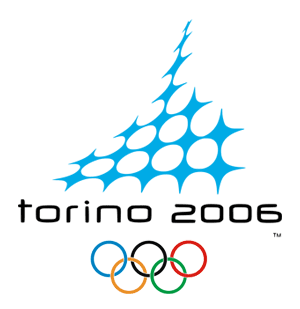 NBC returns once again with coverage of the Winter Olympics in Torino. These Games cost the network $613 million, producing 416 hours of coverage. Again, sibling cable networks were also used, with the flagship NBC showing 182.5 hours, and another 233.5 split among CNBC, MSNBC, and USA. These Games were known for an abundance of drug doping problems as well as poor ratings due to extensive tape delay.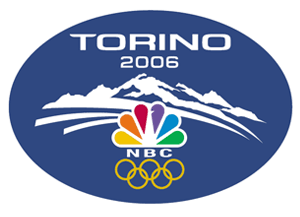 NBC 2006 Winter Olympics Logo
Looking at NBC's Olympic Broadcaster Logo for Torino, it would seem they also phoned in the design. Yes, we have mountains again, set on a blue oval. And the "swoosh" seems to be a reversed sibling of the same one used on the Athens 2004 logo. There is very little that is memorable about the Torino identity.
---
2008 Summer Olympics
Bejing, China
-
More Info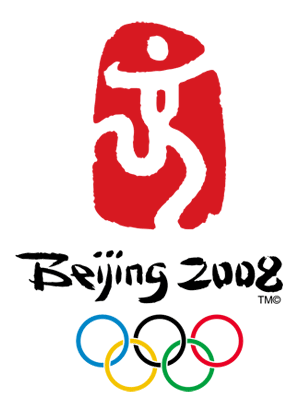 The 2000s wrapped up with the Summer Olympics in China, also known as the Games where NBC sold out all journalistic integrity in order to keep the host country happy (my personal opinion, of course!) The network paid $894 million for the television rights, producing 3600 hours of coverage plus streaming video on NBCOlympics.com. Sibling cable networks were also part of the mix, utilizing CNBC, MSNBC, USA, and Oxygen.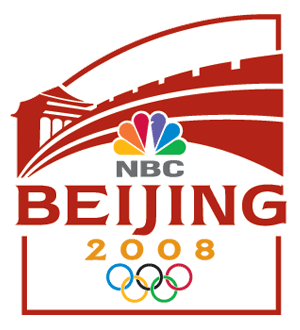 NBC 2008 Summer Olympics Logo
We return to creativity with NBC's logo for the Beijing Games, noting a very heavy use of white and red in the color scheme. The uniquely-shaped icon denotes the Great Wall of China in an artistic fashion, while once again including the Peacock, "NBC", and the Olympic rings. It's probably one of the better identities that NBC has produced for their Olympics coverage.
---
2010 Winter Olympics
Vancouver, British Columbia, Canada
-
More Info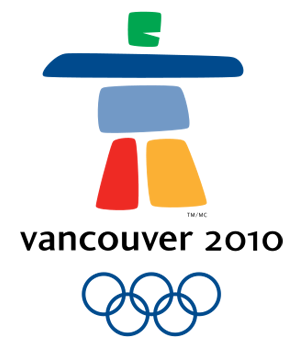 Though technically part of the 2010s, we're going to include the Vancouver Winter Olympics in our look at broadcaster logos. For these Winter Games, NBC once again went the "bundle" route, paying for the 2010 Winter and 2012 Summer events together -- it only cost them $2 billion, with $820 million being tied to the Vancouver Games and $1.181 billion for the 2012 Summer Olympics in London. The deal allowed NBC to show 835 hours of coverage.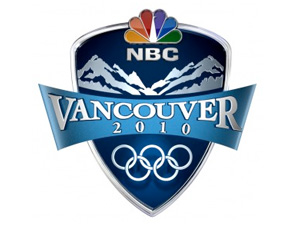 NBC 2010 Winter Olympics Logo
While we once again have mountains in a Winter Olympics-oriented Broadcaster Logo, NBC at least put a little more effort into a 3D-style design. The Vancouver "shield" approach is very clean, with the Peacock and "NBC" name at the top, Rings at the bottom, and a light blue "Vancouver 2010" banner running across the middle. I can't say I'm too excited about the generic font and the stretching it endured to fit that banner, but the overall result is rather positive.
Of course, millions of Americans might associate this logo with NBC's strategy to heavily tape delay the broadcasts, even though Vancouver is in the Pacific Time Zone. West Coast viewers traditionally experienced a 3-hour delay, and the only live events shown online were hockey and curling -- accessible if you had a participating cable provider. Before the Games started, NBC claimed they would lose $200 million on these broadcasts.
---
And that wraps up our look at the history of U.S. Olympic Broadcaster Logos. I hope you enjoyed this look at a subset of Olympics design that often goes overlooked. If you happen to come across any logos that may have been missed, feel free to let me know!
Thanks for reading!