It was free
Adrenaline Rush Dancers
poster day at the Rush game on Sunday.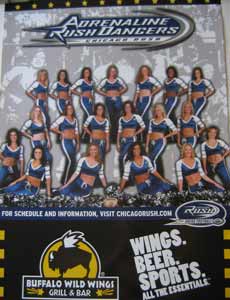 They gave us posters, but no rubber bands!
Frankly, staring at the dancers was best distraction for the crowd of 13,927 in attendance. Our
Chicago Rush
got blown away by the
Los Angeles Avengers
with a final score of 35-71. It was painful to watch the worst loss in franchise history.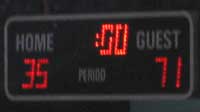 Yeah, we stunk
Now, going into this game, the Rush had the third best record in the league. (The top 8 teams make the playoffs). But things were just not clicking from the get-go. First off, the mics on the refs weren't working for the entire first half, thus you never knew what was going on. Our defensive secondary looked lamer than a reality show on ABC. And finally, our star quarterback, Raymond Philyaw, got knocked out of the game about halfway through. Reports have him with a Grade 2 MCL sprain in his right knee and could be out for 2 to 4 weeks. This was not good.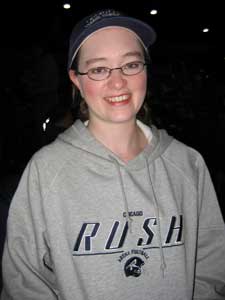 You too can own this fine hooded sweatshirt
We got to the game a bit early this time so that Amy could purchase a Rush sweatshirt without fighting a mob at all the concession stands. Of course, maybe she wanted to return it by the end of the game given our team's performance. Even more embarrassing is that the Rush were on national television as part of an AFL doubleheader on NBC. A blowout is never good for ratings.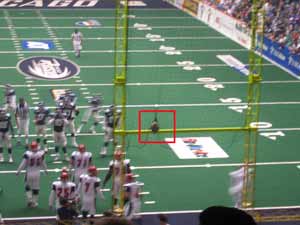 See the red box I drew? See the stuck ball? Good!
The only "interesting" part of the game itself was when the football got stuck in one of the slack nets on an extra point attempt. Numerous attempts to get it unstuck proved fruitless. The players just used a new ball until the stadium staff could get the ball down at halftime.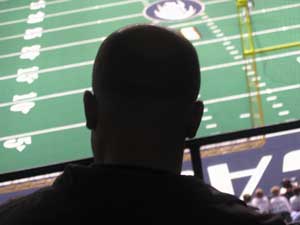 I'm thinking I can start some sort of ad campaign with this guy
Being completely bored by getting killed, I tried to find other ways to amuse myself. For example, I got a kick out of shooting photos of a bald guy sitting in front of us. If that's not entertainment, I don't know what is!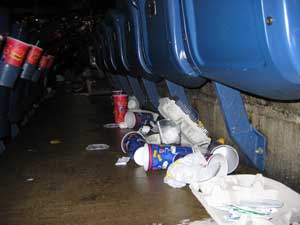 I worked as a custodian once. I don't envy those guys.
There we a large group of kids sitting next to us for what seemed to be a birthday party. Unlike other groups we've experienced, this one was rather well-behaved. It helped that they actually had decent supervision this time around. They were sure loaded up on sugar, however. Snow cones, cotton candy, ice cream, pop. They were quite fidgety by the end of the game. And they left a lot of trash!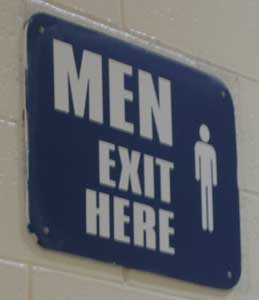 That's right, you can only exit!
I also noticed that these kids kept disappearing from time to time throughout the game. Eventually one of them told their dad that they were hanging out in the bathroom. Gee, was that game THAT bad? Being frustrated with the Rush myself, I headed to the bathroom as well. Found a bunch of the kids just hanging out, getting each other wet in the sinks, playing tag, etc.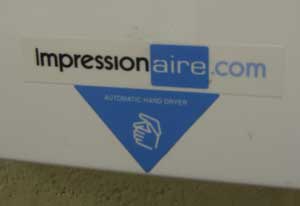 Did I mention shameless plugs?
Some of this media-oriented generation seemed to enjoy staring at the
ImpressionAire
hand dryers (yeah, another shameless plug for the item
I discovered on Easter
!). I bet they were wishing it was some sort of video game or something. Now there's an idea! Work in some sort of technology so you can play
Space Invaders
while you are drying your hands. People will want to wash their hands more, less disease will be spread, and the world will be a better place for all!
It looks like the rotation of ads has increased, with many new entries compared to our last visit at the
Allstate Arena
. Here are some currently being featured: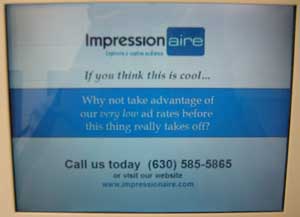 Ad #1: If you think this is cool...
There's the phone number if you want to place an ad in the bathroom. Call today!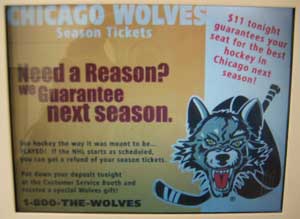 Ad #2: Call 1-800-THE-WOLVES
Here's the
Chicago Wolves
ad I was talking about in a
previous blog entry
. The Wolves have just advanced to the 2nd round of their playoffs.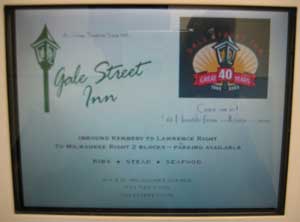 Ad #3: Great ribs (though not as good as Jack's!)
Hey, it's the
Gale Street Inn
, the same place I ate at
for my birthday
!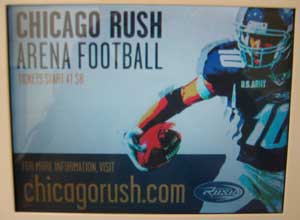 Ad #4: Feel The Rush Loss!
Of course, you'd find an ad for the
Chicago Rush
. Although, given what happened at Sunday's game, you might want to yank that for a while to avoid embarrassment.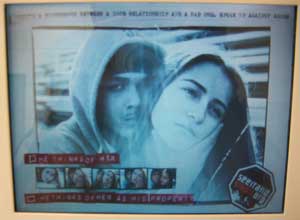 Ad #5: An ad I know Amy appreciates
There was an anti-abuse ad in rotation promoting
SeeItAndStopIt.org
. Gotta love those
AdCouncil
-supported campaigns.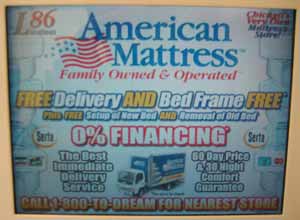 Ad #6: Free delivery AND bed frame!
Finally, here's an ad for
American Mattress
. Frankly, I think it's a bit cluttered. There is no way I can read all the information on here in the time it takes me to dry my hands. Incidentally, when Amy and I were looking for a king-size mattress when we were getting married, we shopped American Mattress. Overall, the experience left us empty. Instead, we purchased from the
Carson's Home Furnishings Store
. Not that you needed to know that, but hey, I'm here to provide you with useless information!
Just for kicks, from the above selection of ads,
which do you think is the most effective
? Feel free to post the number in a reply!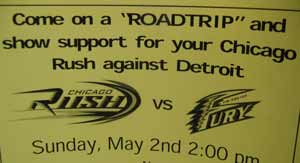 There's always next week
As if it would never come, the end of the game arrived. It was a sad moment. But, next week offers us another chance! Hopefully the injuries to our QB aren't too bad, because our backup is killing us. Amy and I are heading up to
Detroit
to catch the Rush on the road against the
Fury
. We'll be hanging out with our friends
Eric
and
Kelli
as well. Hopefully, we can pull off a win!
P.S. Even though they beat us, I must admit that I love the name "Los Angeles Avengers". Maybe that's because it reminds me of a
favorite TV show
!