Mustard and malts, oh my!
Day: 3
Previous readers of
SteveandAmySly.com
may remember our discussion of
Krystal vs. White Castle
burgers during our
Smoky Mountains trip
last year. At the time I was quoted as saying:
Quote:
We even came across a fast food memory from Amy's times living in Florida: Krystal. Amy went on to explain that she loved Krystal sliders as a kid, and when they moved from Florida eventually to the Midwest, she was sad that there weren't any up here...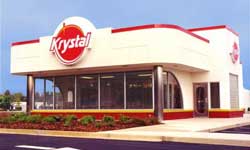 What made Krystal successful was opening stores in parts of the country where White Castle was not located, namely the southeast... That said, we never ate at a Krystal during our trip. Maybe next time.
Well, next time was now because we were hungry!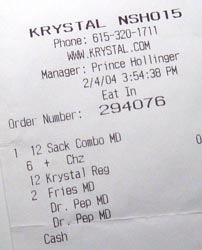 Who names their kid "Prince Hollinger"?
We got ourselves about 12
Krystal
burgers, 6 with cheese, 6 without. As part of the experience, they only came with mustard on top. Overall, they were pretty good, but nothing to write home about. Here I thought they were some amazing thing, but nope... just another bit of fast food.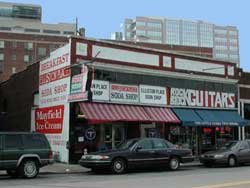 Elliston Place Soda Shop
For dessert, we drove to the
Elliston Place Soda Shop
, the oldest eating establishment in Nashville. It's been around since 1939, and frankly, the place looks like it. Think about the classic looks you remember from
Happy Days
and
American Graffiti
... and you have the nostalgia just about right. The only difference is that this place is authentic!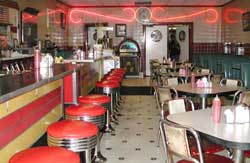 Welcome to the past
You walk in and find yourself surrounded by red-and-white tiled walls, a lunch counter (complete with stools), old advertising, and a jukebox (which was broken during our visit). Amy ordered a malt while I favored an ice cream sundae. Good stuff.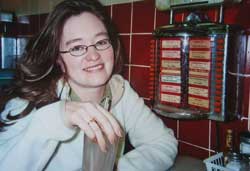 Amy, a malt, and a broken booth jukebox
Funny story... we actually charged our orders of ice cream. The place was so low-tech that the guy had to write me a hand-written receipt. Anyway, it's been 3 months since our time there, and they still haven't processed the charge on our account. Looks like we might have gotten some free ice cream!
Time was of the essence and we had to rush to the
airport
to catch our flight!
Story Navigation:
Previous - 1 2 3 4 5 6 7 8 9 10 11 12 13 14 15 16 17 - Next