They say a lot of things change in your life after you have a child.* While that has been very true for Amy & I, today I was reminded of one thing that has oddly stayed the same.* Of course, I'm speaking of buying used
LEGO
bricks and spending time cleaning them!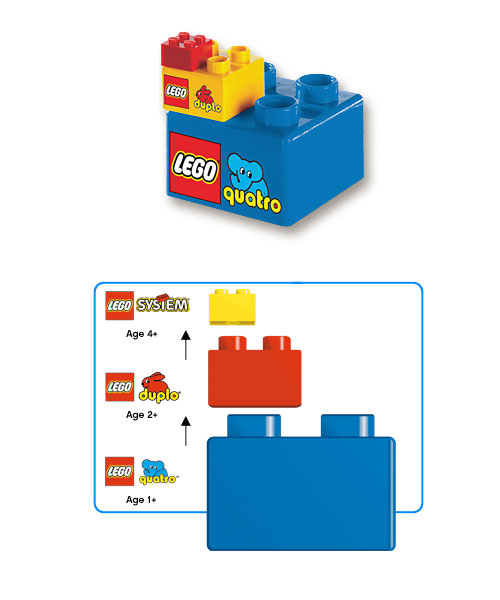 How LEGO Quatro stacks up... literally!
A few years ago I wrote about
ripping off a kid at a garage sale
by grossly underpaying for a large collection of bricks.* While I made out quite well on that transaction, it took a bit of work to get all the bricks cleaned and sanitized.* I've continued this cycle many times over the years.
Recently, Amy picked up a used bucket of LEGO Quatro bricks for Wesley at a local sale.* The Quatro line features LEGO bricks that are 4 times the size of standard LEGO, and twice the size of the popular Duplo line.* Like all LEGO bricks, they work together so you never quite outgrow the toy.* I've still got Duplo bricks from my childhood I pull out every now and then to work into new creations!
Curiously, the Quatro line is also discontinued.* LEGO operated it from 2004-2006 as an entry into the 1+ year old market, as their existing Duplo line started at age 2.*
According to Lugnet
, only 10 different sets were produced in the line before the plug was pulled.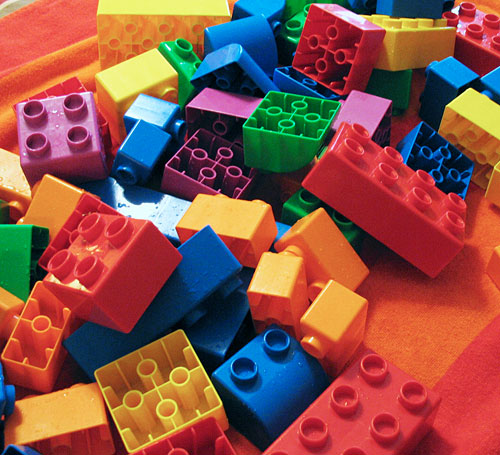 Cleaning oversized LEGO bricks
I've read that the
death of Quatro
came out of the restructuring of The LEGO Group back in 2006, as the company looked to turn things around financially after some pretty disastrous years.* Rival
Mega Bloks
has a similar-sized "Maxi" series of bricks that are very popular and far more affordable.* LEGO just couldn't compete by selling more expensive, but higher quality, plastic bricks at this size.
Still, you can find Quatro pretty easily at garage sales and the online secondary market.* When Wesley is old enough, he'll be playing with this oversized bricks that I cleaned today!
View "Long Live LEGO Quatro" on SteveandAmySly.com