Well, I thought I just lost my digital camera. It wasn't were I had put it. Thought someone had ripped it off. Oh great. So, after 30 minutes of panic, I talked to "Lost and Found"... and believe it or not, it was there. Talk about a relief!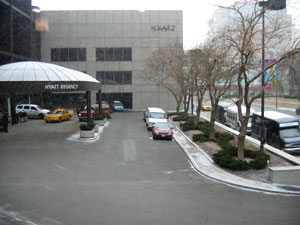 Starting to snow
Oh, by the way, it's now snowing here and we are listening to the annoying, talentless, hack band known as
Jump 5
. I have no idea why they were booked for the conference. Makes no sense to me. Then again, a lot of the decisions here don't make any sense to me.
There is a big storm moving through the area. A lot of folks are worried about flights and being stuck here in KC. In fact, there doesn't seem to much love for KC. After like 6 or 7 p.m., the whole town seems to shut down.