As previously mentioned
here on
SteveandAmySly.com
, Amy and I embarked on another trip to
Nashville, TN
, over the extended weekend of May 20-24. Our primary mission was to catch our
Chicago Rush
play the
Nashville Kats
in the final
Arena Football
game of the regular season.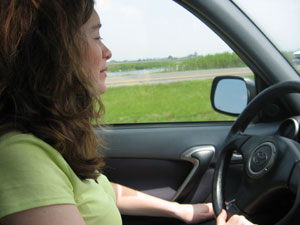 Amy loves to drive
The game had special importance, because if we won, the Rush would automatically find themselves in the playoffs as a Wild Card. If the Rush lost, they would still have a chance to get into the playoffs if either
San Jose
or
Las Vegas
lost their games. Obviously, for the sanity of everyone, the best situation have been the the Rush winning their game! (The outcome of said game,
as also previously discussed
, being dependant solely on the coin toss and which hat I chose to wear to the game).
During our time in Nashville, our itinerary also included visiting with our friends
Darren and Christy Sumner
, who
moved down there last summer
. In fact, they were nice enough to provide us a roof over our heads! Of course, a trip to Nashville would be pointless if it didnít include stopping by to sample the best ribs in the world (our opinion) at
Jackís Bar-B-Que
!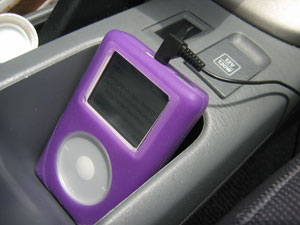 Purple iPod cover glows in the dark!
At the beginning of our trip, we headed south on I-57 just outside of Chicago, listening to back installments of
81 Days Inside the Ivyô
on the iPod. Amy wanted a chance to catch up. During our travels, we were thinking of Nick quite a bit, given that he was working the weekend at Wrigley for the "Crosstown Classic" between the Cubs and White Sox. Canít wait to hear those reports!