Since it was such a beautiful day, we wanted to spend as much time outside enjoying it. What better way to get outdoors and stroke the competitive spirit than with a friendly little game of mini golf.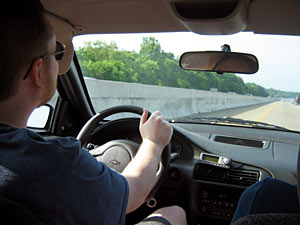 Trying to find some mini golf
The Tanners vs. Sumners in this sport has become quite a tradition, given that
we've
had
many
matchups before.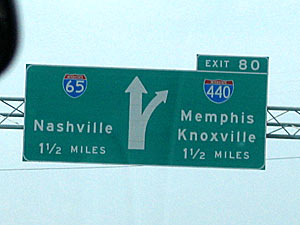 Hope we are heading the right direction!
Surprisingly, there aren't that many mini golf locations around Nashville. It took a couple phone calls and some research on the web to discover
Grand Old Golf
, located up near the
Opryland
complex (you know, the
whole freakin' world owned by Gaylord
).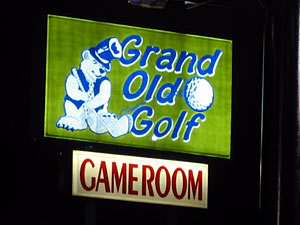 Oh goody, it's Grand Old Golf
This amusement center had your traditional mix of stuff besides mini golf, including go karts, batting cages, and arcade games. The core attraction, however, was mini golf. 3 courses totaling 45 holes! According to our Nashville vacation guide, the complex is described as a "four-acre garden setting with waterfalls and extensive landscaping."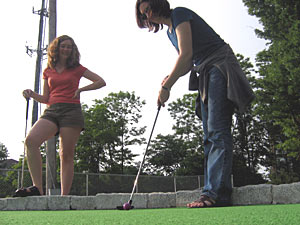 Bad sign when you can see a cell tower in the background
I think that should probably read a "four-acre setting with dead plants, waterfalls that didn't work, water with a toxic foam on top, and ripped up artificial turf," but that was probably too many words for the guide listing.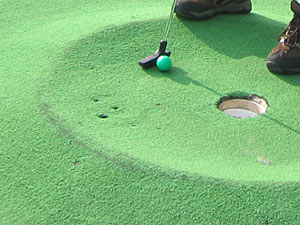 Turf wasn't exactly "pristine"
It was one of those places that must have been great in its heyday, but those days are long past. Upkeep and innovation seemed to be at the wayside, unfortunately. It's frustrating to see this happen to more and more mini golf places across the country.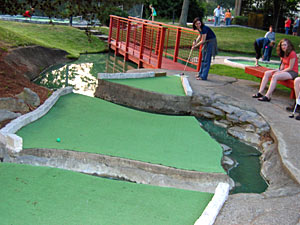 Two water hazards? Tough hole.
Grand Old Golf offered 3 opportunities for challenge: The Original Course ("through rose garden"), Mill Stream Course ("goes to top of Grist Mill"), and The Challenge Course ("goes through cave"). Unfortunately, the 9-hole Challenge Course was closed for "improvements," so we decided to play the first two courses, totaling 36 holes.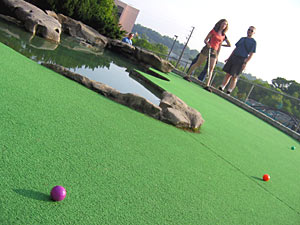 Nice use of water there... except it was toxic
We started with the Mill Stream Course, playing as individuals. Things started out fine, but as we played, we noticed a general lack of maintenance. Ripped turf, flooded greens, broken concrete. Still, it was anchored by a rather elaborate whole that started at the top of a 2-story Grist Mill, and then plummeted to 4 levels of sub-green... all on the same hole. Some rather interesting engineering going on there.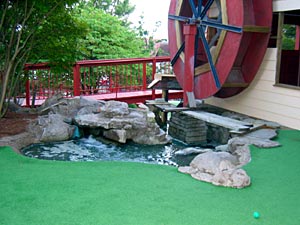 It wasn't even a working waterwheel!
After playing the first 18 holes, we teamed up by couple for The Original Course. Right away it became apparent that "original" = "more crappy." In fairness, it looked like the Grand Old Golf folks had begun to recarpet many of their holes, most likely starting with the Mill Stream Course, because The Original Course was in worse shape.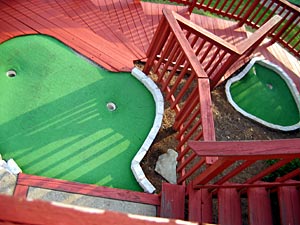 The ball goes down... and down... and down
What really did me in, however, was Hole 3 on this course. It was one of those holes where you have multiple holes to hit into before finally getting to the final hole. Unfortunately, we were experiencing a situation where the hole kept eating our balls. One would go in, it wouldn't come out. Throw another ball in the hole, and the first ball would come out, but not the second. It was an endless cycle. Meanwhile, we were holding up the course.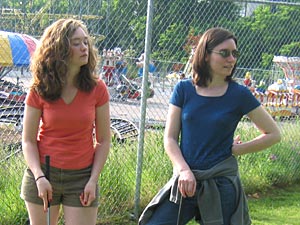 Amy and Christy wonder where the ball went
Finally, I went down to the office to tell them about the issue. Their solution? Just take some more golf balls and continue on. Yeah, nice to know that they cared about the playability of their courses. Idiots.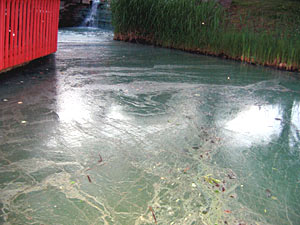 Look at the scum on this pond!
Also of particular interest throughout the facility was the state of their many rivers and ponds. Unlike a normal, well-run course, there seemed to be lots of pond scum just sitting there throughout the complex. It was rather disgusting. Darren threw a rock into the water, it made an opening in the scum... but then the scum returned back to its natural place, as if nothing happened. Yuck!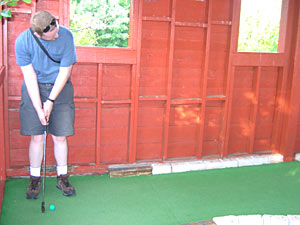 Putting inside the Grist Mill
Another interesting rule at these courses was the maximum number of strokes per hole. Typically, in mini golf this is 6. But the rule here was "stroke limit per hole four over par," creating the opportunity for some pretty high scores on holes that you screwed up.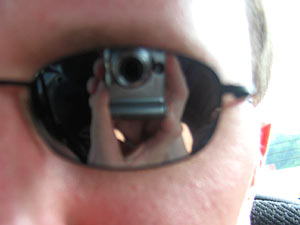 Look ma, my glasses are reflective!
In the end, the Tanners beat the Sumners by a total of 117 to 120. Close matchup. We'll have to have a rematch soon!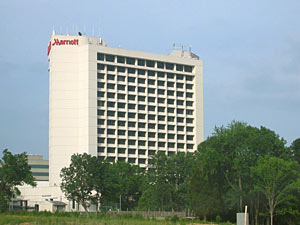 Old memories revisited
Incidentally, on the drive to the golf course, we passed the Nashville Airport Marriott, the hotel we stayed at back in 2003 during
our first trip to Nashville
... an adventure we called the
Smoky Mountain Menagerie
.