Sunday rolled around, bringing with it the primary reason for our trip to Nashville in the first place... the
Arena Football
game. But first we woke up bright and early to head to church with Darren and Christy. After which, we stayed downtown and grabbed a bite to each for lunch... at some
BBQ at Jack's
. I'm happy to report that this experience was more enjoyable than the night before. Didn't get the ribs, but rather a pulled pork sandwich. Good stuff.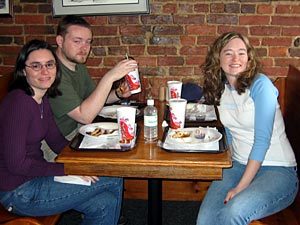 Finally a good meal at Jack's
We changed for the game and got some tickets at the box office. Now, I don't know about most people, but I get such a thrill out of wearing the colors of the rival team in their home territory. It's just fun to see the expression on the faces of the local fans. Amy and I saw this last year during our trips to see
Indiana
,
Detroit
, and
Grand Rapids
play. It happened again this season with another trip to
Grand Rapids
.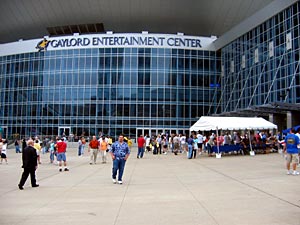 The soon-to-be-renamed Gaylord Entertainment Center
One thing I really like about the city of Nashville is the passion they display for their sports teams. Here in Chicago, I think we take for granted having every major sports league represented, with franchises numbering in the double digits. In Nashville, the have two major sports teams... the
NFL
Tennessee Titans
and the
NHL
Nashville Predators
. Titans fans are local and devoted, and have even been acknowledged by the NFL as having some of the best fans in the league. Not bad for a team that has only been the market for 9 years.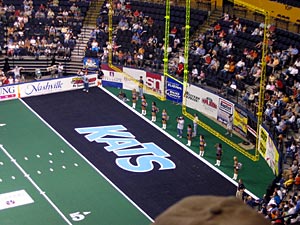 The field inside the GEC
With the owner of the Titans also owning the
AFL
Nashville Kats
, the marketing and promotion that has made the Titans successful really shows in their Arena Football counterpart. Namely, the ownership was very smart to keep the old name and logo of Nashville's previous AFL team. The fans remember the team well and were really ticked when it moved off to
Georgia
. Thus, there was a built-in fanbase when the team returned.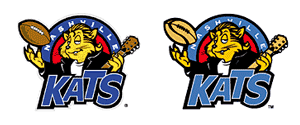 Old and New logos for the Nashville Kats
Additionally, the ownership showed good strategy in slightly modifying the official colors of the Kats to compliment the colors already used by the Titans. Because of this, even though you saw many Titans hats and jerseys among their fans, there was no doubt in who they were rooting for. Finally, by marketing to the Titans existing fanbase, it was easier for the new ownership to sell tickets and the team to the community. The Nashville Kats are a model of how the new NFL-owner influenced AFL can be a success (and I won't go into my theories as to why this can also be a bad thing).