Over the extended Memorial Day weekend, Amy and I participated in our second
Bike the Drive
event down on Chicago's lakefront. It was estimated that 18,000 others joined us.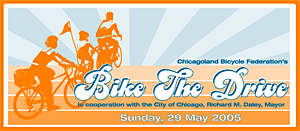 On one day each year (for the past 4 years),
Lake Shore Drive
is closed to motor traffic and opened exclusively to bicycles. According to many enthusiasts, it's one of the best bike experiences in the country!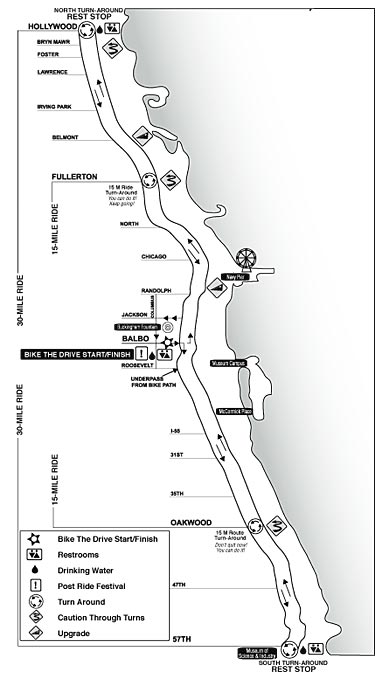 Unlike last year
, which had clouds and the threat of rain, we couldn't have asked for better weather this time around. The sunrise was awesome, the sky was blue, the weather was comfy, and the bikes were in force! Again, Amy and I woke up at 4:20 a.m., biked over to the L station, took the Blue Line downtown with our bikes onboard, and started the ride.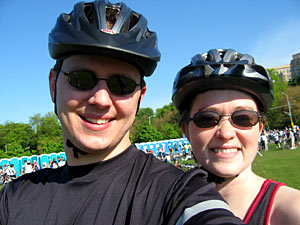 Steve and Amy get ready to bike!
The nice thing about Bike the Drive is that it is a ride that is uninterrupted. No traffic. No waiting for stop lights. No sharing the road with cars. It's just you and the road for the allotted 15- or 30-mile treks. Some more aggressive and experienced riders end up doing the cycle multiple times in one morning, taking advantage of the wide open spaces to ride. Most of the time, you are talking about a path that is 3-4 lanes wide at all times.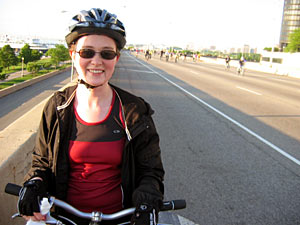 Amy pauses to catch the view
Everything starts down by
Buckingham Fountain
, and from this point, you have a choice of biking north or south.
Last year we biked south first
and learned that this was a big mistake. You see, while the southern part of Lake Shore Drive is relatively flat, the north end features many overpasses that you have to climb continually, which isn't exactly ideal when you are tired at the end of a ride.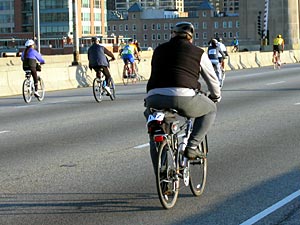 Plenty of room to ride
This year, we decided to get the hard part of the course out of the way and head north after starting. In the end, however, it wasn't that big of a deal. I think we were just not as in shape last year. In fact, if I remember correctly, 2004's Bike the Drive was one of the first times we did a big ride in the season. This year, however, we've biked quite a bit more than that... even with my bum knee.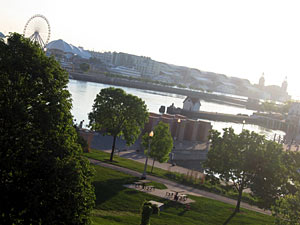 Navy Pier early in the morning
A big advantage of heading north first was that we got to see the sun come up over the lake and brightly illuminate
Navy Pier
. We stopped on the overpass that goes over Grand Ave. (and leads to Navy Pier) to take in the view.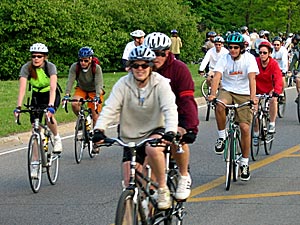 Happy cyclists love the lack of cars
The nice thing about having the roadway open to just bikes is that you can enjoy the view of the lake without much complication. Chicago does have a lakefront trail that is used by bikes, joggers, skaters, etc, but it's also insanely busy. Sometimes, it's just plain dangerous to bike because of morons. Bike the Drive gives you more freedom to enjoy the awesome perspective, without noise or exhaust. It's eerie... and very cool!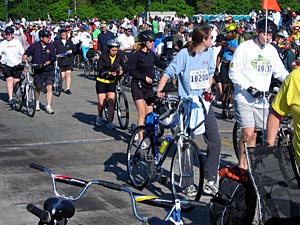 Resting and refueling at the Pit Stop
It didn't take long to hit our first pit stop, located near Hollywood Ave. Here you'll find the portable toilets, water, and other snacks to give you that boost of energy. Though we really have to question to use of the
M&M's M-Azing Candy Bar
as energy food. What? No
Clif Bars
like
last year
?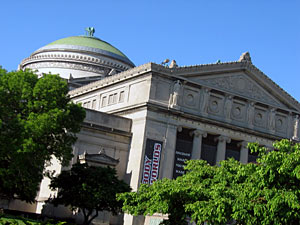 The classic facade of the Museum of Science and Industry
We continued our ride southward past the Buckingham Fountain starting point, the
Museum Campus
, and
Solider Field
on down to my favorite childhood field trip hangout, the
Museum of Science and Industry
. The museum resides in the former Palace of Fine Arts Building, built for the
World's Columbian Exposition of 1893
.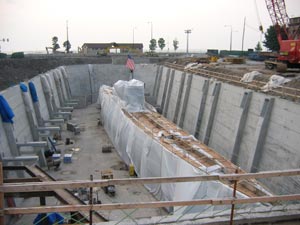 Last Year (2004): Sub sits underground under construction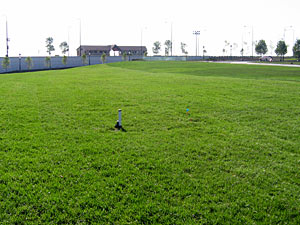 This Year (2005): Hey look, grass!
You may remember
last year I mentioned
that MSI was moving their prized
U-505 submarine
indoors for restoration and protection. They'd housed it outside since 1954 and the elements were starting to do serious damage to the ship. So it was decided to move the ship underground into an indoor, protected exhibit area.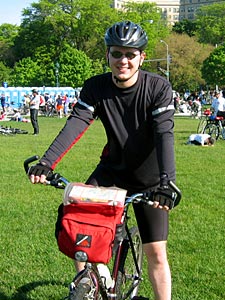 Steve gets ready to ride again
During last year's Bike the Drive, you could see the sub sitting exposed in the 75 x 300-foot, 42-foot deep pen. Well, just one year later, you can't tell that there was all that construction. Instead, just green grass where a big hole in the ground was not too long ago. The exhibit reopens in June and I for one can't wait to check it out.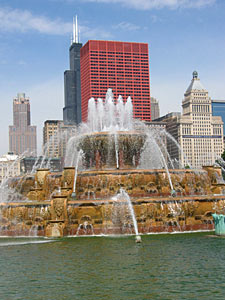 Buckingham Fountain
We hit the Drive again for a pleasant return to the starting area. During the ride back, we couldn't help but notice the increased number of
tandem bicycles
participating this year. In contrast to 2004, we also saw fewer
recumbents
. Considering how quickly the tandems were traveling, Amy and I were sort of glad that some of our friends who own these types of bikes weren't around to make us look bad. It's events like this that tend to put you in your place regarding bicycling talent. But that's OK, it's all in good fun.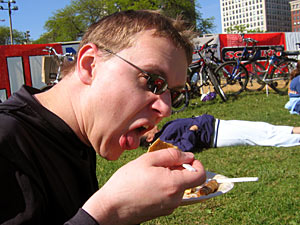 Mmmmm, pancakes!
One element the
Chicagoland Bicycle Federation
added to this year's event was an optional pancake breakfast at the post-event party. At just $4 a person, Amy and I signed up when we registered months ago. And you know what? The food was actually really good! (Though the event organizers could use some tips on line management when it came to distributing the syrup).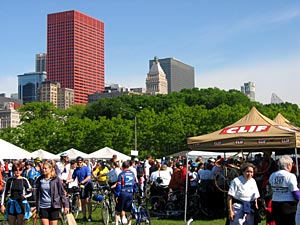 Post-Event Party
One thing I believe this pancake thing did was to keep folks around longer after the event, checking out sponsor booths and listening to the live music. That had to be good news to the organizers of Bike the Drive, as well as those who coughed up sponsor cash to fund this huge undertaking.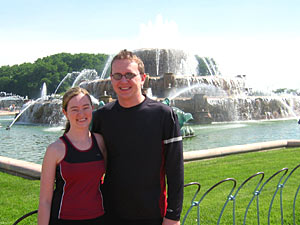 Acting like tourists
After taking part in getting lots of free stuff from sponsors (
Glaceau Vitamin Water
: "Too watered down";
LifeWay Foods Kefir Drink
: "Too weird"), Amy and I walked over to Buckingham Fountain to enjoy the day and the view. As is typical of this area, I also ended up taking quite a few photos for tourists posing next to the fountain (but hey, Amy and I asked others to do the same for us!). Personally, I think the best view of the fountain is one where the city skyline is in the background... it provides great contrast and scale.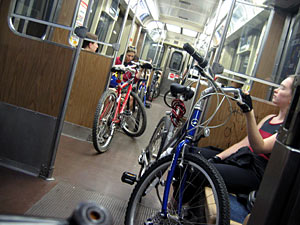 Count the bikes on this train
Eventually, we decided to call it a day downtown (granted, it was only 9:00 a.m.). After biking on over to the Jackson L stop, we loaded our bikes on the train and headed home. Since the CTA modifies their "bikes on trains" rule for Bike the Drive, you are allowed to haul more than the typical 2 bikes per car. In the train car we rode in, there were at least 5 bikes.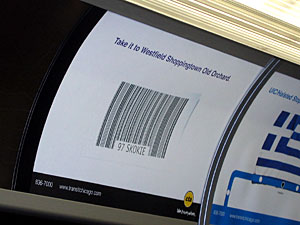 Take the #97 bus to Skokie!
While on the train, we saw various advertisements placed by the CTA to highlight how to get to specific attractions, shopping destination, and activities using public transit. I had to chuckle when I saw this barcode parody for
Westfield Shoppingtown Old Orchard
... as it provides me the perfect opportunity to plug my other blog over at
Bounga.com
, the
Old Orchard Observer
!
But seriously, Amy and I had a wonderful time at this year's Bike the Drive. We can't wait to do it again and hope that others might even join us next time!