Our final full day in Nashville was on Monday, May 23. Darren and Christy had to work, so it was just us to face the overcast, humid, and quite warm day.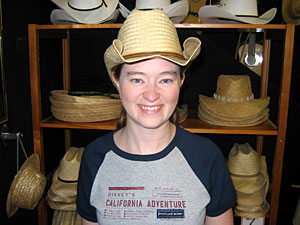 Amy tries to fit in
We drove into Nashville and got the car washed (the bugs and bird droppings had really been piling up for some reason). I also was able to pick up a bottle of Fanta Peach (read the
beverage review here!
)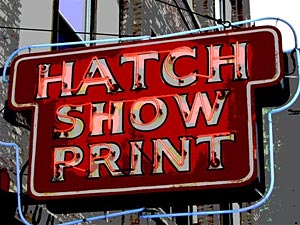 Hatch Show Print Shop
(Photo courtesy of ChrisBrooks.org)
Our first stop was the
Hatch Show Print Shop
located on Broadway. Since 1879, this print shop has produced posters using handcrafted letterpress methods that are distinctly unique. Still an active print shop (and now owned by the
Country Music Hall of Fame
to keep the style and talents viable for historical reasons), you can check out classic posters that were created for musical shows, products, fairs, and other events over the years. (
You can even buy a book with some of the artwork
).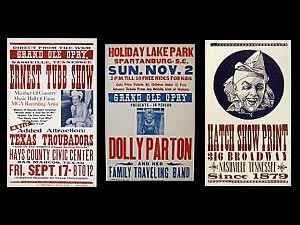 Examles of Hatch-printed posters
The shop itself is nothing exciting to write home about (given that it's still an active place of business), but you can spend a few minutes here looking at reproductions of old posters. If you really wanted to dive into poster history, hop over to the Hall of Fame for the full exhibit there.
Since we did the Hall on a previous visit
, it was no biggie. We just wanted to see the environment of the shop.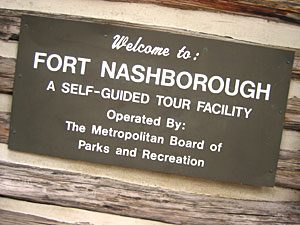 White text on brown background always means something historical
Just a short walk away from Hatch is
Fort Nashborough
, located downtown on the edge of the Cumberland River. This fort is actually a reproduction of the original fort found in Nashville, built in 1779 to protect settlers. The duplicate fort was built in 1962 along the riverfront as a historical site, though it's only about 1/4 the size of the original. It features 5 log cabins on the grounds.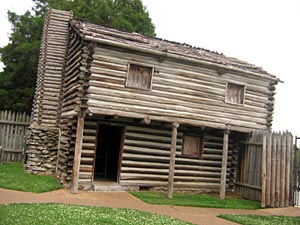 Unfortunately, you can't explore the 2nd floor
It's free to tour the fort, as there really isn't much to it. There was no one working the grounds when we went, so we just walked through and saw the buildings. Most of them have that "historical" smell, if you know what I'm talking about. I've been on enough educational vacations to the nation's historical sites to recognize the scent. Sort of a woody, moldy, mildewy smell.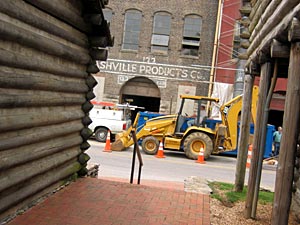 Does something seem out of place here?
The odd thing about the fort is that it's very out of place being located in modern Nashville. Here you have this nice downtown waterfront district with styled brick buildings... and a fake fort. Next to that is beautiful Riverfront Park, lots of grass, the river... and a fake fort. It's even crazier when you can see
The Coliseum
(home of the
NFL
Tennessee Titans
) across the river from inside the fort.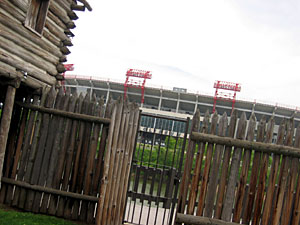 Football in a fort?
You won't spend a lot of time here, but it's worth at least a visit if you are passing through Nashville. Personally, I think the city could do a whole lot more with the historical theme on the riverfront. They could really capitalize on that!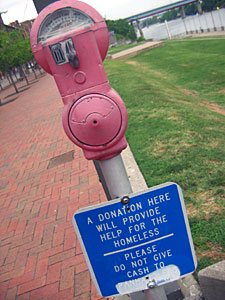 Riverfont Park is no fan of panhandlers
As mentioned, the fort is located in Riverfront Park, a thin strip of land that is tiered with different levels of grass. In the summer, a barge is docked next to the park and a stage is erected on it, ideal for concerts. It's not a big plot of land, but it's a nice break from the buildings and activity you'll find in downtown Nashville.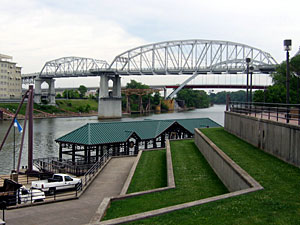 Headin' to Shelby Street Bridge
Just a short walk from the park is the Shelby Street Bridge, built in 1909 and renovated in 2003 into a pedestrian-only walkway spanning the Cumberland River. That was the next stop on our tour...