At the east end of the
Shelby Street Bridge
, there is both a ramp and set of stairs that pretty much lead to the front door of
The Coliseum
, home to both the
NFL
Tennessee Titans
and the
Tennessee State University
Tigers
.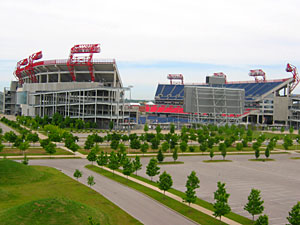 The Coliseum from the bridge
The structure was formally named "Titans Stadium," then a corporate sponsor moved in and it became "Adelphia Coliseum." However, after Adelphia filed for bankruptcy and missed a required payment in 2002, the building became simply "The Coliseum." The building itself is owned by the city of Nashville.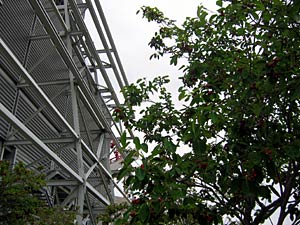 Lovely metal... seen everywhere
From a distance, The Coliseum looks like a rather large gray structure, highlighted by bright red lighting towers. When you get up close, however, you realized that it's really quite ugly. Seriously, it is.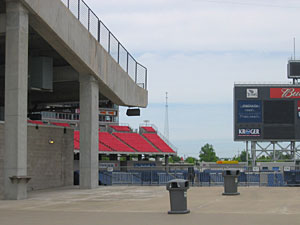 Look ma, concrete!
The Coliseum was completed in 1999, after being designed by stadium architecture firm
HOK Sport
. HOK is known for designing such beautiful buildings as, well, um, well, hmm...
New Comisky Park
? Yeah, they suck at design, in my opinion. I would actually argue that the odd toilet bowl-shaped new
Soldier Field
in Chicago looks better (did I just say that?).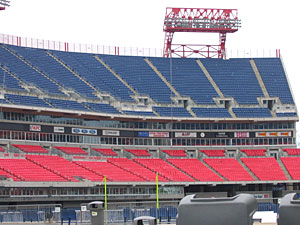 At least they colored the seats
Sure, the building looks impressive from afar, but when you get up close, you see that it's really nothing more than a ton of concrete sitting there. There is very little stylish architecture to be found. Since it's pretty much located in the middle of nowhere on the east bank of the Cumberland River, there is no development or atmosphere around the stadium. It pretty much feels like they just plopped it in a blank field.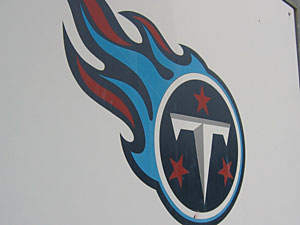 Go Titans!
I'm sure the Titans fans in town appreciate having the stadium here, especially since the don't have many professional sports teams in town. But I think the city should have paid a little more to make it somewhat attractive. It's the least they could have done.