After spending time at the
Tillamook Cheese Visitor's Center
(which Darren referred to as "more exciting than Disneyland... even though I've never been to Disneyland"), we continued to Cape Meares State Scenic Viewpoint, location of the
Cape Meares Lighthouse
. (You knew we couldn't get through a trip next to a large body of water without hunting down a few lighthouses, right?).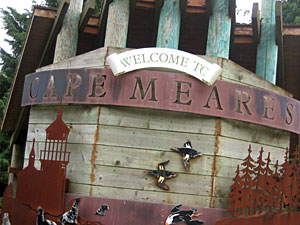 Cape Meares State Scenic Viewpoint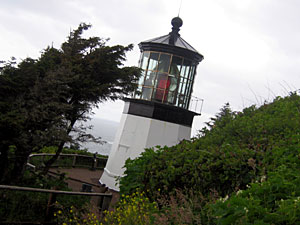 Really, really short lighthouse
During this Pacific Northwest trip, we actually got to see 5 lighthouses (for those keeping score at home, that would be 34 lighthouses that Amy and I have visited since we got married). Unlike lighthouses found along the Great Lakes or in the Southeastern United States, lighthouses in the Northwest are not very tall. This is due to the fact that they get their height above sea level by being built on cliffs that overlook the Pacific Ocean. Cape Meares is a great example of this, as it's the shortest lighthouse in Oregon, measuring only 38 feet tall but stands 217 feet above the ocean.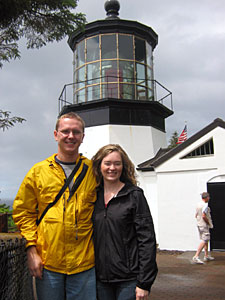 Steve & Amy and Cape Meares Lighthouse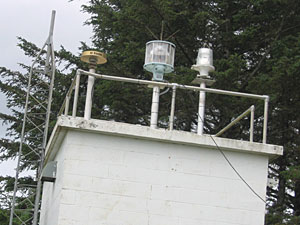 One tiny halogen bulb replaced this lighthouse
It was built in 1890 and decommissioned in 1963 when an automated beacon was installed next to it. Controversy has plagued the history of the lighthouse, as rumors have persisted for years that the lighthouse was accidentally built on Cape Meares instead of nearby Cape Lookout, 10 miles to the south. However, recently uncovered historical records seem to put this rumor to rest.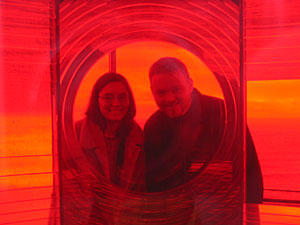 Christy & Darren look through the lens!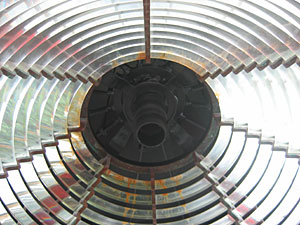 Looking up through the Fresnel lens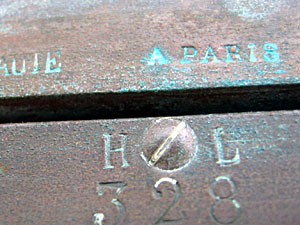 Fresnel lenses were made in France
In contrast to having the shortest height among the 9 Oregon lighthouses, Cape Meares has the largest lens, utilizing a First Order Fresnel lens that is uniquely 8-sided. According to the park ranger at the site, there is only one other 8-sided Fresnel lens to be found on a United States lighthouse, located on one in Hawaii. The lens was handcrafted in France and then shipped to Oregon. During operation, the beacon could be seen for close to 21 miles.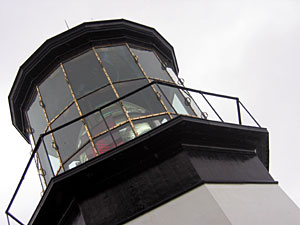 Simple design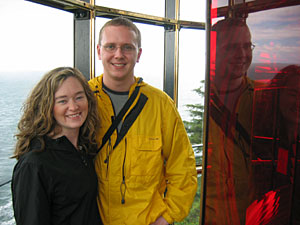 How many Steves are in this picture?
Unfortunately, when most of the Oregon lights were decommissioned, they were left unprotected, resulting in heavy vandalism taking place to the lights over the years. This was especially the case with Cape Meares, given its short height and easy accessibility. Many of the irreplaceable lens parts were damaged over the years by punks. It wasn't until the site became a
state park
and an extensive rehab took place in 2003 that the light looks as good as it does today.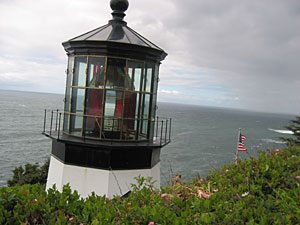 Cape Meares has a great vantage point
Beyond the unique location and view afforded by this lighthouse, we were especially pleased to actually be able to climb up into the beacon room. Of course, being such a short lighthouse, this climb was no different than going from the 1st to 2nd floor in a house! Nevertheless, it's always a special experience when you can actually go up a lighthouse.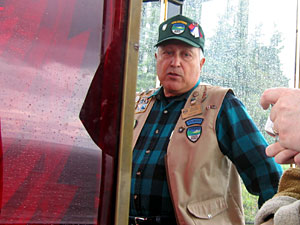 Helpful State Park Volunteer
To our benefit, there was a helpful volunteer host on site there to explain lighthouse history and answer questions. You could tell he was quite passionate about this light, as he just flowed with information and opinion about the state of lighthouses today. He also did a nice job in contrasting the differences between a West Coast lighthouse and one you might find on the Great Lakes. You could tell the disappointment in his demeanor when he discussed the damage that had taken place to the Fresnel lenses over time.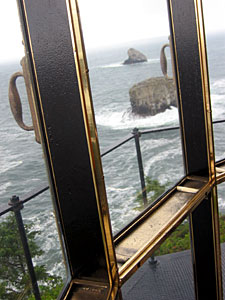 Those rocks look dangerous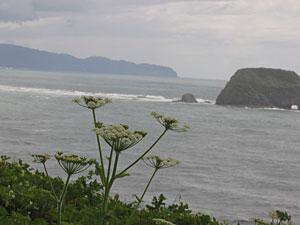 Natural beauty on the coastline
After we got done exploring the lighthouse, we walked around the various overlooks, which provided scenic views over the ocean and rock formations below. Nice stuff. But alas, there was more to do, so we headed out and drove onward!