Our next stop was the small town of
Seaside, OR
, supposedly known for its salt water taffy. In fact, in one of the brochures we picked up, one shop mentioned that they had 170 flavors to choose from! Therefore, we just had to stop off at
The Seaside Candyman
, the "best and biggest salt water taffy shop west of the Rockies – Simply Yum-didly-umpous!"

Cool store layout, lame logo
At the store itself, they had a Wheel of Fortune-type spinner that anyone could use to try to win free stuff. Darren and I both stunk at it and each won a lousy piece of candy. However, the gals showed us up by each taking home a prize; Amy scored a candy stick while Christy bagged a bunch of popcorn.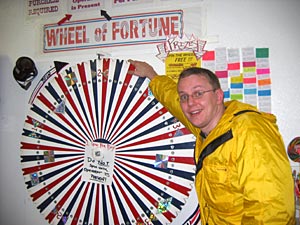 No Pat Sajak to be found
We decided to grab some bags and select some taffy to take home with us. Of course, it's easy to see what types you are choosing when you look at the display, however once the flavors are in the bag, they get harder to tell apart. To help solve this problem, the store issues a handy guide with descriptions of what each candy looks like and what flavor they happen to be. For example, the Jalapeno is described as "light green with dark green jacket and center" and so forth. They guide also provides helpful "Tips for Taffy." My favorite: "To remove wrapper use thumb and forefinger on each end and pull apart. Then grab edge of wrapper and pull." Duh.
For those interested in the salt water taffy selection that we had available, here's a list of all the flavors in their guide (which I only count as 155, not 170... who are they trying to con?):
Amaretto
Apple
Apple Spice
Apple Swirl
Banana
Banana Marshmallow
Banana Rum
Banana Split
Banana Swirl
Black Currant
Black Licorice
Black Walnut
Black Widow
Blackberry
Blueberry
Blueberry Cheesecake
Boysenberry
Brandy
Bubble Gum
Butter
Butter Crème
Butter Mint
Butter Nut
Buttered Popcorn
Butter Toffee
Butterscotch
Candyman Espresso
Cantaloupe
Caramel
Caramel Apple
Caramel Corn
Caramel Fudge
Champagne Peach
Cheesecake
Cherries Jubilee
Cherry
Cherry Cheesecake
Chocolate
Chocolate Banana
Chocolate Cheesecake
Chocolate Cherry
Chocolate Chip Mint
Chocolate Irish Crème
Chocolate Marshmallow
Chocolate Mint
Chocolate Nut
Chocolate Orange
Chocolate Raspberry
Chocolate Vanilla
Christmas Peppermint
Cinnamon
Coconut
Coffee Irish Crème
Coffee Roast
Cotton Candy
Cranberry
Cran Raspberry
Cream Soda
Crème de Menthe
Dreamsicle
Dark Chocolate Walnetto
Doublemint
Egg Nog
4th of July Peppermint
French Vanilla
German Chocolate Cake
Ginger Bread
Gooseberry
Grand Marnier
Grape
Grapefruit
Guava
Hawaiian Punch
Hazelnut
Honey
Honey Nut
Hot Butter Rum
Huckleberry
Irish Crème
Jalapeno
Kaluha
Kaluha Fudge
Kiwi
Lemon
Lemon Meringue
Lemon-Lime
Licorice Swirl
Lime
Macadamia Nut
Mango
Maple
Marion Berry
Mint Oreo
Mocha
Molasses
Molasses Mint
Neapolitan
Orange Swirl
Oreo
Ocean Spray
Old Fashioned Vanilla
Orange
Papaya
Paradise Plum
Passion Fruit
Passion Punch
Peach
Peaches 'n Cream
Peanut Butter
Peanut Butter & Jam
Peanut Butter Blackberry
Peanut Butter Chocolate
Peanut Butter Grape
Peanut Butter Molasses
Peppermint
Peppermint Crunch
Pineapple
Pina Colada
Pink Lemonade
Pistachio
Plum Purple
Pralines and Cream
Pumpkin Pie
Rainbow
Raspberry
Raspberry Crème
Red Cinnamon
Red Hot Hot Cinnamon
Red Cinnamon Swirl
Red Licorice
Rhubarb
Rocky Road
Root Beer
Root Beer Float
Rum Raisin
Sour Apple
Sour Cherry
Sour Grape
Sour Lemon
Sour Orange
Sour Watermelon
Spearmint
Strawberry
Strawberry Banana
Strawberry Cheesecake
Strawberries 'n Cream
Strawberry Rhubarb
Strawberry Peach
Tangerine
Triple Berry
Tropical Orange-Coconut
Vanilla Nut
Watermelon
Watermelon Face
Wintergreen
Whew! That's a lot of taffy choices! Once we paid for our taffy and enjoyed a couple of fine pieces, it was on the road again!