Friday, June 17, came way too early after the
previous night's driving adventure
! Understandably, we all slept in a bit longer. Our destination for the day?
Seattle
!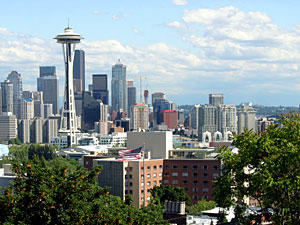 The traditional skyline view of Seattle
Amy and I planned on attending an informal BBQ hosted at Anna's parents' home (remember, we flew out here for her wedding). To save time, we thought it might be best to travel directly from Seattle to
Puyallup
(near Tacoma, WA) instead of driving all the way back to Christy's parents' place. To solve this problem, we actually took two cars, our rental and one of Christy's parents' autos. We dropped one of them off at the
Tacoma Mall
.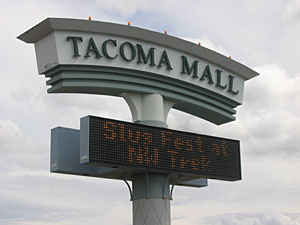 Welcome to Tacoma Mall
The plan was to drive just one car into Seattle, eventually leave town, drive back to the mall, Darren and Christy would continue back to her parents, and Amy and I would drive to the BBQ. Besides, any time to you have a chance to integrate a shopping mall into an adventure, you know that I'm probably going to do it (insert plug for our sister blog, the
Old Orchard Observer
, here.). By the way, the Tacoma Mall is owned by
Simon
, for those who care.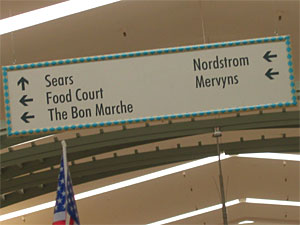 The Bon Marché still listed on internal mall signage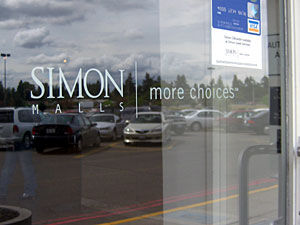 Stupid Indianapolis-based Simon
Speaking of malls,
I recently wrote on the
Observer
about the
Southcenter Mall
in Seattle, which became a
Westfield Shoppingtown
not too long ago.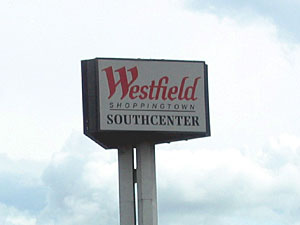 Westfield Shoppingtown Southcenter
A blogger from Seattle ranted
about the name change of
Bon Marché to Macy's
(
Previously discussed here
). It's odd to see Macy's on the West Coast. Doesn't seem to fit... and it would appear that many folks agree.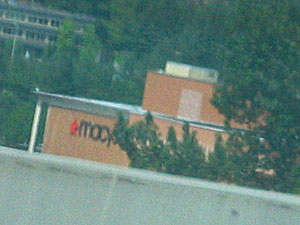 "New" Macy's at Southcenter, shot from I-5 (Digitally enhanced)
I still feel
bad things will come to the name of Marshall Field's
now that
Macy's has their grubby little hands
on that department store chain. Maybe
Gimbel's
should have won out in
Miracle on 34th Street
instead!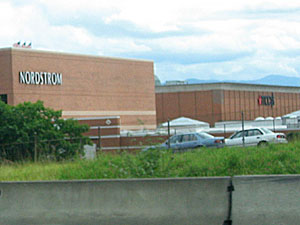 Digitally enhanced photo of Nordstrom and "new" Southcenter Macy's
On the drive to the mall, these two kids on bikes cut in front of the Interstate offramp directly in front of Darren and Christy. Idiots! As we passed them, I unrolled my window and yelled "wear some helmets!" They replied in a less than positive way
.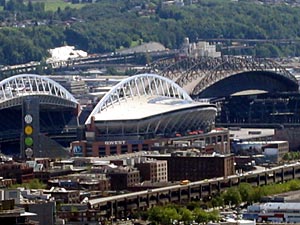 Quest Field (white) and Safeco Field (black)
On the drive into Seattle, we passed by both
Safeco Field
(built in 1999; home of the
MLB
Seattle Mariners
) and
Qwest Field
(built in 2000; home of the
NFL
Seattle Seahawks
). Both stadiums have similar roof support structures, with Quest painted white and Safeco painted black.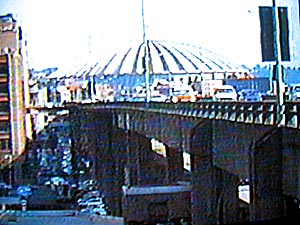 1992 Video: The Kingdome
When I was last in Seattle in 1992, neither of these stadiums were in place. Instead, the
Kingdome
served both for baseball and football. It was the world's first (and only) multi-purpose concrete domed stadium. The Dome ended up having major structural failure over time and was eventually imploded in 2000. Ironically, the stadium was destroyed before it was even paid off!
I remember the view of The Dome fondly for a couple reasons. First, it looked a lot like Walt Disney World's Space Mountain attraction, with the white, ribbed roofline. Secondly, my friend George who was with my on that 1992 missions trip actually attended a Mariners game at the Kingdome and made a big deal about it when we were there.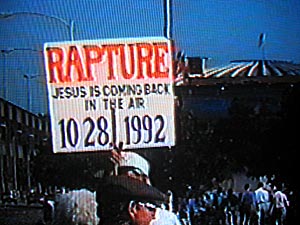 1992 Video: Crazy Rapture people with The Kingdome in the background
Finally, I shot video of some cultish freaks in downtown Seattle who thought the Rapture was coming on October 28, 1992... and The Dome was in the background. Guess what? Jesus never came in 1992! Apparently these folks were part of the
Korean Hyoo-go movement
("Hyoo-go" is Korean for "Rapture"), led by prophet
Lee Jang Rim
- who ended up going to jail for financial fraud.
But let's not talk about that, shall we? We were getting hungry and the
Space Needle
awaited our visit!