We had booked advanced reservations to eat at the
Space Needle
for lunch. The restaurant at the top,
SkyCity
, isn't cheap, but when you factor in the cost of just traveling to the top to the observation deck, the additional cost of food isn't that much of a big deal. Plus, how often do you get to eat at a rotating restaurant that overlooks Seattle?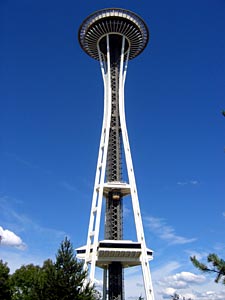 The Space Needle
We found parking and walked over to
Seattle Center
, home of many of the buildings constructed for the
1962 World's Fair
. The
Space Needle was built for the fair
as a centerpiece to showcase Seattle.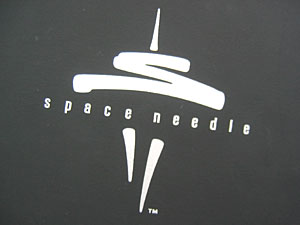 I really like their logo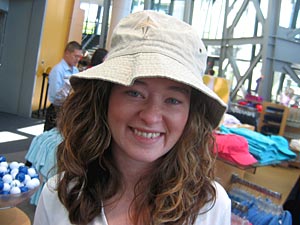 Amy tries on a hat in the gift shop
It's 605 feet tall; for comparision, the Sears Tower is 1,736 feet tall. It was built to withstand winds of up to 200 mph and earthquakes up to 9.1 on the Richter scale. Interestingly, it's built in such a way where the center of gravity is actually below ground.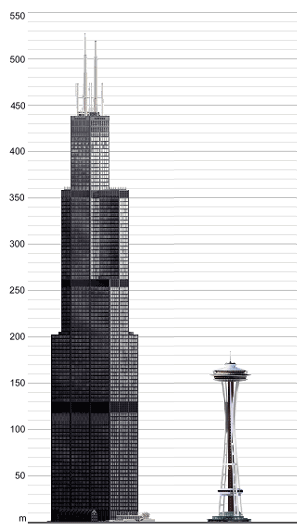 Sears Tower vs. Space Needle
The current restaurant at the top of the Space Needle was opened in 2000. Prior to this, 2 restauarants actually existed at the top. In recent years the private owners of the structure have also installed a gift shop, new elevators, things on the observation deck to keep people from jumping, and finally something called a Skybeam (a powerful floodlight that points to the sky, used only a few times during the year for celebrations).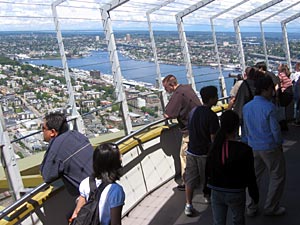 From the Observation Deck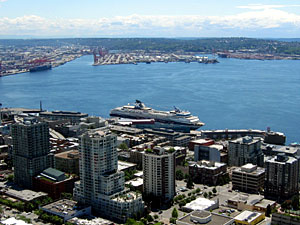 Cruise ship docked on Seattle waterfront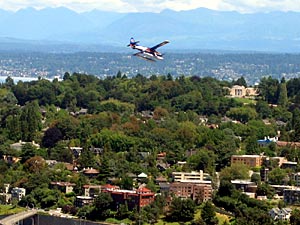 Tourist seaplane flies over city
What suprised me about our trip up the Space Needle was that there were no security checks at all. No metal detectors, no searches, nothing. You'd think a tall, iconic structure like the Space Needle would have some sort of additional security in this day and age. I remember when I worked downtown, you had to go through security just to eat lunch on the ground floor of the
Sears Tower
. Crazy!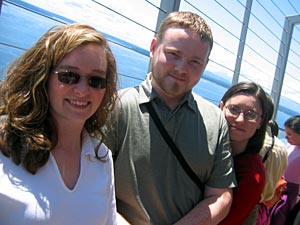 Amy, Darren, and Christy
What's cool about the restaurant is that it rotates 360 degrees in a 1-hour timespan, giving you a focused view of the Seattle skyline, Cascade Mountains, Elliot Bay, and on a clear day, Mount Rainier. It reminded me a lot of the rotating restaurant found at
The Land
pavillion in
Epcot
at
Walt Disney World
. Except that this one was at the top of a tower overlooking a large city.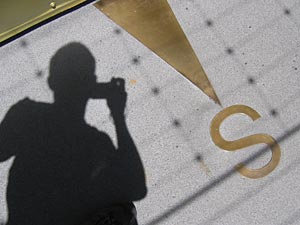 "S" is for Steve!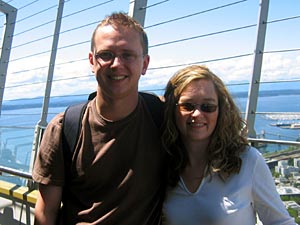 Steve & Amy enjoy the view
They weren't quite ready for us when our reservation was called, so we hung out on the Observation Deck, which is one level above the restaurant. Here is where you find the tons of tourists snapping photos and overlooking the city via telescopes. There was also a host on this level who explained the sights.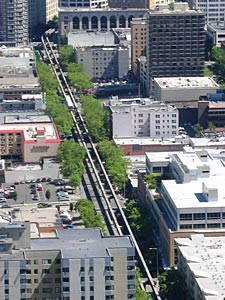 Seattle Center Monorail
I personally enjoyed checking out the
Seattle Center Monorail
, which I
rode on my last visit
. This 1-mile system was built for the
World's Fair back in 1962
.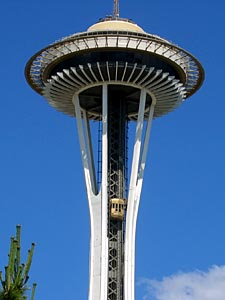 Cool architecture
Seattle is currently looking to replace this with a
new, 12-mile monorail line
, but apparently,
debate is huge
. Why does Seattle have such a
hard time with public transit
?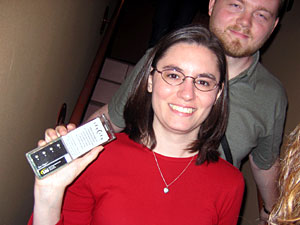 The beepers don't work!
Ironcially, the little electronic beeper we were given to notify us when our table was ready didn't work on this level. You would have thought they'd have figured that out by now. In any case, a hostess tracked us down when the time was ready.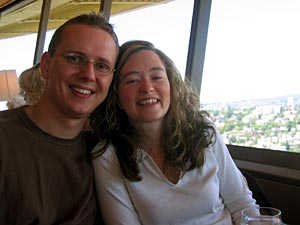 Comfy seating inside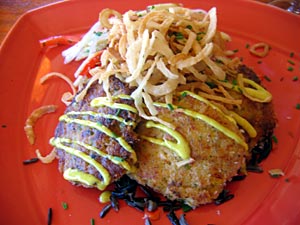 Yummy crabcakes!
Amy, desiring to experience as much quality West Coast seafood as possible, ordered the Crab Cakes, which featured "Northwest crab mixed with a medley of roasted corn, Panko bread crumbs and served with Braeburn apple salsa and curry aioli."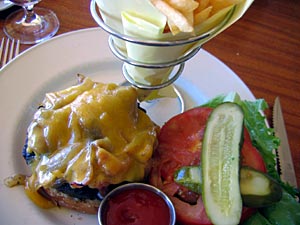 Is that Tillamook Cheese?
Not being a big fan of seafood, I ordered the SkyCity Burger, "premium Gold Angus beef topped with Tillamook cheddar, sliced pancetta and caramelized onions." Remember how we
talked about Tillamook Cheese before
? Yup, it's a big deal in the Pacific Northwest!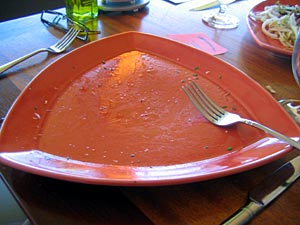 Yeah, Amy ate the whole thing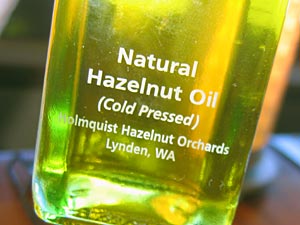 Tasty hazelnut oil
The food was excellent. I even tried some of Amy's crab cakes and was impressed. Of course the view was cool as well. It was nice to have a special lunch during our trip in a somewhat "formal" eating establishment. We also enjoyed the various kinds of fresh bread offered to us, designated to be dipped in a locally produced hazelnut oil. That was exceptionally tasty!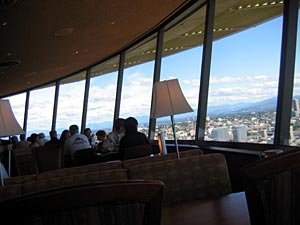 It rotates, but you don't get dizzy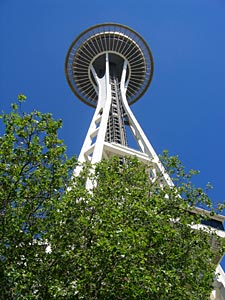 1960's style still best part of Seattle skyline
It was also nice to have a somewhat clear day to see the horizon as well. However, I'd say that beyond the Space Needle, Seattle can't hold a candle to Chicago when it comes to the architecture of buildings. Everything in the city skyline is rather bland.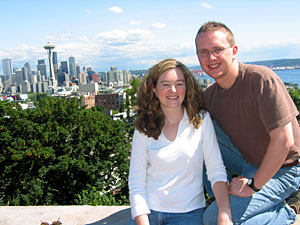 Steve & Amy at Kerry Park
After paying for our meal, we drove on over to
Kerry Park
, famous for its view of the Seattle skyline. It was also featured in the 3rd installment of
The Amazing Race
on the final leg (Vietnam to Seattle; Flo & Zach won that season).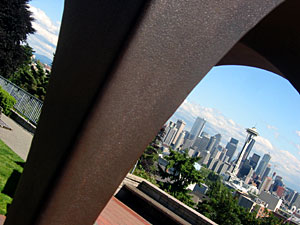 Great views from the park
More importantly, it's the location where Darren asked Christy to marry him many years ago. Awww, how sweet! Upon leaving the park we also drove by
Seattle Pacific University
, the college where the Sumners first met. So yeah, it was kind of a retro-memory day for them.