We landed in Chicago early, believe it or not. Our estimated arrival time was 6:45 p.m., but we touched down at 6:30 p.m. How often does that happen? I don't think it's ever happened to me, that's for sure. Unfortunately, the captain informed us that there was no gate available for us to park at. Say what? Didn't they know that a plane was coming? Hello? So we taxied around
O'Hare
's runways for a little while.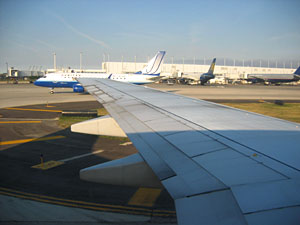 6:30 p.m. - We land at O'Hare
At 7:00 p.m., the captain informed us once again that O'Hare didn't have a place for us to pull up to yet. Well, at least it's good to know that O'Hare continues it's well-established tradition of screwing up every possible element of a flight experience. By this time, it was getting a little warm in the airplane as well and people were getting irratable. There also was a growing contingent of folks who had to use the bathroom.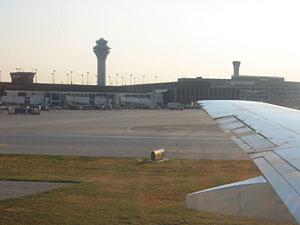 7:00 p.m. - We continue to taxi around the runways
7:30 p.m. rolled around, exactly 1 hour after we had landed... and sure enough, still no gate to call home. What the heck? So let's quickly recap the advantages and disadvantages of Amy and I flying out of O'Hare, shall we?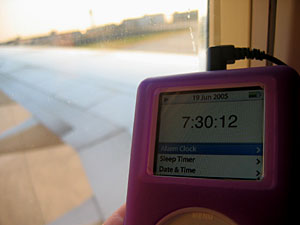 7:30 p.m. - We still don't have a gate!
Advantages
Just an L ride away from our apartment
You can fly to pretty much anywhere in the world from O'Hare
It supports the Chicago economy
Disadvantages
Departures are always delayed
Arrivals are always delayed
Baggage is always delayed
I think it was around 7:45 p.m. that we finally pulled up to a gate and got off the plane. There was a large group that needed to make a connecting flight to Miami, and the airline had managed to get that other flight to wait. Unfortunatelly, those folks were located in the back of our plane and Alaska Airlines really couldn't figure out a good way to get them off quickly. (Here's an idea... tell everyone else to stay seated!) When will this industry be rebooted already!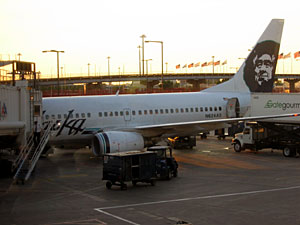 Finally our plane finds a home
The adventure didn't end there, however. Because it probably took about 45 minutes for us to get our luggage. They are doing a lot of rennovation on various terminals at O'Hare. The place truly looks like a combination of a war zone and a dump. It's looked pretty much the same since I started all this flying back in January, so I don't know what those slacker Union employees are doing. Anyway, we watched the luggage belt for a long time until our bags finally showed up. I really don't know what caused the delay.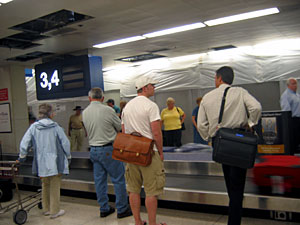 Junky baggage claim area
It wasn't until 8:30 p.m., 2 hours after we touched the ground at O'Hare, that we loaded up into my parent's car to head back home (they were nice enough to pick us up at the airport). Does flying really save you that much time? I think not. It probably gives you more ulcers than anything else. Let me know when high speed rail becomes reality in this country!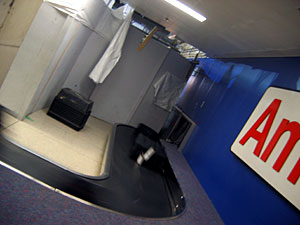 The ceiling is even falling apart!
Needless to say, we were pretty exhausted when we finally pulled up to our apartment. It was great to sleep in our own bed for a change. Unforunately, the next day was Monday, so back to work.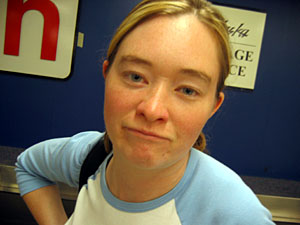 Amy is sad that our trip has ended
Final thoughts... Was it worth it to make the trip? Totally. Despite the
negative flying experiences
, I think it was worth the effort and expense. We got to see a part of the country that isn't really close to us and share in some new experiences. Amy and I probably appreciated the scenery of
the coast
and
Mount St. Helens
more than anything. It was also cool to
add
5
more
unique
lighthouses
to our "Visited" column. There is definetly a cultural difference between the Northwest and the Midwest, that's for sure, but observing stuff like that is part of what makes travel fun.
Thanks for reading along during
SumTan's Pacific Northwest Trek, sponsored by Weyerhaeuser
. This story took 24 parts, over 200 photos, and thousands of words to tell, but we hope you enjoyed the journey! (Psst... keep reading... there is one more part!)