3rd Place: Carson Pirie Scott

For the third year in a row,
Carson Pirie Scott
comes in 3rd place as we look at the
Christmas windows in Chicago
. They didn't even give a rip about Christmas this year. There has to be a point where we just disqualify a store from the
State Street Showdown
for lack of trying, even if they did have window displays historically. That seems to be the case with Carson's. Oh well, we'll worry about that next year, I guess.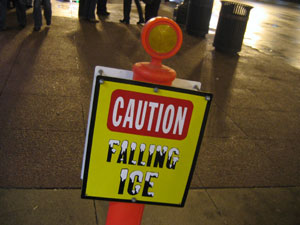 What are you supposed to do when you read this?
Surely, they couldn't do worse than last year's horrible
Club Libby Lu bonanza
, right? Wrong.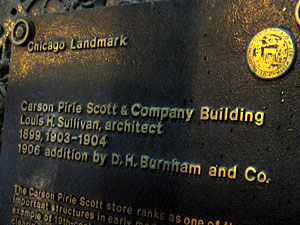 This is a special building
Just like last year, there is still scaffolding at the front of the department store entrance. This is because the building owner/manager (
Joseph Freed and Associates
) has been undergoing a huge multi-year renovation effort. Designated a city landmark and listed on the National Register of Historic Places, the Sullivan Center (occupied by Carson Pirie Scott's flagship department store) is considered one of Chicago's most architecturally significant structures. The original building on State Street was designed by Chicago architect, Louis H. Sullivan in 1898.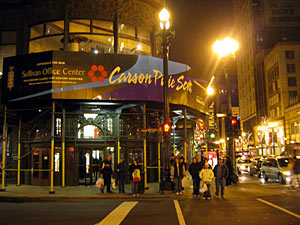 Front of store in 2004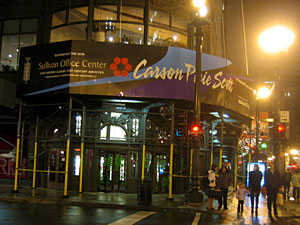 Looks the same in 2005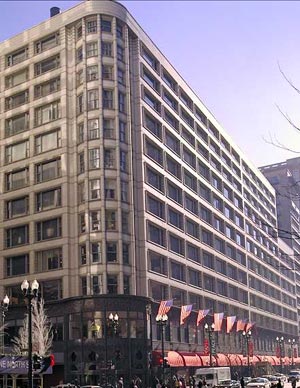 Here's what the building looked like pre-renovation
Because of that, not much has changed in the view of the front of the building. In fact, if you compare the photo I shot last year with the photo I shot this year, you'd be hard pressed to see any differences.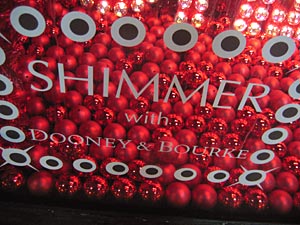 Lots of words that start with "S"
This year's "theme" for the windows at Carson Pirie Scott seems to revolve around some sort of glamour and Broadway-like lightbulb motif. The store actually decorated 8 windows with this type of display (up from 4 windows in 2004). It doesn't really matter, because they are all crap. Each window seems to have a retail clothing "sponsor", so to speak, whose product is showcased. The floor of every window is covered with red glass ornaments. Meanwhile, the eye-catcher is large illuminated letters in the center of the window, highlighted by big, round lightbulbs. The words "SHIMMER", "SHINE", and "SPARKLE" are repeated throughout.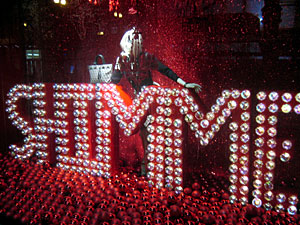 How the windows are supposed to look with lights on
Unfortunately, only one window actually had the lights turned on. The other 7 sat there in the dark. What the heck? So it was hard to make out what was being presented, let alone snap photos. But that's pretty much par for the course with Carson's these days. Here's hoping
their new owners
take a refreshing approach to the State Street Christmas window issue for next year.
---
Window #1: SHINE with Tommy Hilfiger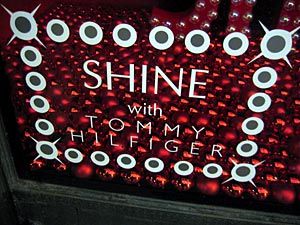 Who cares about Tommy?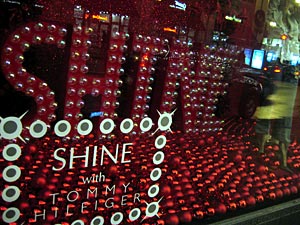 Lights out; no one home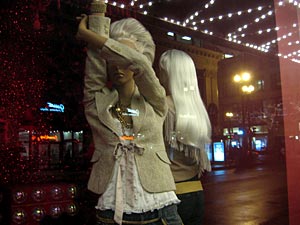 Crazy women with white hair!
---
Window #2: SHIMMER with Polo Jeans Co.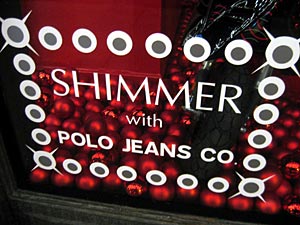 I don't buy my jeans from Carson's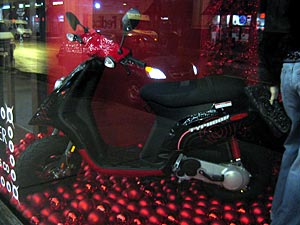 Jeans = Scooter?
---
Window #3: SPARKLE with Waterford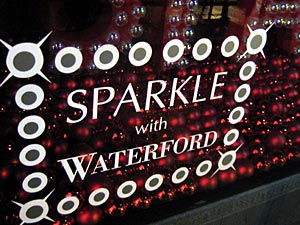 Waterford is a small town in southeastern Wisconsin...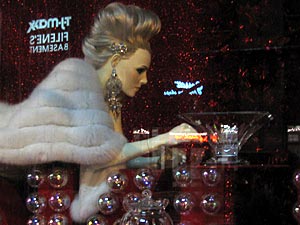 ... or overpriced crystal
---
Window #4: SHINE with Level 99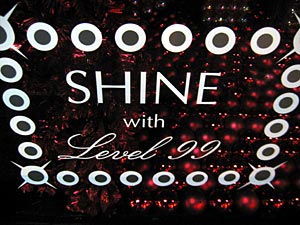 I have no clue what Level 99 is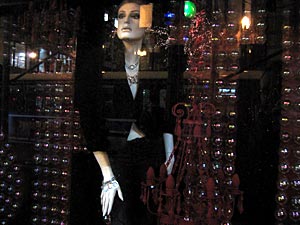 I bet it has something to do with clothing
---
Window #5: SPARKLE with Jones New York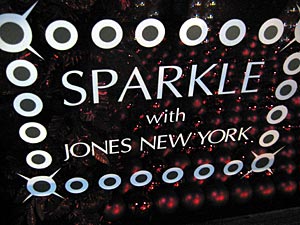 If "New York" is in the name, it's crap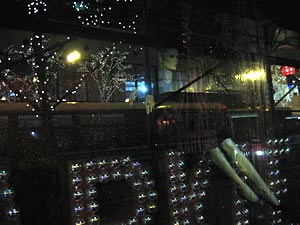 Fake lady sits on the sign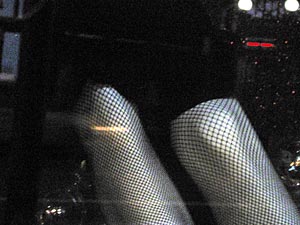 Apparently her right knee is "abused"
---
Window #6: SHIMMER with DKNY Jeans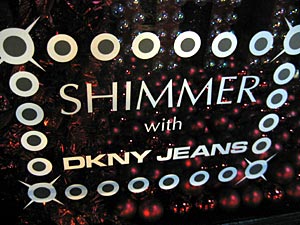 More New York namage... yuck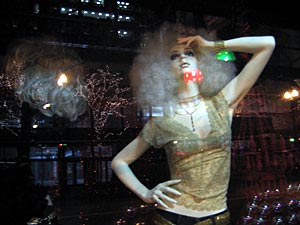 Are you sure this isn't Halloween?
---
Window #7: SHINE with Jones New York Signature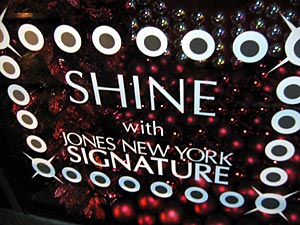 We've moved on to the "Signature" collection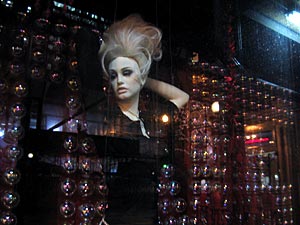 Signature = Scary Mannequin
---
Window #8: SHIMMER with Dooney & Bourke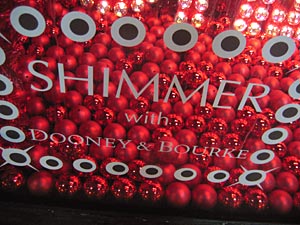 The final window is the only one with the lights on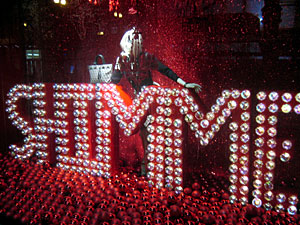 How shimmery!
---
I'm not sure if (a) Carson's doesn't put investment in windows because of all the construction still taking place in front of the building, (b) previous owner Saks really slashed the budget here, or (c) they just don't care. It's obvious they aren't focusing on tradition these days.
Coming up next: Will we have a repeat of 2004 with Marshall Field's again falling to 2nd place? Or will Sears lose their winning edge and give up the throne? Find out as State Street Showdown 2005 continues...