This past weekend Amy and I headed back to
Allstate Arena
for another
Arena Football
game. This time around it was our 0-2
Chicago Rush
up against the 2-0
Nashville Kats
.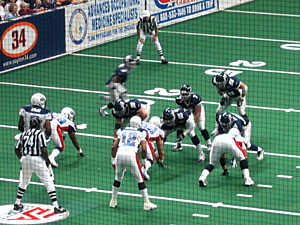 Rush & Kats face off!
You may recall that Nashville returned to the league last year, and we saw them play twice, both
here in Chicago
as well as during a
road trip down to Nashville
.
But first, a letter to the team management:
---

Dear Chicago Rush:

OK, so I was amused when the big typo showed up on the North and South video boards last week. Ha ha, you misspelled Rent-A-Center.



Typo found last week


However, running the same typo two weeks in a row... not cool.



Typo remains this week


If I were Rent-A-Center, I'd be pretty ticked off that you couldn't even spell a sponsor's name correctly. If I were a Rush employee, I'd fix that before someone notices (oops, someone did!). It's called proofreading. Look into it!

Sincerely,
Steve Tanner

---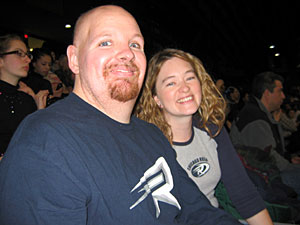 Shannon & Amy
This week, Amy and I were joined by our friend Shannon. He's sort of been a good luck charm for us. Last year,
we won a free pizza
when we went to a game with him. And we won the game!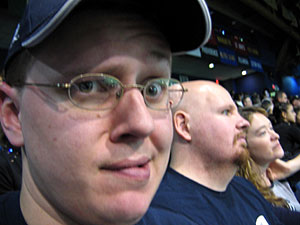 Steve ponders the Rush throwing the game
As I wrote last week, the Rush have changed the pregame introductions a little. It still is kinda slow moving when it comes to the "hey, watch this video we spent too much money on to produce" instead of actually getting the crowd excited. On the plus side, however, lots of new pyrotechnics have been added... and unlike last week, it seemed like they had their act together as far as timing.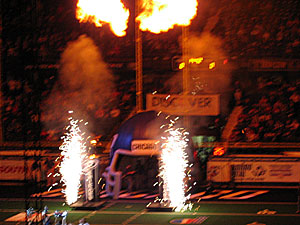 Sparks and stuff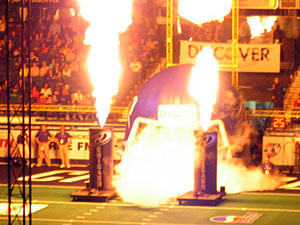 Fire!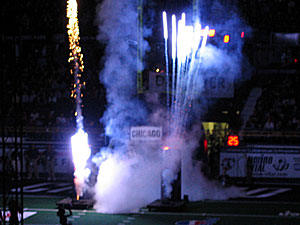 Flares and fireworks!
We sat back in the cheap seats this week, up in the balcony of the east endzone. You often find lots of groups and birthday parties up there.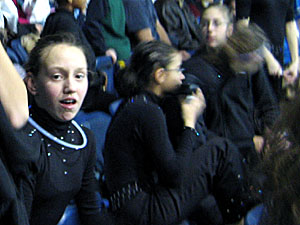 Pom girls sitting behind us...
This time around, there was a large group of girls sitting right behind us who appeared to be from some school pom squad, as was evidenced by their matching outfits.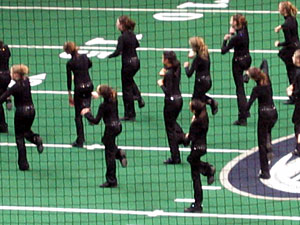 ... who ended up on the field later
And sure enough, they actually did perform on the field a couple of times during the game. Go figure.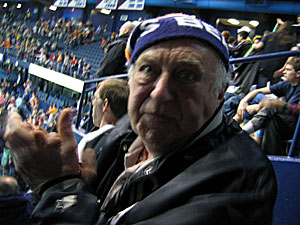 Old Bears Fan Guy
There was this older guy sitting in front of us who appeared to have been attending his first AFL game with some family members. You could tell he was a big Bears fan and even wore the attire. I had a good time exchanging comments with him back and forth, while explaining some of the rules of the game... such as how overtime is played.
You see, we had to go into overtime because the Rush blew a dominating 15 point lead in the final quarter. Nashville turned the ball over a ton during the game, resulting in us putting quite a few points on the board. But somehow, mainly due to the fact that our quarterback likes to dance around a lot and get sacked rather than, oh, I dunno, ACTUALLY THROW THE STINKIN' BALL, the Kats caught up. The real dagger was when they scored in the final seconds of regulation to tie the game.
They scored first with a touchdown in overtime. Per AFL overtime rules, however, each team gets a possession and then it moves to sudden death. If the Rush didn't match Nashville's touchdown, the game would be over. In the end, on a 4th-and-15 play, the Rush scored a TD. Then in a rather bold move, the Rush chose to go for a 2 point conversion rather than just tie up the game. Surprisingly, they were successful and won the game 56-55. The Rush didn't earn this win (despite the
crap on the official website
). They got lucky. They played dumb with penalties and had a QB who ran the ball more than he threw it. Not a way to win a ton of games, guys!
On the plus side, we've got new advertisements to check out in the bathrooms! For those of you who don't know, Allstate Arena features automatic hand dryers in the bathrooms that feature digital advertising. They are made by a suburban Chicago company called
ImpressionAire
, and here on
SteveandAmySly.com
, we've
become quite the fans
of these things. Heck, we even got to
meet some folks
who worked for the company!
Thus, I present the advertising I saw today: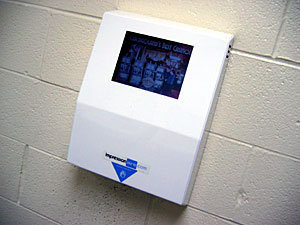 ImpressionAire Digital Advertising Hand Dryers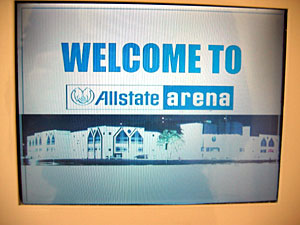 Allstate Arena: I feel so welcomed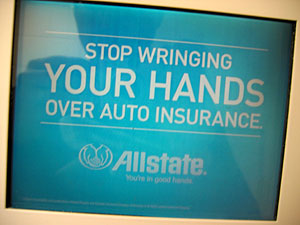 Allstate: The cleverest copyrighting on the ads. Nice job!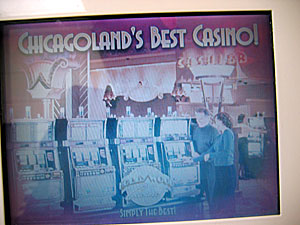 Hollywood Casino: Where baby boomers blow their savings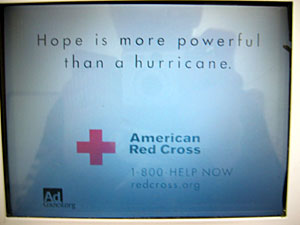 American Red Cross: Please, we do more than clean up for the Bush Administration!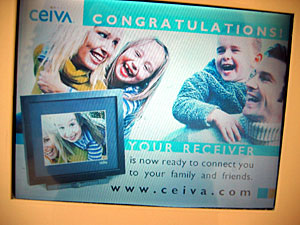 Ceiva: Some sort of digital photo frame thingy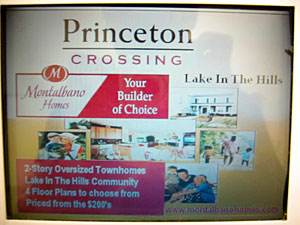 Princeton Crossing: Buy a townhome in the middle of nowhere!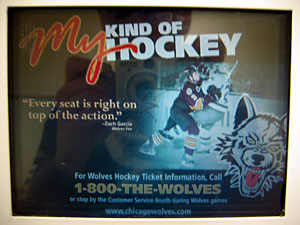 Chicago Wolves: We're still better than the Blackhawks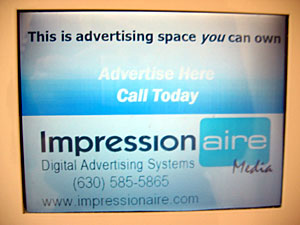 ImpressionAire: Please buy ad space!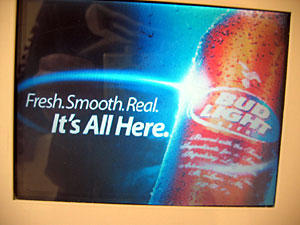 Bud Light: Children, what children?
The only concern I had with the ads was the Bud Light ad. You see, in the bathroom I visited, there were 3 hand dryers mounted at normal level and 1 extra one mounted lower for kids. Watching the rotation of ads on the dryers, I noticed that the Bud Light ad ONLY APPEARED on the kids dryer. What the heck? I don't think targeting minors is exactly legal.
By the way, the new stadium announcer still sucks. It's like he's reading a script or something. Every line starts with "Hey Rush fans...". Um, we know we are Rush fans, who else are you talking to? Plus, he cries wolf all the time. "We really need to you cheer now!" It gets old after a while because he says it like on every play. It was especially noticeable in overtime when the stadium was pretty much lacking any cheering. Either people were ticked that the Rush pretty much gave away the game or they were tired of cheering all the time. It was a pretty evident illustration of the relationship between those in the seats and those on the field.
It may seem like I'm ragging quite a bit on the Rush organization here... and I am. I guess when you've attended games going on 6 seasons now, you notice changes over time. Frankly, Amy and I have seen things go somewhat downhill regarding the game experience for the fans. It's a bit frustrating as we like the sport and supporting our local team, but when we bring others to the game and goofy situations arise, it just doesn't make a good impression. It's all about maintaining a quality product.
In the end, we got a win and it was closer than it should have been. The Rush better improve their act or we are in for a long season.