On Sunday, Amy and I traveled solo to the
Allstate Arena
to catch the
Arena Football
game between our
Chicago Rush
and the
Grand Rapids Rampage
. Heading into the game, both teams had identical sucky records, 3-5.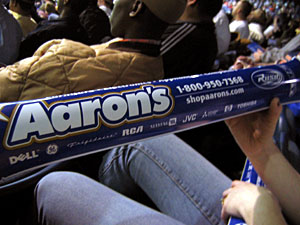 Get your CheerStix!
It was
SoBe
Adrenaline Rush Dancers poster day, but because this is a family-oriented website, I won't share what those looked like. We also got "Aaron's
CheerStix
". Apparently, CheerStix are a knockoff of ThunderStix, which are basically those inflatable tubes you bang together to make noise.
Aarons
is an applicance/electronics/furniture lease-to-own chain of stores... and a national sponsor of the AFL.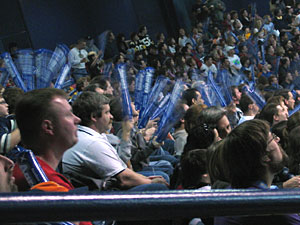 Fans bang away and make noise
We sat up in the cheap seats, balcony in the east endzone. And like our previous game experiences, the audio was pretty bad. Just because the "Volume" and "Treble" knobs go all the way to the right... that doesn't mean you should do that.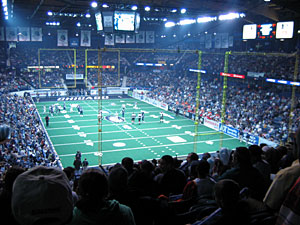 The view from our seats
It's not that I'm getting older and more cranky, it's that the audio mix was just plain bad! (And no, even though
FriarTuck recommended that I contact team ownership
, I haven't done that yet).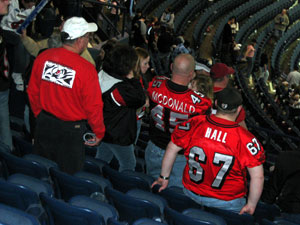 Grand Rapids fans who made the roadtrip
Given how close Grand Rapids is to Chicago, Amy and I have probably seen this matchup in person the most. We've seen both home and away matchups in 2004 and 2005... and probably this year as well (Recap:
2004 Home
,
2004 Away Roadtrip
,
2005 Home
,
2005 Away Roadtrip
). Predictably, quite a few Grand Rapids fans made the trip to our arena.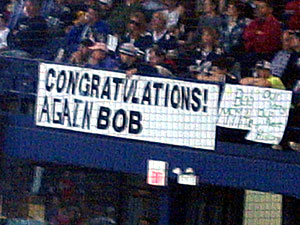 Yes, let's celebrate Bob again!
As we mentioned way back
during our attendance of the San Jose game
, FB/LB Bob McMillen broke the AFL's all-time leading rushing record... then lost it in the same game. Well, he finally broke it again on the road last week against Nashville, so there was a bit of a tribute for him at this game.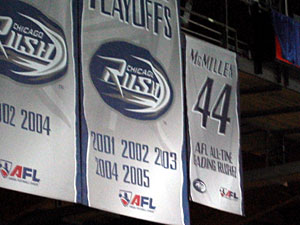 New banner appears at Allstate Arena
McMillen, who has family in the Chicago area, spoke to the crowd and was presented with three framed jerseys from his 12-year AFL career. Bigger than that, however, was the banner that was raised in Allstate Arena in his honor.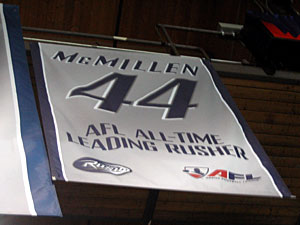 AFL All-Time Leading Rusher
That was pretty cool, as while there are lots of banners and junk in the rafters for the AHL Chicago Wolves, DePaul's basketball teams, and the like, there isn't much in the realm of the Rush. It was nice to finally see a player tribute hanging up there.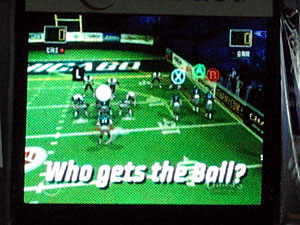 We get it, you are trying to sell videogames!
Again, the Rush continue to offer a pretty lame in-game experience with a lackluster batch of promotions. When you team is down 24-3 in the first half, you need something else to keep you involved... because the gameplay sure wasn't doing it. Luckily, we were fortunate to experience the amazingly stupid EA Sports/Champs Sports "Who Gets The Ball?" promotion.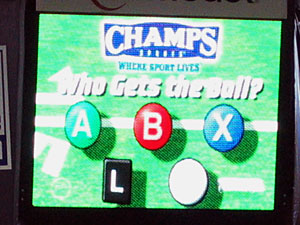 It was "X" by the way (It's almost always "X")
It's nothing more than watching a bunch of prerecorded videogame clips on the stadium video screens. One crowd member is asked to guess which player he thinks will get the ball next. The video is then played... and that's about it. How fun is that? It's not. It's stupid. It involves just one fan in a game that seems fixed.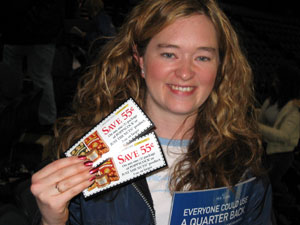 Amy displays our "valuable" Poppycock coupons
Of course, then there is the amazingly popular "Poppycock Extra Point" promotion. What is that? Well, when the other team scores, if they miss the extra point, every fan in the stadium gets a coupon for 55 cents off a box of
Poppycock
. Oh boy, how fun. We get a coupon! There's nothing exciting there at all. (And who has actually heard of this product? When I finally
bought a box on a trip last year
, I was unimpressed). In previous years, sponsors like Baby Ruth would actually give you a coupon for a FREE candy bar. Now that was pretty cool. This, however, is not.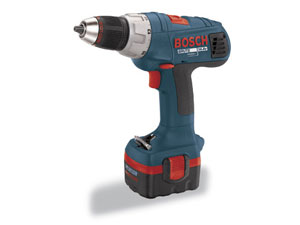 Bosch Brute Tough™ Cordless Drill
Oh, remember the
Bosch Power Box promotion
I wrote about during the Dallas game a few weeks ago? They took it up a notch at this game. This time around instead of throwing Power Boxes at a target on the field, the folks at
Bosch
dared you to throw one of their Brute Tough™ Cordless Drills. They claim you can drop them off a roof and they'll still work.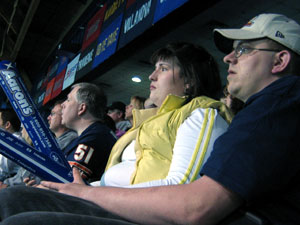 This guy actually worked for Bosch... and sat next to Amy
The Power Box made sense. The drill thing, however, just had me wondering if this was really something you should be doing on an AFL field.... thinking more about the damage that could happen to the field by whipping drills around! Apparently, the drill bits were removed, but still there are quite a few sharp edges. In any case, two contestants threw the drills... and one of them landed and sort of came apart (I think the battery pack actually went flying). No acknowledgement of that was made, of course. However, I mocked it... until I found out that the folks sitting next to Amy and I actually worked with Bosch. Go figure. What were they doing sitting up in the nosebleed seats?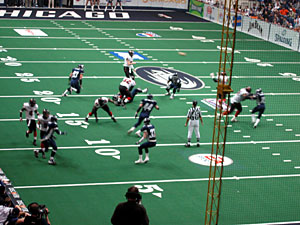 Yes, there was a football game
Please understand that I know that you go to games for the game. The promotional stuff is just a sidebar. But much of the AFL experience is this sidebar due to the way the league has survived over the years. It's as much of the entertainment as the game itself somewhat. And when you have friends, kids, and other folks who are sitting there during a boring TV timeout, you better have something going on to keep them entertained. In this case, while there was stuff going on, it just wasn't very good.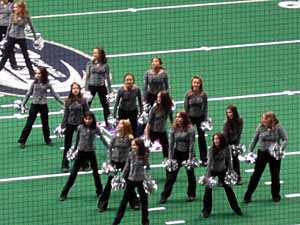 The amazingly-lame Junior Adrenaline Rush Dancers
In case you were wondering, there actually was a football game taking place too. Summary: Rush choked during the first half of the game, had fortune fall in their favor with some interceptions and fumbles, and eventually came back to an impressive AFL finish winning the game in the last minute with a touchdown... leaving 4 seconds on the clock.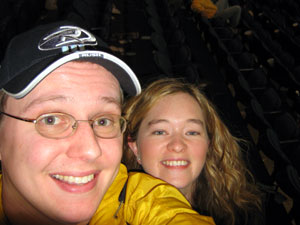 Steve & Amy celebrate a win
Grand Rapids' QB, a former Rush backup, choked and was sacked for a safety, which pretty much put the crowd of 15,228 into a frenzy with the win! I was pretty amazed to see the turnaround, but it wasn't that the Rush were good... it was that the Rampage self-destructed in the end. The end of the game was classic AFL, however, with one of those situations where you just have to stay till the end of the game to be assured of the outcome. I felt sorry for the losers who left early. Final score: 51-44, Rush win and now have a 4-5 record.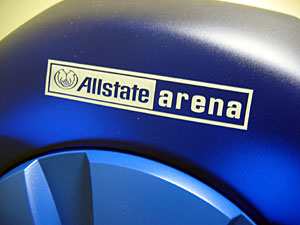 It's a logo
Here's a question to think about: How often do you sit on the toilet at a major sports arena and think to yourself, "I wonder where I am?"? Wonder no longer, as it seems we now have branded Allstate Arena toilet paper holders!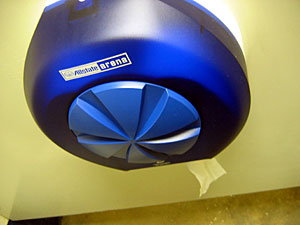 I'm not sure what I should say
I don't know how long these have been around, but I just noticed them at the last game.
I understand hand dryers
, but does marketing really need to extend into the stall? Just asking.