Let's forget about the fact that the
Chicago Rush
destroyed the expansion
Utah Blaze
last Saturday night by the score of 84-48. Let's forget that the team set a personal record for most posts scored in a game (surpassing 76, set in 2003).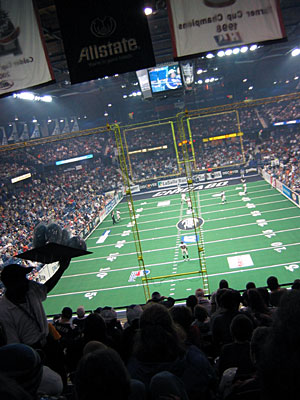 Our view from the West Endzone
Let's forget that there was a packed crowd of 16,154 at
Allstate Arena
for another exciting game of
Arena Football
. Oh, and let's forget that the Tanner's were part of a 14-person group of folks that we brought to the event (a personal best for Amy and I). None of that matters. For there is only one thing that will always be remembered about this game...
...Amy got a free shirt.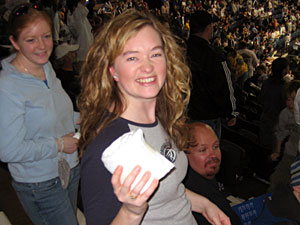 The white ball is pretty important!
For the past 6 seasons, I've heard the same thing from Amy at every game we've attended. "Why can't I catch a free shirt?" You see, during timeouts and such, the Rush promotional staff throw bundled shirts into the crowd, via manual throwing, slingshots, or air cannon. And to date, we've never caught one.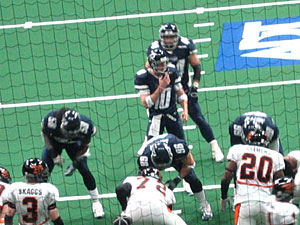 Yes, we watch the game through a net
A lot of that has to do with the fact that we tend to sit in the cheap seats, behind the endzones, which are sort of blocked by these large rebound nets. And even though the shirt is probably some crappy, low-quality promotional item, she wanted one. Heck, I offered to buy here a nice Rush shirt, but nooooooo, that wouldn't do!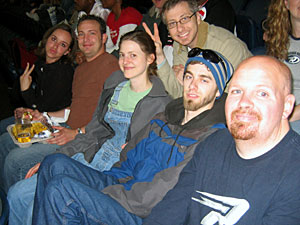 Erin, Erin's Friend, Catherine, James, & Shannon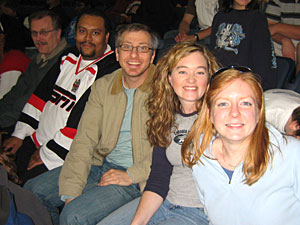 John ("Dad"), John ("Cracker"), John ("Amy's boss"), Amy, & Margie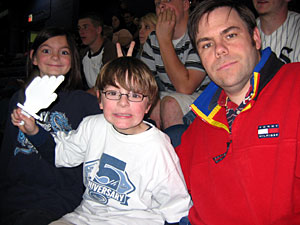 Tricia, Parker, & Keith
(Not pictured... um, me!)
However, I guess if you bring enough people with you to an
AFL
game, your odds of getting a shirt increase substantially! For the final home game of the season, Amy and I gathered 12 friends to join us for the game. Some were returning. Some were experiencing Arena Football for the first time. Some we had never even met!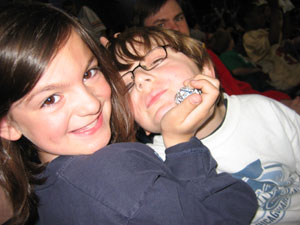 Sibling Fun!
But it definitely was a fun time to have everyone there! And because Amy's coworker James was a super-nice guy and gave Amy the t-shirt he caught, hopefully this quest for the freebie will end! (What, was
free pizza
not enough?)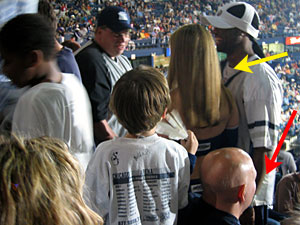 Yellow arrow denotes Beth;
Red arrow denotes Shannon
Speaking of free pizza,
at our last game
I mentioned how we were joined by our friend Shannon, who I nicknamed the "
Beth Magnet
". It seems that every time we attend a game with him, we somehow interact with Beth, the Rush Promotions Emcee.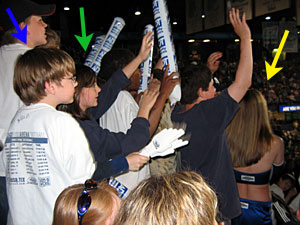 Yellow arrow denotes Beth;
Blue arrow denotes Parker;
Green arrow denotes Tricia
Last season it was
free pizza from her
. At our last game, it was a
photo with Nick
. And sure enough, this time around, she once again was right next to us... moving the folks across the aisle to upgraded seats. We think Beth has a secret crush on Shannon and can't get enough of his presence!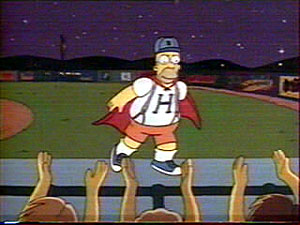 Dancin' Homer
(Source: "The Simpsons" Season 2 DVD)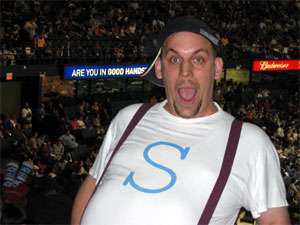 Dancin' Steve
Another person we got to see again (for the first time this season... we must have been sitting in the wrong section) was "
Dancin' Steve
", a character we first mentioned last year. He's a guy who moves around the stadium and dances in the aisles. His antics are obviously inspired by Homer Simpson, who portrayed "Dancin' Homer" in an
episode of The Simpsons
by the same name during their second season.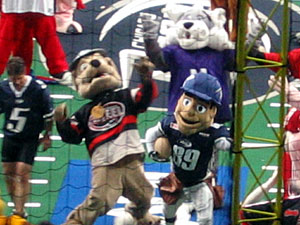 Grabowski runs for a TD
Halftime entertainment consisted of a football game between mascots of teams found in the Chicagoland area. (A similar event took place at a
game we attended in 2004
.) This is typically goofy and fun. The first couple of times the Rush did this, it made no sense, given that we didn't actually have a mascot of our own. That changed this year with the introduction of our creepy, bad luck mascot, Grabowski. Maybe folks are right. He's the real reason the Rush haven't been doing well this season!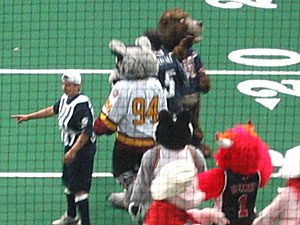 #94 is Skates the Wolf
It was funny to see that out of all the mascots at the game, including the high profile ones from the
Chicago Bulls
and
Chicago Blackhawks
, the one that drew the most cheers and feedback from the crowd was "Skates", the mascot for the
AHL
Chicago Wolves
. The Wolves play at the Allstate Arena as well. And frankly, having seen this mascot in action during a hockey game, I can see why he's popular. Grabowski is pretty lame in comparison.
The final Rush game of the season is away in Grand Rapids this coming weekend. If we win, we are in the playoffs for the sixth straight season. Here's hoping for success!