Back in May, Chicago celebrated Law Enforcement Appreciation Week. One way this was marked was through a lighted window message on
CNA Plaza
, where my Dad works as a building carpenter.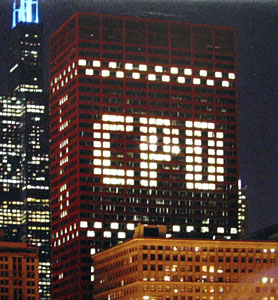 He was involved with this new display, just like other featured displays over the years, including...
Go Sox
(October 2005)
Breast Cancer Awareness Ribbon
(October 2005)
Sox Win
(October 2005)
Christmas Ribbon
(December 2005)
Go Bears
(January 2006)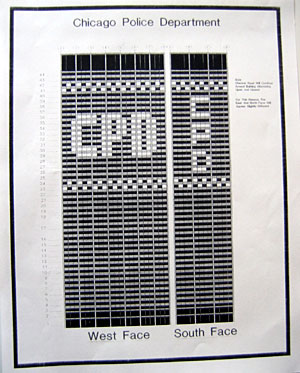 For this message, the letters "CPD" were displayed on the large sides of the building (for "
Chicago Police Department
"). Along the top of the building, a checkered "band" was created as well, emulating the look of the police uniform, namely the hat.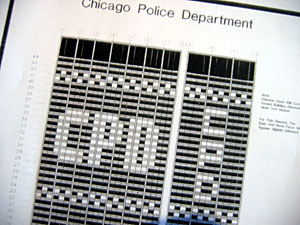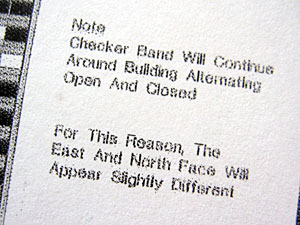 According to Wikipedia
, "Chicago police wear hats with checkered bands, popularly known as the 'Sillitoe Tartan' and named after its originator, Percy J. Sillitoe, Chief Constable of Glasgow, Scotland in the 1930's. While the checkered band is a common police symbol in the United Kingdom and other countries in Europe, Chicago and Pittsburgh are the only cities in the United States that have adopted it as part of their police officer uniforms."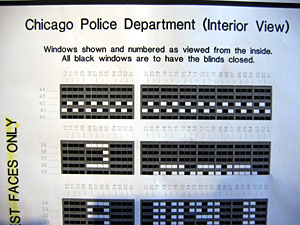 Above you will find a photo of the final result, along with the illustrations used for the main blueprint in displaying the message. Often, these plans feature two versions... an illustration showing how the building will look from an outside perspective... and a "reversed" view, used by engineers on the inside of the building as a guide. This shows them which windows on which floors need to have lighted areas or not.
Pretty cool stuff!