Originally Posted by Wally
I have noticed that all of the times you have mentioned the CNA building, displays have always been PSA in nature. Do they ever put a big CNA on display in the windows?
I don't think I've ever known of a self-promotional window display on the CNA building.
Historically, Chicago buildings have never really had branded names showing on them. You just saw the building and that was that. In recent years, the city has allowed more and more signage on buildings. For example, you can now easily spot the Chase building (seen behind the CNA building in the first photo above with a Chase sign at the top -- this building used to be called First National Plaza then Bank One Plaza, etc. -- Dad spent some time working in that building as well). Other buildings with names on our skyline include Boeing, Blue Cross, and a few others with just logos. Personally, I hope the trend doesn't get too out of control.
CNA Plaza is a little different in that it doesn't have a name of the building, but it's pretty iconic because of its red color. I doubt most folks in the city know that CNA is there, but they are sure aware of the red building. (After all, CNA is an insurance company that deals more on the corporate side of things... not exactly a household name). Technically speaking, this is actually the 2nd CNA building... the south building. It was actually built as an expansion of
CNA Plaza North
, which sits right next to it. The two buildings were both painted red at one point and connected. Recently, however, CNA sold off the North building and "broke" the connections between the two.
As for the "why" would they do these messages of civic pride, I don't really have an answer. There's the obvious input that they portray the feeling of being a good neighbor to the city. People feel better about a corporate entity that way when they embrace the city around them. Contrast CNA's behavior with how Federated has botched the "Marshall Field's to Macy's" transition. They don't have a good vibe here, and I'm sure there's some analysis somewhere that shows how that affects their corporate valuation. (I'm sure it was unrelated, but Dad told me that during the White Sox displays last year, CNA's stock price went up.)
Looking at the pure dollar and cents side of the equation, many companies downtown, especially the big names, get a lot of concessions from the city so that they stay there vs. moving to the suburbs or elsewhere. No doubt CNA has also gotten these, as there were rumors of them wanting to move at one point. There may be an unofficial obligation that CNA feels to the city because of the concessions provided to the corporation.
Another factor is that of competition. CNA has been doing the lighting building displays for quite a long time (
here's one
when the Bulls were winning all their championships). They were pretty much the only kid on the block doing them, which made them unique. Recently, however, other buildings have been getting into the game, namely the
Blue Cross-Blue Shield Tower
(which tends to only do 1 side vs. CNA's 4 sides -- my Dad always points that out). For example...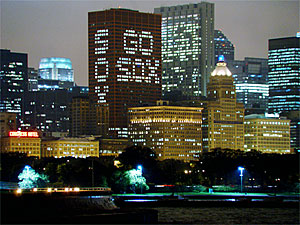 CNA Plaza tribute to White Sox (4 Sides)
(October 2006)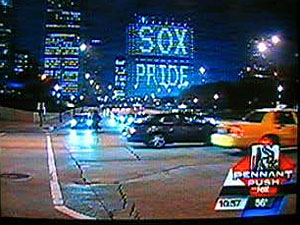 Blue Cross-Blue Shield Tower tribute to White Sox (1 Side)
(October 2006 - Video Screenshot)
I've also seen messages on the pointy top of the
Smurfit-Stone Building
(made famous in the film
Adventures in Babysitting
). In the last year (starting with the White Sox going to the World Series), CNA has become far more aggressive and frequent in the window displays. There's probably a bit more pride and competitive spirit now involved.
Finally, and this may sound weird, but I think the opening and overwhelming popularity of
Millennium Park
is a factor. You can see the CNA building from the park. Blue Cross's building is even closer.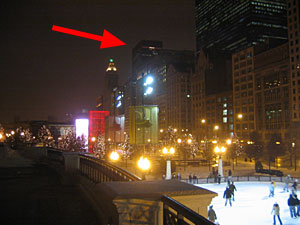 CNA Plaza (red arrow) as viewed from Millennium Park
(December 2005 during the State Street Showdown)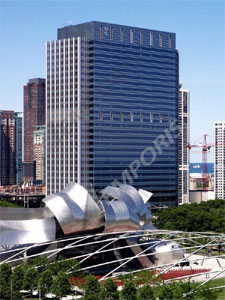 Unlike CNA Plaza, which is located a little south of Millennium Park,
Blue Cross-Blue Shield Tower is right next to it
(Source: Emporis.com)
With more folks being in this part of the city and seeing the views of the skyline (which previously weren't seen that much from this certain perspective), you've got corporations catering to the public relations side of things by doing these window displays.
I'm sure there's some accountant's analysis and some really high-level strategy involved in the window lighting as well, along with a return-on-investment chart (because all that electricity and paying of union employees' overtime can't be cheap), but I don't really know much more than that.
It just looks cool.