Over the past year, I've
written quite a bit
about the various lighted window messages generated by
CNA Plaza
. As most of you know, my Dad works in the building as a carpenter. And even though it has nothing to do with wood, he's been involved with making these displays come to life with a team of other fine folks.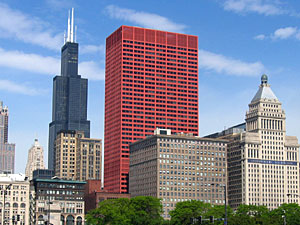 CNA Plaza with Sears Tower in background
(May 2005)
CNA Plaza was built 34 years ago as a 44-floor building. Its main claim to fame is obviously the red color, thus enabling it to stand out on Chicago's skyline. There's not much competition on the lakefront for this hue of building!
The building was originally known as Continental Center III. Why?
CNA
started as the Continental Assurance Company of North America, being founded in 1897. The company name changed after a merger with the Metropolitan Accident Company, prompting the organization to adopt the moniker of Continental Casualty Company.
C
ontinental then acquired the
N
ational Fire Insurance Company and the
A
merican Casualty Company, in 1956 and 1963, respectively. By taking the first letters of the original three companies, the acronym of CNA was created. Just like Kentucky Fried Chicken is now just KFC, what was then referred to as the Continental National American Group is now simply CNA. Aren't you glad you asked?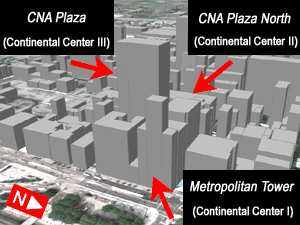 3D Rendering via Google Earth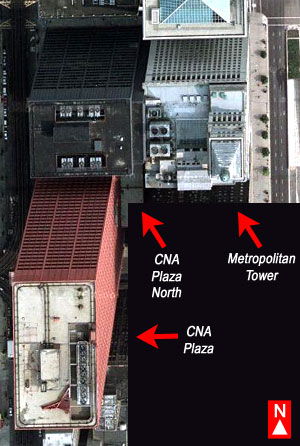 Aerial View via Google Maps
The original name of Continental Center III denoted that it was the third building of the organization's Chicago complex, with the trio of structures adjoined via common floors. I've illustrated the placement of these buildings above.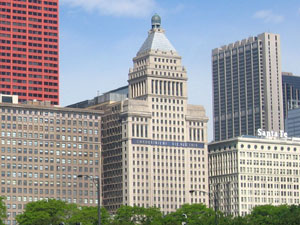 Metropolitan Tower (formerly Continental Center I)
(May 2005)
The original building (Continental Center I) sits diagonally northeast of CNA Plaza, resting on Michigan Ave. Currently known as Metropolitan Tower and slated to become condos, it features a beacon at the top that illuminates at night.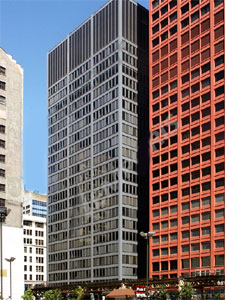 CNA Plaza North (formerly Continental Center II)
(Source: Emporis)
CNA expanded from this building straight west, to create Continental Center II, built in 1962. It was adjoined with the original tower.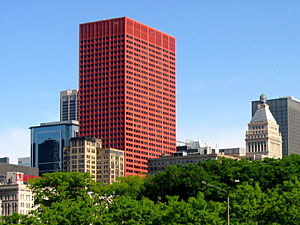 CNA Plaza (formerly Continental Center III)
(May 2005)
Later, in 1972, what we now know as the iconic red CNA Plaza was constructed directly south of Continental Center II, which was renamed CNA Plaza North.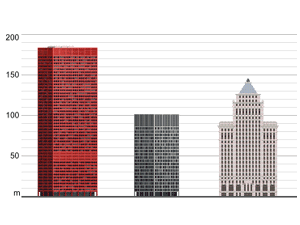 Height comparison of CNA buildings (in meters):
CNA Plaza, CNA Plaza North, and Metropolitan Tower
(Source: SkyscraperPage.com)
For a short while the North tower was colored red as well to match its taller sibling, but it has since been restored to the original gray tone. CNA no longer resides in either of the two original buildings and all physical connections have been broken.
By popular demand, I have created an archive of the different lighted window messages featured on CNA Plaza since last October. There have been 8 exhibited over the past 12 months, with a couple being repeated. The archive can be found on
SteveandAmySly.com
under the "Special Features" section... or simply by
clicking here
. As time progresses, I plan on expanding this archive with more features and information.
Thanks for your interest in the CNA Plaza stories. Enjoy!