What do you get when you combine Chicago, SteveandAmySly.com, Christmas, and lots of photography of reflective glass? That's right, it's the
State Street Showdown
, a review of the
Christmas windows found on State Street
. This is the fourth installment of this yearly feature here on
SteveandAmySly.com
.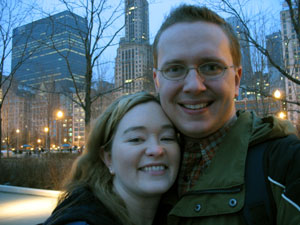 Amy & Steve at it again with the State Street Showdown
To recap, here are the results from the past three years of the Showdown:
2005
1.
Marshall Field's
(
Cinderella
)
2.
Sears
(
Wish Big
)
3.
Carson Pirie Scott
(
Sparkle
)
2004
1.
Sears
(
The Great Big Snow
)
2.
Marshall Field's
(
Snow White: The Fairest Tale of All
)
3.
Carson Pirie Scott
(
Club Libby Lu
)
2003
1.
Sears
(
The Making of a New North Pole
)
2.
Marshall Field's
(
Charlie and the Chocolate Factory
)
3.
Carson Pirie Scott
(
FAO Schwarz
)
It's hard to believe that we've been doing this comparison of holiday windows for 4 years now. And each year, it amazes me how much things have changed when compared to the previous Christmas season. That continues to be true in 2006.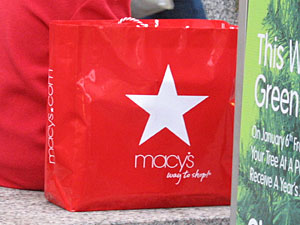 Macy's sucks!
(and so does the person with this bag)
The most publicized change has been the
shift of Marshall Field's to Macy's
in branding, a topic that makes Chicagoans like myself very, very bitter. Then in August, it was announced that
Carson Pirie Scott would be closing its State Street location
.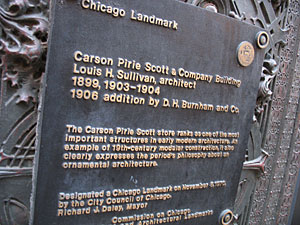 Carson's is moving out of their historic location
Plus, you have Sears which has been having a mess of problems trying to launch new store concepts and not doing very well on State Street. And then there's the Block 37 redevelopment, which has been filled with controversy, slow movement, and its primary developer bailing on the project. No wonder everyone shops on the Magnificent Mile instead! (That's
Michigan Ave.
for you folks who didn't get that reference.)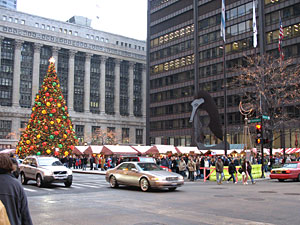 Daley Plaza
Frankly, I didn't even know
if I wanted to continue
these State Street Showdown reports. They are so depressing these days. But the show must go on, right? So let's go take a look at what's going on in Daley Plaza before hitting the pathetic shopping destinations, shall we?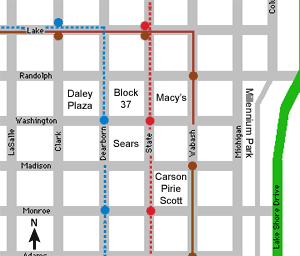 Highlighted areas of the State Street Showdown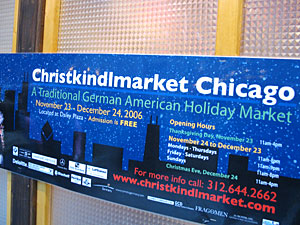 The Christkindlmarket returns again!
Daley Plaza is the home to Chicago's official Christmas tree and is within short walking distance to Macy's (grrr), Carson's, and Sears. In recent years, it's also the home of the popular
Christkindlmarket
, which resembles a small German market packed with shops and food booths.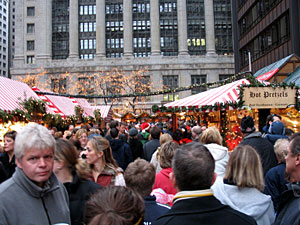 It was quite crowded in the market
Watch video in Flash (via YouTube):


or
Download Tanner Video
Live music at Christkindlmarket
(AVI, 0:28, 50.8MB)
It's here you have a chance for the classic photo op with Santa and the tree, follow your religion any which way you want (but make sure you don't offend anyone!), and drink warm wine out of a mug in the shape of a shoe. How can you turn that down?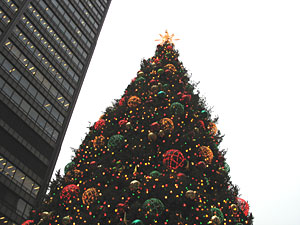 Chicago's Christmas tree + Depressing sky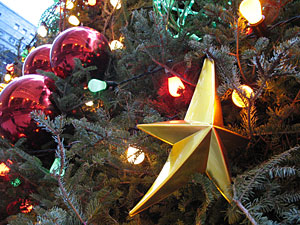 Simple ornamentation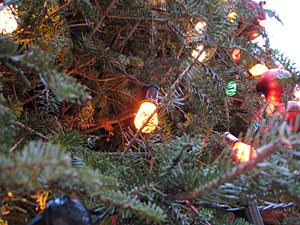 Real pine needles
Chicago's tree hasn't changed much in the past few years. It's actually made of many smaller trees all tied together. The ornaments and style have pretty much stayed the same. In fact, I used a photo I took of the tree last year as
the cover
for this year's
Steve's 25 Days of Christmas Music
event in the
TannerWorld Junction discussion forums
.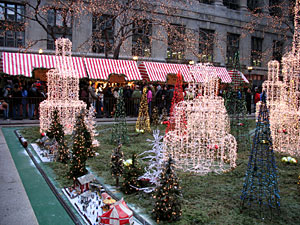 Model railroad layout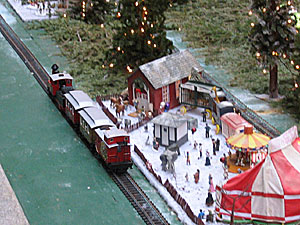 Leaving the station
Daley Plaza also features a pretty large outdoor model railroad layout that was actually running when we visited. The
past few years
, we've evaluated the
window displays
later at night, when many things were closed.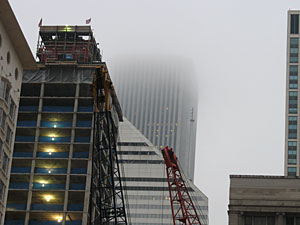 It was a very overcast and foggy day
On the day we went this year, it was overcast and foggy, but attractions were at least in operation.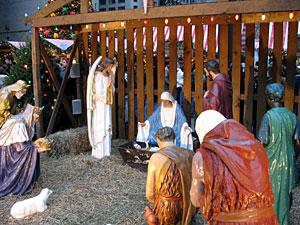 First up, we've got Jesus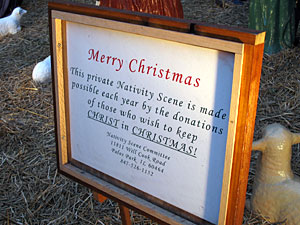 Merry Christmas!
You'll also find the many icons representing different religious beliefs, all carefully handled so that folks don't freak out about all the bogus "church and state" junk.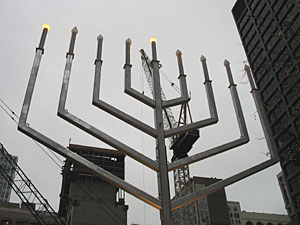 Next, the Jewish Menorah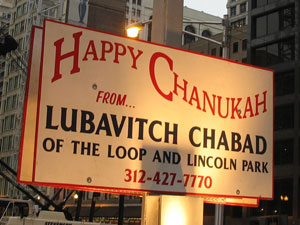 Happy Chanukah!
The folks behind the recent film,
The Nativity Story
, wanted to help sponsor the Christkindlmarket, while also promoting their film. The city put the kibosh on that because they didn't want to offend anyone.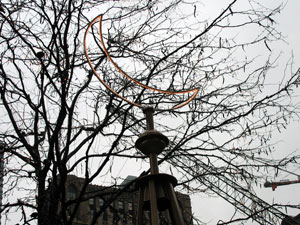 Finally, Muslim crescent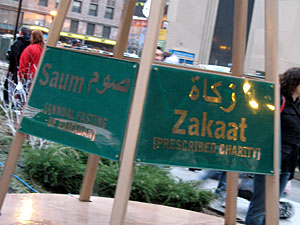 I really don't know what this says
Never mind that Christkindlmarket actually translates to "Christ Child Market". Go figure. Our government in this city is baffling sometimes.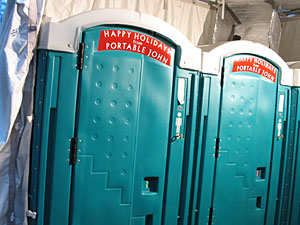 No need to flush...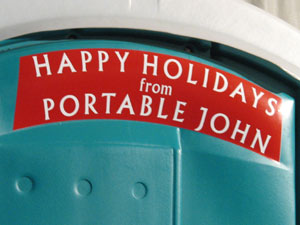 ...Portable John is here for you!
At least we have non-offensive "Happy Holidays" portable toilets to keep everyone happy in their yuletide bowel movements.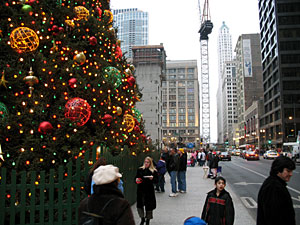 Christmas tree dwarfed by Block 37 construction
You'll note that in many of the above photos, construction cranes can be seen behind the Christmas tree and other structures. Things in this area of downtown are hopping with development, including the aforementioned Block 37 (which
I outlined in great detail last year
).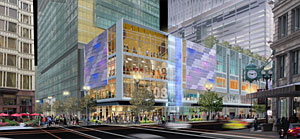 Block 37 concept art
(Source: The Mills Corporation)
This area has been a mess for quite some time, with many stalled development projects... resulting in the land sitting vacant year after year. Then last year,
The Mills Corporation
(you know, those guys with all the malls) launched a project that was a mixed retail/office development... with a
pointless
new
CTA transit hub
below ground.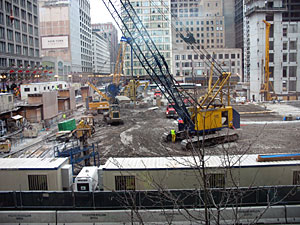 Things are happening... we think!
One year later, the financially-struggling Mills folks have bailed on the project, selling their stake to ironically the same folks who are kicking Carson's out of their building (
Joseph Freed & Associates
). Mills is now up for sale in case anyone wants to buy a company run by retail morons.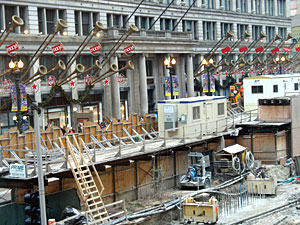 Site is right across from Formerly-Marshall Field's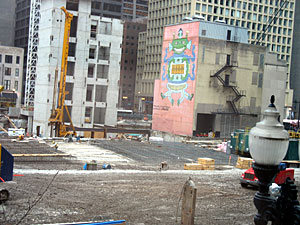 That ugly pink building is a power transformer
It's hard to believe that this prime piece of real estate between the former-Marshall Field's and Daley Plaza has struggled for so long. Many in the city believe that no matter what goes up there, it's cursed to fail. In any case, construction is moving along, with bulldozers, cranes, and the like all doing something on the spot. We'll see what happens.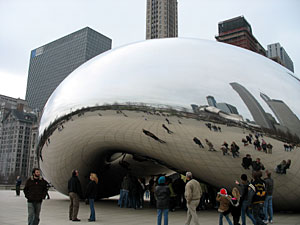 I don't care what you call it, it's still a Bean
Let's move on to something a little more encouraging, shall we? How about tourist and local favorite
Millennium Park
. There isn't a ton of new seasonal stuff to report here.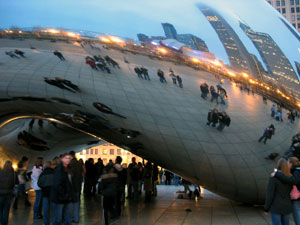 Everyone loves to hangout underneath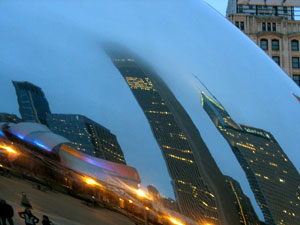 Like I said, it was foggy!
"The Bean" (officially known as
Cloud Gate
) continues to amaze and cause wonder with visitors. This year the city launched "Caroling at Cloud Gate", featuring festive sing-a-longs on Friday nights.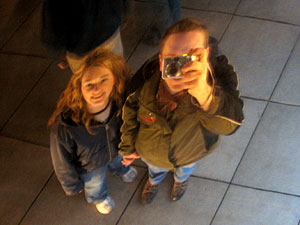 Well, you just HAVE to do this when you are downtown
According to the official website, "each evening, both the choristers and those singing along will be invited to hold holiday candles. The reflections of the candles will twinkle in the stainless steel of Cloud Gate, creating a magical holiday scene in the center of the city." Fun concept.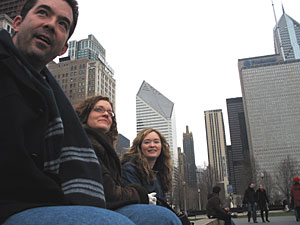 Nicko, Colleen, and Amy take a break at Millennium Park
We visited Millennium Park with our friends Nicko and Colleen after exploring some other downtown delights (which we'll talk about some other time). It was while we were sitting in front of the Crown Fountains that I noticed something peculiar that has been talked about on some local Chicago blogs as of late.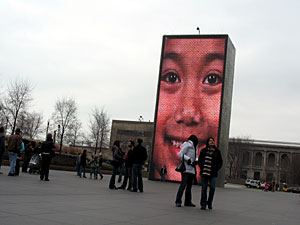 Crown Fountain seems normal, but...
In the offseason, the water for these fountains is turned off, resulting in just the facial images being displayed. At first glance, it would appear that everything is normal. However, if you look on top of the fountains, you'll note that the city has installed security cameras.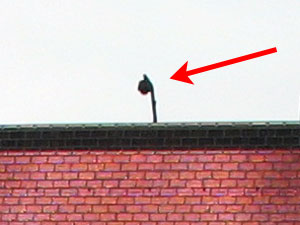 ... what's that on top?
Chicago is on this big kick as of late to have cameras pretty much everywhere. Privacy issues aside, I think the cameras on top of the fountains are a big no-no. They just look stupid. You are messing up what was a unique piece of public art. Stupid, stupid, stupid.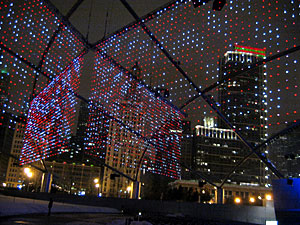 Cool "X" lights at the Jay Pritzker Pavilion
(December 2005)
Last year I noticed
that a pretty cool set of lights was added to the Jay Pritzker Pavilion, suspended from the aerial supports above the grass. They flickered and changed color periodically. It was something fun to watch.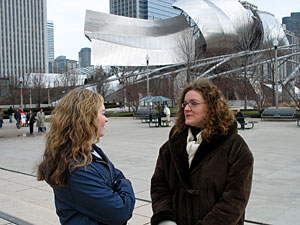 Amy and Colleen wonder about the lights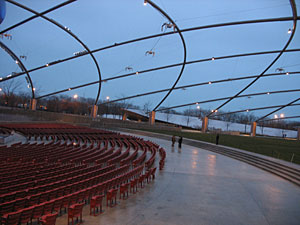 Bummer... no lights this year!
This year it would appear that the city went cheap... there are no lights to be found. Just an empty space. What a letdown!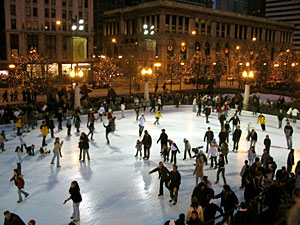 Who doesn't love to skate... and fall down?
Watch video in Flash (via YouTube):


or
Download Tanner Video
Skating at Millennium Park
(AVI, 0:13, 24.4MB)
Finally, there's the ever popular ice skating rink. It's as cool as ever. I really love how it draws folks into a common social place at the park. Add a little Christmas music playing over the loudspeakers, white lights found in the trees, and the awesome view of the Chicago skyline, and you have a pretty fun holiday perspective.
In our next installment: Who wins 3rd Place in the State Street Showdown 2006?
Care to wager a guess?