Disqualified: Macy's

Let me start off by saying there is no way we'll be acknowledging Macy's with a 1st Place ranking during this year's
State Street Showdown
. They have been disqualified. Why? Because they are Macy's. Enough said. Don't like that decision? Fine, get your own
State Street Showdown
.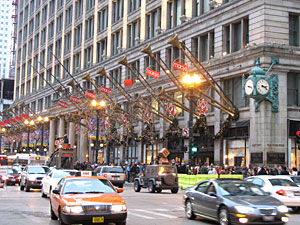 Marshall Field's building
Macy's, keep your stupid Thanksgiving balloons, classic movie mentions, and homogenized low-quality goods in New York. We don't want them here.
Marshall Field's is Chicago. You are not. Go away you spawns of Satan.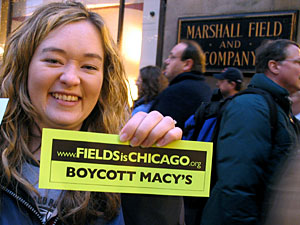 OK, now that I've got my rant out of the way...
On September 9, 2006, Marshall Field's ceased to exist and Macy's took over on State Street. Much has been written about all this. This of course took place because
Federated Department Stores bought The May Company
(owner of Marshall Field's) back in 2005. It was only a few years before when
Target Corporation sold Marshall Field's to May
. Some thought the
Field's name would stay
. Federated then proceeded to
rename every other May Company store to Macy's
, but Field's was still safe for a while.

Chicago moved to
historically guard the State Street building
, protecting the clocks and the Marshall Field's nameplates from being changed.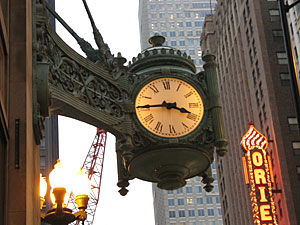 One of the famous corner clocks
But in the end, the decision was made September 20, 2005 to
rename Marshall Field's to Macy's
. Thus last Christmas produced quite a rush of nostalgia at the store, being the
last season as Field's
. It was the first year that
Marshall Field's won
the
State Street Showdown
. It was also the last.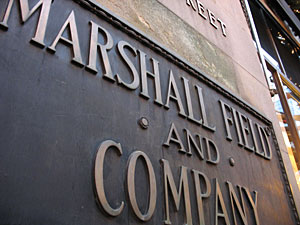 The name stays
The logic presented by Federated Chairman and CEO Terry Lundgren is that they need to create a national brand to market, in order to compete in today's retail world. It got "too hard" to have to promote different subbrands and stores with different names. Who needs local character, history, and loyalty when you can have Macy's!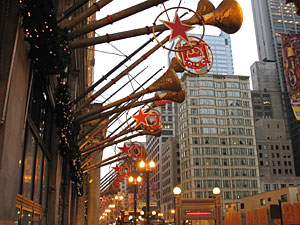 Decorative horns for the holidays
Of course, Federated hasn't exactly done a great job warming to the Chicago customer. After the renaming, when they rolled out their national ad campaign,
Chicago wasn't mentioned
or shown at all (while other cities were represented). Then there was an issue of them getting simple things like, oh, the
names of our streets wrong
in their signage.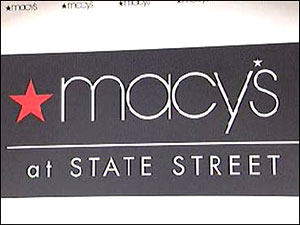 Macy's at State Street
(Source: Macys.com, September 2005)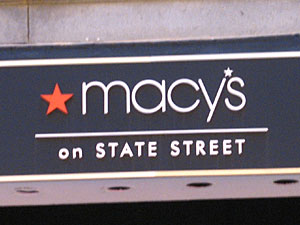 Macy's on State Street
(December 2006)
Even the name of the store has been changed from Federated's original plans. When the name change was announced last year, the State Street location was going to be titled "Macy's at State Street". This was represented in all mockups and plans shown to the public. Shortly thereafter, for who knows what reason (maybe to look like they are "part of Chicago"), the title changed to "Macy's on State Street".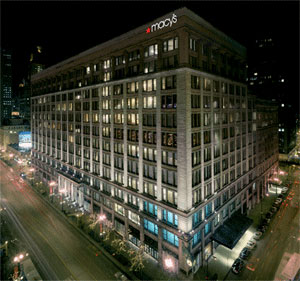 Mockup showing "Macy's" branding at top of building
(Source: Macys.com, September 2005)
The original art mockups also showed an illuminated sign on top of the building, but this hasn't happened... yet. The green awnings and color scheme on the building moved to black. Green Marshall Field's shopping bags became red Macy's bags.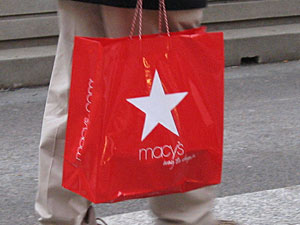 Take your red bags and get lost
And Chicago isn't buying any of it.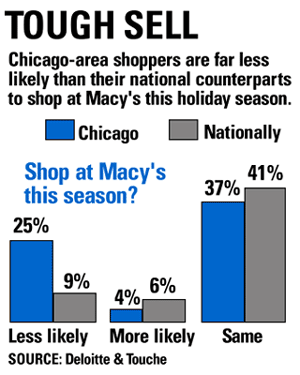 (Source: SunTimes.com)
Surprise, surprise... things aren't going very well for Macy's in Chicago. Recently,
a report mentioned
that "sales at the former May stores have declined between 7 percent and 11 percent from the year-ago period since the September conversion and fell 11 percent in November. The reason: Federated's move to quickly change the roughly dozen department store chains it acquired into Macy's jarred the customer, particularly in the Midwest, where Macy's is not well known."
Duh.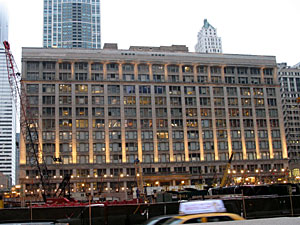 View from Block 37
Most likely, things will improve because shoppers have no backbone, Macy's will do great, everyone will forget Field's, and life will continue. But hey, in the meantime, us Chicagoans aren't too happy with the whole thing. There's nothing you can really do... other than not shop there. Then again, I think the last time I actually bought something at Marshall Field's was back in college (in case you were wondering, I bought a pair of dress shoes that had to accommodate the orthotics I wear because of my really flat feet). That trend will probably continue in the Macy's era.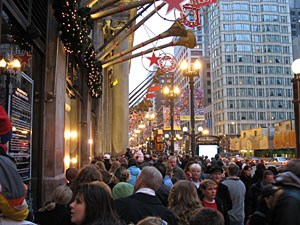 It was busy when we visited
When we were down on State Street, the crowds in front of Macy's were insane. One might associate this with great popularity. But the truth is that the sidewalk on the other side of the street was closed due to Block 37 construction. Thus, unless you wanted to go around, you had to push your way through the front of Macy's on State... and it wasn't a simple task.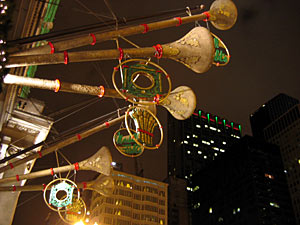 Marshall Field's version of Christmas trumpets
(December 2004)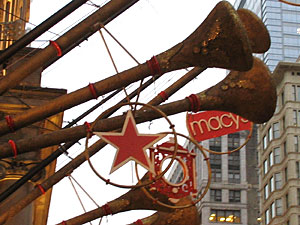 Macy's version of Christmas trumpets
(December 2006)
Externally, as mentioned above there are black canopies on the building now with the new name and logo. Decoration wise, the new ownership kept the golden trumpets that extend off the building towards State Street. But instead of being green in emphasis, they were Macy's red. The name "Marshall Field's" had been replaced with "Macy's", the green clock cutouts had been colored red, and the other ornamentation like candles had been replaced with Macy's iconic red star (which,
according to Wikipedia
, comes "from a tattoo that Mr. Macy got as a teenager when he worked on a Nantucket whaling ship.")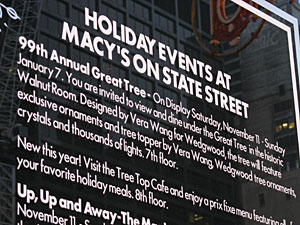 Oooh, Macy's events!
This year's theme for their Christmas windows is "Up, Up and Away - The Magic of Mary Poppins". It's officially "Open for viewing November 11 - Sunday, January 7. Experience the magical world of Mary Poppins the theme of this year's State Street animated holiday window display, based on the story by P.L. Travers with illustrations by Mary Shepard and featuring songs from the Broadway Musical,
Mary Poppins
."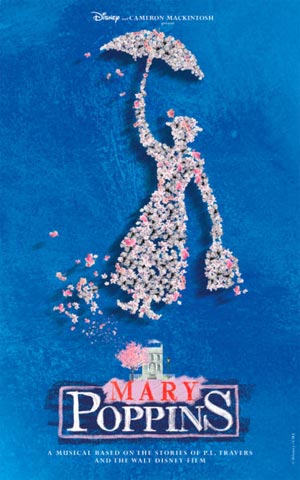 Travel to New York, apparently it's better there
There is a lot of New York tie-in this year. Obviously the theme of the windows is there to promote the new
Mary Poppins
musical produced by Disney and Cameron Mackintosh at the
New Amsterdam Theatre
(which Disney also owns/leases). Macy's is having a contest where you can win a trip to see the show. (One would think that it would have been a no-brainer to do a Broadway show based on
Mary Poppins
.
This article
explains why it was a challenge.)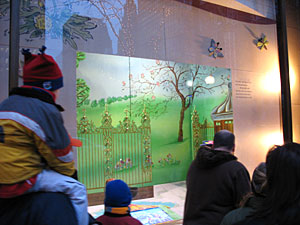 Overview appearance of this year's windows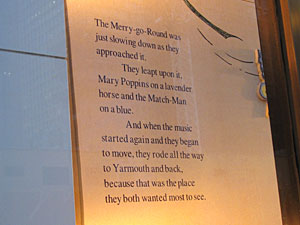 Text sample on the windows
As far as the window design themselves, it's actually nothing new. Macy's uses the same design outfit that Marshall Field's has used for the past few years,
Spaeth Design
. This would be the reason that all the characters look exactly that same as previous years, with their long faces, depressing expressions, and holier-than-thou looks. The text for the story is located on the side, high enough so folks can read it (which was a
problem back in 2003
)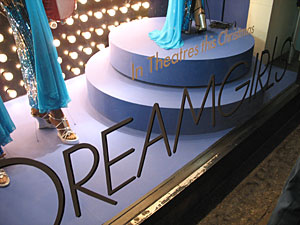 Go see "Dreamgirls"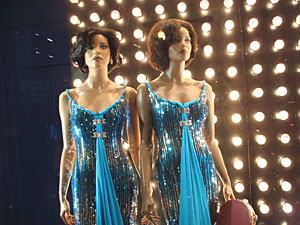 Again, huh?
Finally, there were a couple of "preface" windows before the story began, obviously there to catch folks' attention as they waited to see the main attraction. The first was a window display for the upcoming film,
Dreamgirls
(inspired by
the Broadway show
).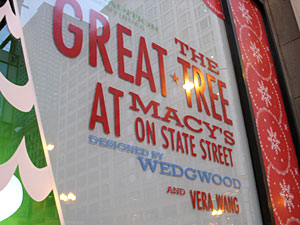 It's the Great Tree, Macy's-style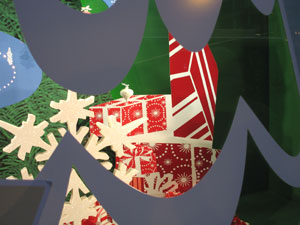 Funky art that actually was kinda cool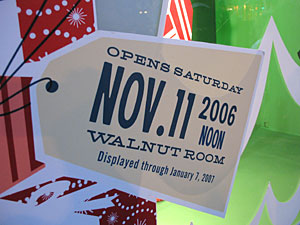 It's been here for a while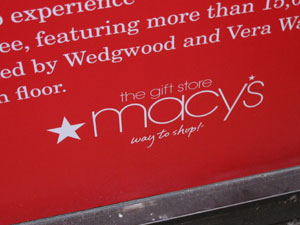 Bah!
The second preface window talked about "The Great Tree", which is found in the Walnut Room inside the store (Amy and I
talked about this last year
). Typically, the tree gets decorated with a theme each year. However, for Macy's first Christmas here, they replaced the tree with a new tree with a bunch of designer inspirations that they want to make sure you know about (because Macy's loooooves Chicago, remember?)
So, without further adieu, here are all 11 windows featured during Macy's first Christmas on State Street. You may think they deserve 1st Place. That's fine. They just aren't getting it from me.
---
Window #1
A blast of wind, a house-
rattling band, and Mary
Poppins arrives at Number
Seventeen Cherry Tree Lane.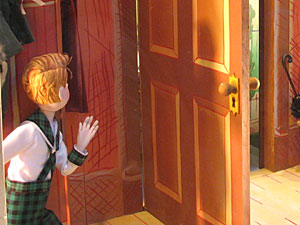 "What is behind the door?"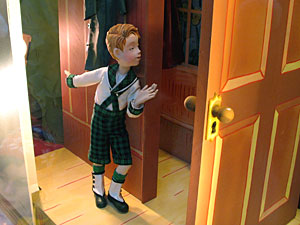 "I'll go take a look"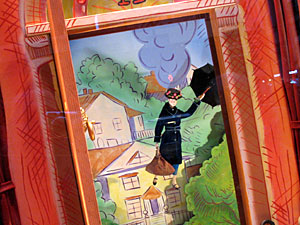 It's Mary Poppins, flying around?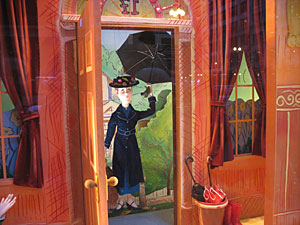 And now she stands in front of our door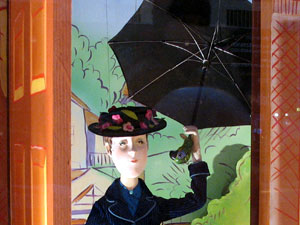 Whoa. That's no Julie Andrews!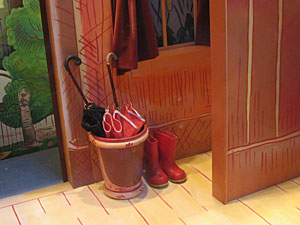 Grab your books and umbrella
(The special effects on this window were pretty good. First you see Mary fly around in the background on a wire. Then the door closes and it opens again with her standing right there.)
---
Window #2
From the carpet bag she took
out seven flannel nightgowns,
four cotton ones, a pair of
boots, a set of dominos, two
bathing-caps and a postcard
album.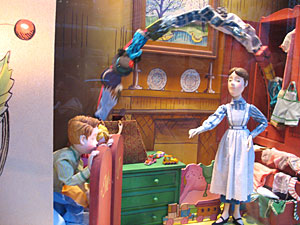 So, here's the scene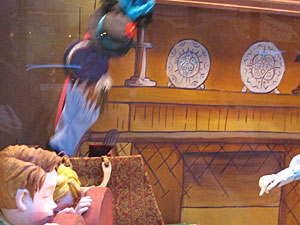 The stuff coming out of the bag was animated, moving in a big circle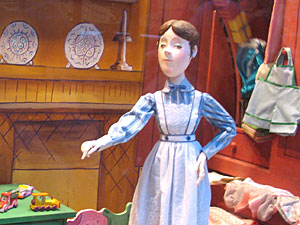 Mary on drugs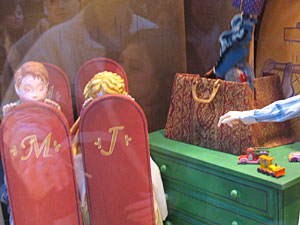 The kids are freaked!
(Mary's bag must have been on fast forward, because stuff was flying out of that thing!)
---
Window #3
Now Bert, the Match-Man
has two professions

He not only sold
matches like any ordinary
match-man, but he drew
pavement pictures as well!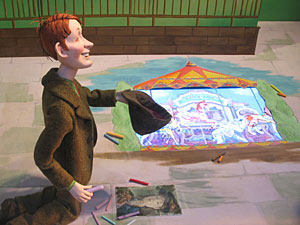 "Look, Mary, I can draw!"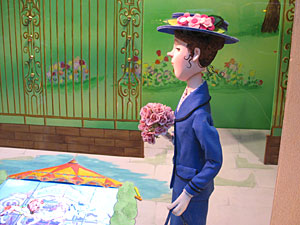 "Oh Bert, you are just a dirty old man"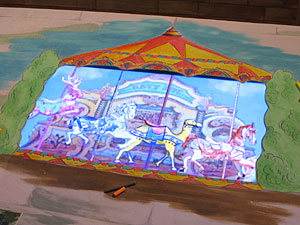 "But Mary, my drawings move!"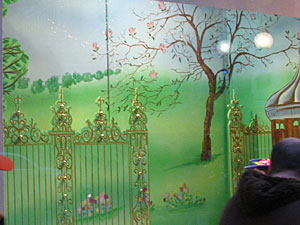 We're in a park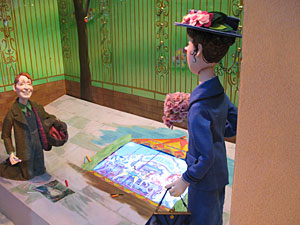 "Bert, you better stay away, or I'll pepper spray you!"
(In this scene, the carousel was actually a TV screen that showed an animated carousel rotating)
---
Window #4
The Merry-go-Round was
just slowing down as they
approached it.

They leapt upon it,
Mary Poppins on a lavender
horse and the Match-Man
on a blue.

And when the music
started again and they began
to move, they rode all the way
to Yarmouth and back,
because that was the place
they both wanted most to see.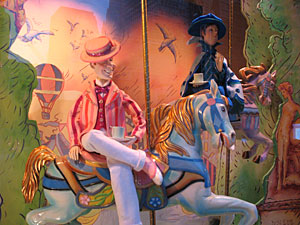 How did we get on these horses?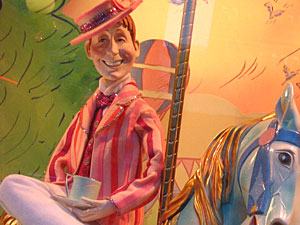 "Hey Mary, why is there a javelin through my horse?"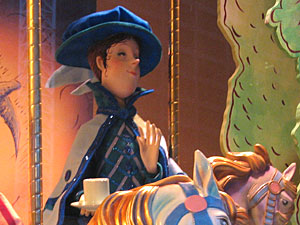 "Oh Bert, just shut up and drink your tea!"
(The horses went up and down)
---
Window #5
All three of them were on the
way to pay a visit to Mary
Poppins's uncle, Mr. Wigg, and
Jane and Michael had looked
forward to the trip for so long
that they were more than half
afraid that Mr. Wigg might
not be in, after all.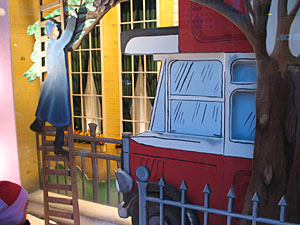 The bus runs over Bert and pulls up to Mr. Wigg's house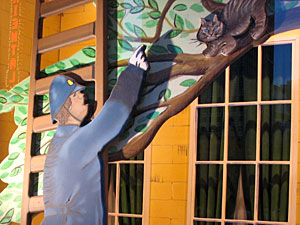 Mr. Cop doesn't notice the manslaughter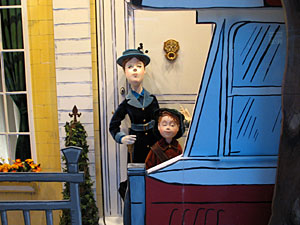 Mary kidnaps the kids and they go inside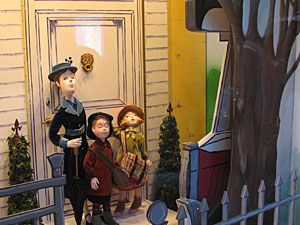 But first they watch the bus drive backwards
Watch video in Flash (via YouTube):
Here is how the animation worked
(In one of the more complex animated scenes, you first see a door with no one there. Then the bus moves in from the right, with diesel engine sounds coming from the speakers. When the bus drives away -- backwards? -- Mary and the kids appear in front of the door)
---
Window #6
There they were
all together up in
the air and the
table between them

Not a single
piece of bread-
and-butter or lump
of sugar had been
left behind.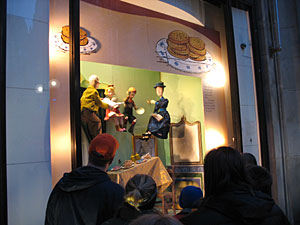 Kids and adults view the window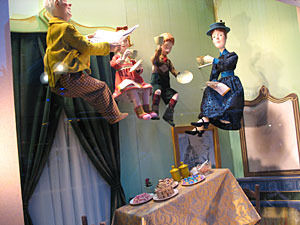 "I must be on LSD, because I'm flying!"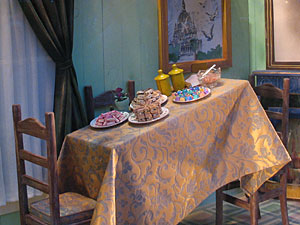 This table need some work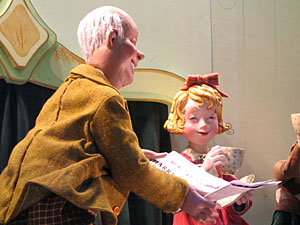 "Put your cup in my newspaper, dear, and I'll make it disappear!"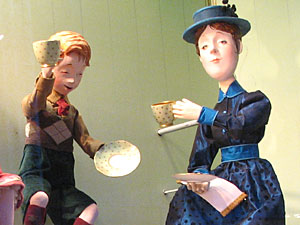 "I'm Mary Poppins, leave me alone!"
(The table moved up and down in this scene)
---
.
Window #7
She titled the round
thing backwards
and forwards, and
in the sunlight the
disc and its letters
went careening
madly inside the
box.

"What's it for?"
asked Jane

"To go round
the world with,"
said Mary Poppins.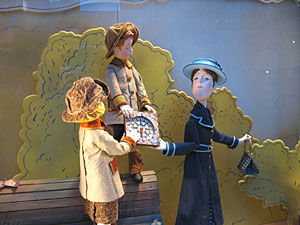 Let's stand in the park with this compass-thingy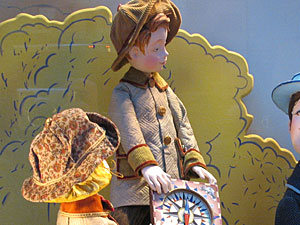 "Let's sell it on eBay!"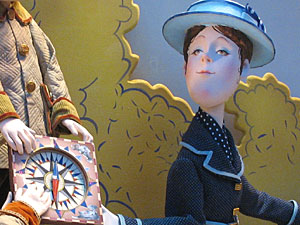 "No children. I am Mary Poppins. Shut up!"
(Nothing too exciting here. The compass-thingy spun.)
Watch video in Flash (via YouTube):
Get a feel of the atmosphere outside the Macy's windows
---
Window #8
They found themselves on a
long white shore, with
wavelets lapping and curling
against it.

And immediately
before them was a cloud of
whirling, swirling sand from
which came a series of grunts.

Then slowly the cloud
settled, disclosing a large
grey Dolphin.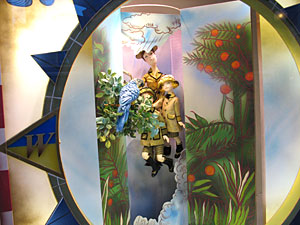 "Let's watch stuff float around us!"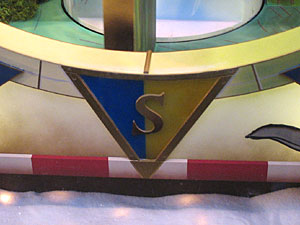 "Look, we are inside a large compass!"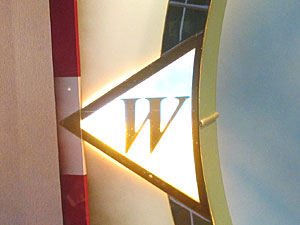 W = West... lights up...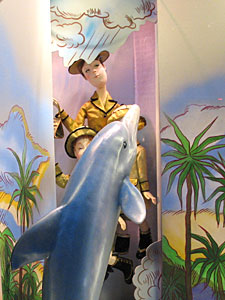 ... resulting in a dolphin going by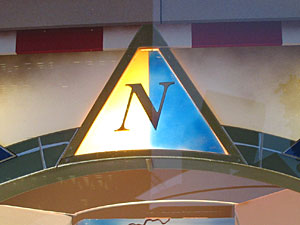 North lights up...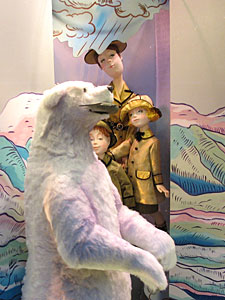 ... and a polar bear moves by (what is this, "LOST"?)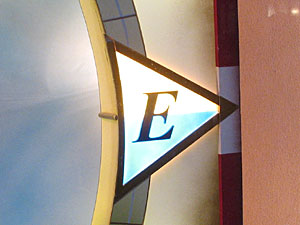 East lights up...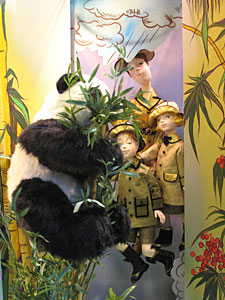 ... and you get a panda!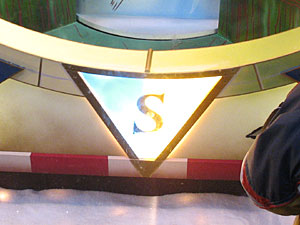 South lights up...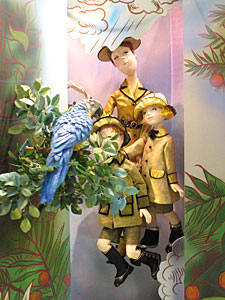 ... and you get a parrot
(This was also pretty complex. The characters stayed in the middle, while scenes rotated around them based on the direction illumination on the compass found around them.)
---
Window #9: JS Social
"But, deary me - here am I
running on and on and you
not being served!

I suppose, my dear' -
she turned to Mary Poppins,
whom she appeared to know
very well-'I suppose you've
come for some Gingerbread?"

"That's right, Mrs.
Corry," said Mary Poppins
politely.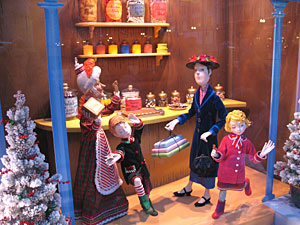 It's a candy shop...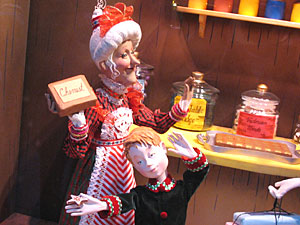 ... run by a crazy-looking witch lady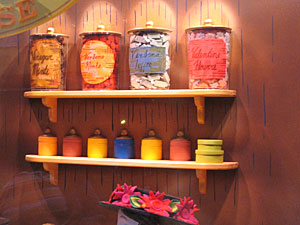 Don't eat those, kids!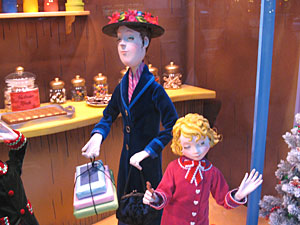 "I'm Mary Poppins. Shut up!"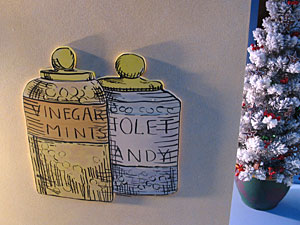 Mmmm, vinegar mints!
(I think the witch lady just moved her arms around here. Notice how none of these characters, especially Mary, have any sort of expression... they are all just stoic.)
---
Window #10
Then Jane and Michael saw a
most amazing sight.

As soon she arrived
at the top of her ladder, Mrs.
Corry dipped her brush into
the glue and began slapping
the sticky substance against
the sky.

And Mary Poppins,
when this had been done, took
something shiny from her
basket and fixed it to the glue.

When she took her hand
away they saw that she was
sticking the Gingerbread Stars
to the sky.

As each one was placed
in position it began to twinkle
furiously, sending out rays of
sparking golden light.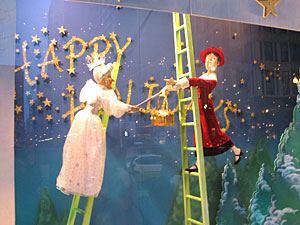 Ladders just float in mid-air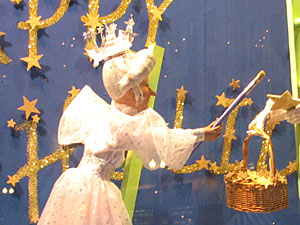 "I'm a crazy witch, so I'll help you with this"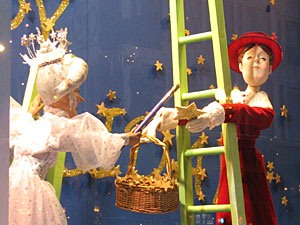 "I'm Mary Poppins. Gimmie that cookie!"
(I'm not sure where this plot point came from, but this is already a pretty convoluted story, so whatever...)
---
Window #11
The last wrapping fell to the
floor and the thing that was in
the parcel lay in Jane's hand.
"It's her picture," She
said in a whisper, looking
closely at it.
And it was! Inside a
little curly frame was a
painting of Mary Poppins,
and underneath it was written,
"Mary Poppins by Bert."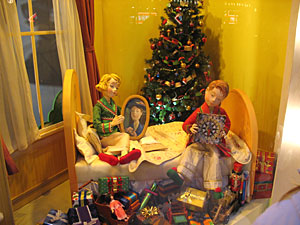 "We killed our parents so we could get all the gifts!"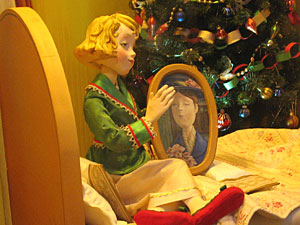 "Oh crud, what kind of stupid gift is this?"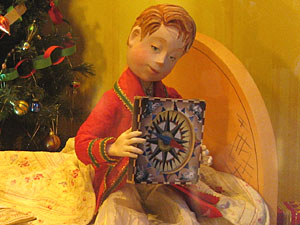 "The compass of death. Oh no!"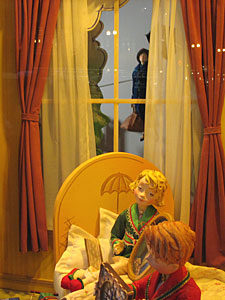 Mary outside the window: "Shut up, kids!"
(What kind of conclusion is, "underneath it was written, 'Mary Poppins by Bert'."? Lame.)
---
And there you have the Macy's windows. Obviously they are better than
Sears
and
Carson's
. But I'm still not going to acknowledge them. There will be no 1st Place this year. In fact, during our visit, the "Boycott Macy's" folks were there in full force.
Watch video in Flash (via YouTube):
Macy's Protesters
This one guy kept talking about how we wouldn't let the New York Jets football team rename Soldier Field, so why should we let Macy's rename Marshall Field's? I'm not sure the analogy works, but in any case, it was nice to see them there. Even nicer where all the folks who seemed to be in support of the anti-Macy's movement on State Street.
Anyway, that's your
State Street Showdown
for 2006. The whole thing just disgusts me. It's not merry. It's not festive. It's just a bunch of ugly windows and/or ugly owners.
Bah humbug!