The other day,
SteveandAmySly.com
got a mention on
Chicagoist
, a popular city-focused blog about our wonderful little haven on the lake. (It's
not the first time
we've been linked by them.) The topic of interest?
CNA Plaza,
of course!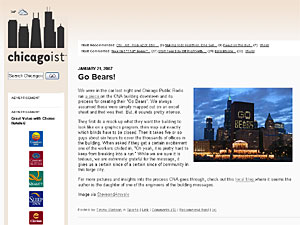 Screenshot of Chicagoist mention
Click to view larger screenshot
The
article
talked about the building in the context of the mention it got on Chicago Public Radio (which we also
talked about here
). Here's the text of the story,
via Chicagoist
:
---

Go Bears!
January 21, 2007

We were in the car last night and Chicago Public Radio ran a piece on the CNA building downtown and its process for creating their "Go Bears". We always assumed these were simply mapped out on an excel sheet and that was that. But, it sounds pretty intense.



CNA Plaza photo shot by Steve, used in the story


They first do a mock up what they want the building to look like on a graphics program, then map out exactly which blinds have to be closed. Then it takes five or so guys about six hours to cover the thousands of offices in the building. When asked if they get a certain excitement one of the workers chided in, "Oh yeah, it is pretty hard to keep from breaking into a run." While we are sure it is tedious, we are extremely grateful for the message, it gives us a certain since of a certain since of community in this large city.

For more pictures and insights into the process CNA goes through, check out this local blog where it seems the author is the daughter of one of the engineers of the building messages.

Image via SteveandAmysly

---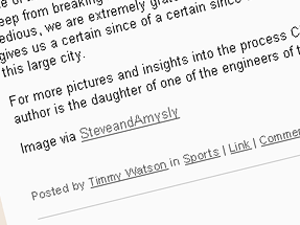 "Daughter?"
Other than the inference that I'm a girl, we appreciated the shoutout! They even went ahead and used a photo I shot on New Year's Eve.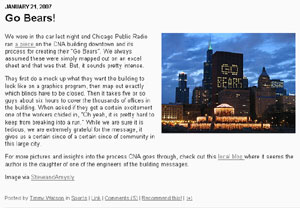 Screenshot of the full article
Click to view larger article
In the comments of the Chicagoist story, it's funny to read the speculation on how much money it takes to pull of the CNA window messages. And of course, someone had to bring up the "
windows kill people
" incident. You take the good with the bad, I guess.