I'm back. I'm tired. More info to come
(In the meantime, read Randy's final entry on his blog regarding this trip:
Costa Rica - Day Nine
)
---
Update 2/5/07: I've gotten a little more sleep upon returning, so here's the recap of the final day of our trip.
Believe it or not, I actually slept through my alarm on Saturday. I think I was finally hitting the wall as far as tiredness and stuff. (It probably didn't help that I slept with earplugs in to cut down on the snoring in the room... and thus couldn't hear the alarm!)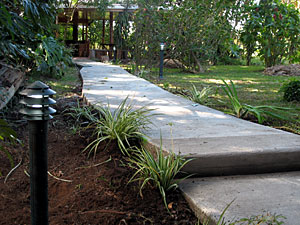 The gardener already started planting
next to the new path and lights
I spent the morning packing up our bags and picking up around the place we've called home for the past week. It was a lot like that final day of camp... the facility is always the same, but once the people leave, the place is just... different. You can never catch that dynamic again. It's a once-in-a-lifetime moment.
Watch video via YouTube


Some final Costa Rica sounds during my quiet time
I spent a final moment in a special place during my final quiet time at the campus. Sometimes the visual and the audio just click to create a relaxing experience of solitude... at least until the dogs start barking! Shortly thereafter we had a final group meeting, recapping the things we've personal learned/experienced during the week, followed by a time of prayer and communion.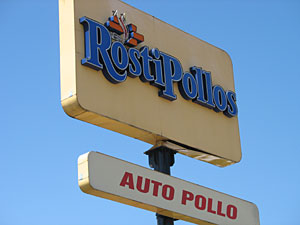 Ooh, they have an Auto Pollo!
Then it was time to pile in a van and head towards the airport, roughly a 45 minute drive. But first we stopped off for lunch at a place called
RostiPollos
, a Costa Rica-founded chain that features unique chicken offerings. And frankly, it was pretty tasty. (Though to be honest, I was feeling a big under the weather at this point. I think the massive sunburn I got the day before had a factor in that -- stupid useless sunblock that didn't work!)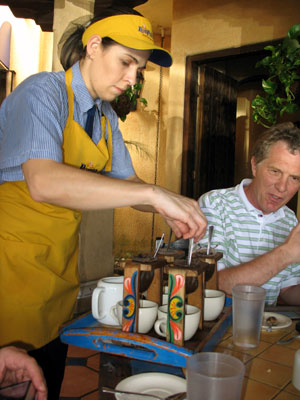 Making coffee, classic style!
Watch video via YouTube
Watch coffee being made!
We got to sample a bunch of different
Tico
-style foods, but mostly built around the chain's famous roasted chicken. Must of out diet for the week consisted of foods with chicken, rice, and beans. They also prepared coffee "on the spot" for us using a traditional method of pouring hot water over grounds shoved it what looked like an stocking. I'm not a coffee drinker, but those who had it said it was pretty good.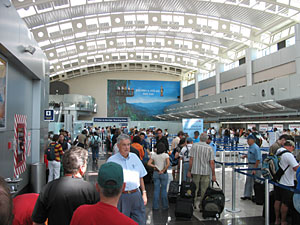 Departure area at Juan Santamarķa International Airport
We left two team members at the restaurant, Mark and Stewart. They are actually spending an additional week in Costa Rica with some of Mark's relatives that live there. So us 7 remaining guys headed over to the airport. Once we paid our "Exit Fee" (would you believe they charge $26 just to leave the country?), we got in line to get our boarding passes. At this point, we were told that nothing could be done regarding
changing Dad's flight
until we hit Charlotte. So we just went through security and eventually just waited for the flight. (Incidentally, I was able to sneak through security accidentally with a half-drank bottle of pop in my carry-on that was well beyond 3 ounces.)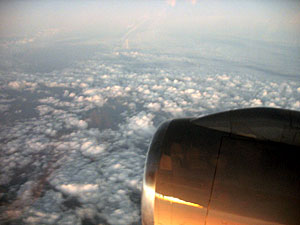 Heading back home
Our first flight was the long one, about 4 hours from San Jose to Charlotte. It was a smooth ride. I just put on some headphones, listened to some podcasts, read a book, and eased through it as best I could. I'm not sure if it was the drugs I took pre-flight or the fact that I was really tired (or a lot of prayers), but I was pretty calm... for Steve Tanner. Incidentally, the movies shown in flight both arriving and returning from Costa Rica didn't match up from what
I had previously read on US Airways' website
. Heading down they showed
Flicka
, while on the way back
Copying Beethoven
was featured. Both looked boring.
As
I mentioned previously
, Dad's flight from Charlotte to Chicago was not the same as the rest of the group... it was scheduled for the next day. So, if possible, we wanted to see if there was any way to get him on our final flight. This would prove to be a challenge, at our layover time in Charlotte was just 1 hour... and that involved us going through customs and once again traveling through security.
Photos and cameras were not allowed in the customs area of Charlotte. And the lines were long. It probably took us a good 20-30 minutes to get through the customs area. Luckily, I think Dad got through a little faster than the rest of us, as they had designated "express" lanes for those with ePassports. As you may recall,
Dad's replacement passport was of this type
.
Once we got through this area, we rushed over to the US Airways counter... which looked like it was ready to close. They gave us a hard time about wanting to get Dad on an earlier flight. However, true to an airline that felt it was fine to charge $5 for a box of snacks, they let Dad get on our flight for just $100 (how nice of them... not!). They had to manually check his luggage and could not guarantee it would make the flight.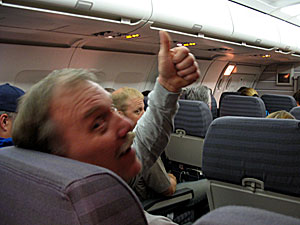 Dad gives a thumbs up after making our flight!
With boarding pass in hand, Dad, I, and Eddie (who was hanging with us during the process) rushed through security and ran (and I do mean, RAN!) to our gate... to find that the door to the jetway was closed and no one else was boarding. However, the gal at the gate asked if we were Tanner, etc. We said yes and they responded, "we've been waiting for you!" 1 minute later, all of us were on the plane and they closed the doors. We made it!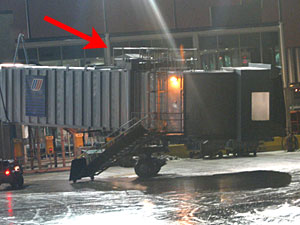 Our jetway and location of fire
From there, it was a quick flight home to O'Hare. But as typically the case with our lovely airport, nothing ever goes right. In this case, we landed and then pulled up to our gate. To which the captain got on the public address system and commented regarding the temperature in Chicago (-6 degrees... nice!) and the fact that there was a little problem. Apparently the jetway that connects the terminal with the plane... well, it was on fire.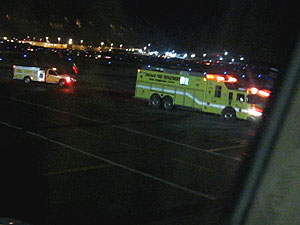 Firetrucks rush to the terminal
Watch video via YouTube
Watch the trucks in motion!
What seemed to have happened is that due to the cold, one of the motors on top of the jetway malfunctioned, resulting in a small flareup. We were safe (or so we were told), but obviously, the jetway was not operational for our use.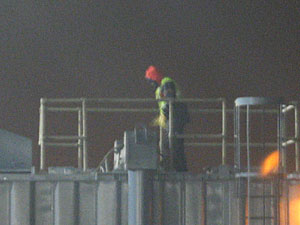 Workers take a look at the motor on the jetway
The next plan was for them to drive up a staircar to the right side of the plane, resulting in us disembarking directly outside... into the cold. Unfortunately, the stairs they drove up to the plane didn't work because they were designed for a smaller commuter craft and not an Airbus A321. So that didn't work.
Watch video via YouTube


The captain explains the final solution
The eventual solution was for them to attach a "tug" to the plane and tow us to another jetway. Unfortunately, for this to happen, they had to move around 2 other planes. Eventually, almost an hour later, we got off the plane. (Hey, at least it wasn't as bad as the time when they
couldn't find a gate for us at O'Hare
.)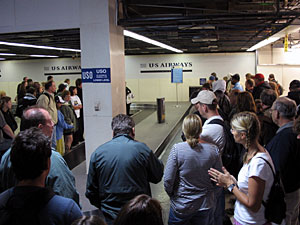 We wait and wait for our luggage
It was a relief to finally get off the plane, so off we went to the baggage claim. O'Hare is continuing to go through a big modernization program, which translates into the place looking like a wreck during the construction. This continued in the baggage area. Where no baggage could be found. For a long time. A long time. A very long time.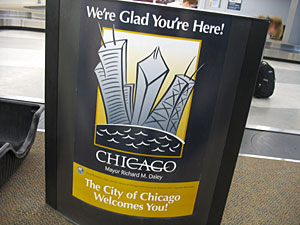 Welcome to Chicago... home of cold
Eventually, stuff showed up... including Dad's bags, which was a nice blessing. But by the time we all got home and stuff, it was well past midnight and we were zonked. But we did arrive home safely and Dad was able to make the flight, so that was a huge answer to prayer!
And the pretty much sums up the "Live from Costa Rica" part of the story. I hope you enjoyed reading along. Now that I'm home and have a little more time to think and reflect (not to mention a big Internet connection), I plan on posting a couple of Epilogues to our time in Costa Rica... while also adding some new photos and videos.
I hope you will keep reading!