After
knocking off Kansas City two weeks ago
during the last regular season game, the
Chicago Rush
earned a first round playoff bye, resulting in them playing on Monday night against the
Los Angeles Avengers
. Even though the
Rush won the ArenaBowl last season
, there actually were no
Arena Football
playoff games held in Chicago. Our team won every game on the road in their quest, so it was nice to have home field advantage for a change.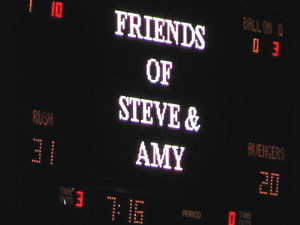 We got our names on the scoreboard!
Given that there is less time to promote a playoff game, the Rush sales department was working overtime to get bodies in the seats. I was actually able to work out a deal with them to get discounted tickets in the upper east endzone for a group of 11 that we brought along. One of the benefits of booking this way was that we got a scoreboard message out of the deal. Thus, we were "Friends of Steve & Amy". How fun is that?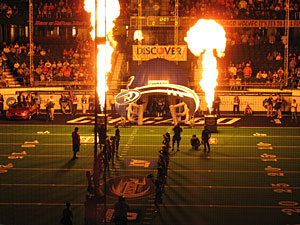 How can you not like fire?
Monday night games are bad for attendance in general, so I didn't expect a sellout. In fact, you could tell the Rush were begging as all their communications for the game noted that "good seats were still available!" That pretty much translates into "help, please come!" Still, there was a reported attendance of 12,386, which I know isn't actual attendance, but still pretty good. The Rush came in 3rd overall across the league for attendance this season.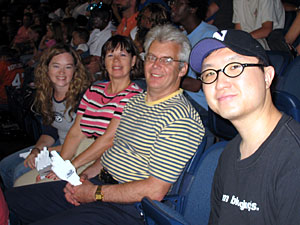 Our group included:
Amy, Marleen, Art, Fred,...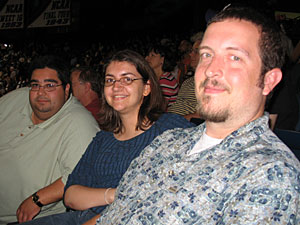 ...Nick, Mary Lois, Travis,...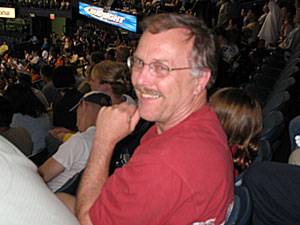 ...Dad,...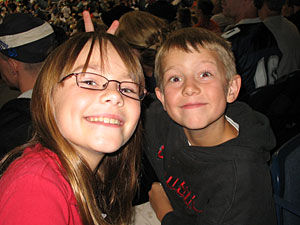 ...Marlisa and A.J....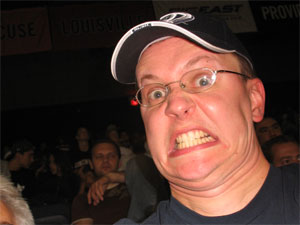 ... and me!
The game started off pretty well as we caught an interception and ran it back for a TD. And that pretty much set the tone as the Rush went on to crush the Avengers 52-20. (Now we just need to find someone who has cable, so we can watch the next playoff game on Saturday on ESPN!)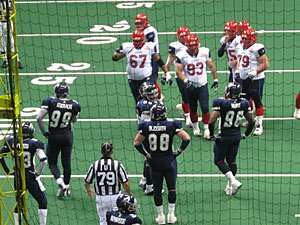 Action of the field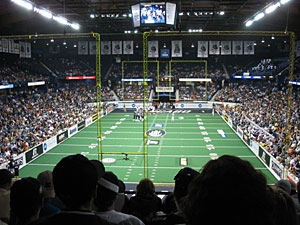 View from our seats
At halftime it was nice to see the Rush front office spend some money and finally get some quality entertainment... in this case, the esteemed
Jesse White Tumbling Team
. They always put on an excellent show. It was a joy to watch.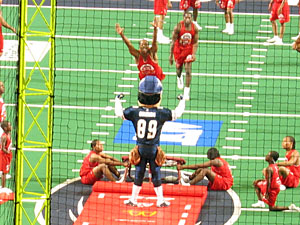 Jessie White Tumblers jumping over our mascot
Halftime also provides you with a chance to hit the bathroom. And it would appear that the
ImpressionAire advertising-based automatic hand dryers
are on their way out at Allstate Arena.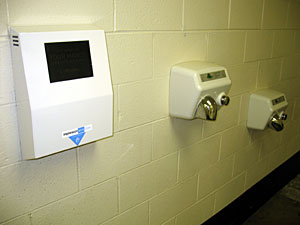 Normal hand dryers?
In this case, I saw some units had been replaced with standard hand dryers, with the one remaining ImpressionAire unit beeping like something was malfunctioning on it. I told ya... if you would add videogames to these things, you'd have folks enjoying the advertising a whole lot more!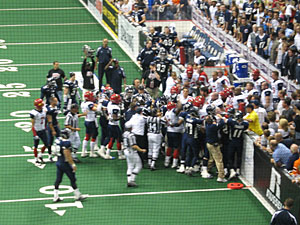 A fight!
Of course, given that we were killing LA by such a large margin, tempers flared at various times during the game. In fact, there was one incident involving quite a large brawl. It was pretty crazy.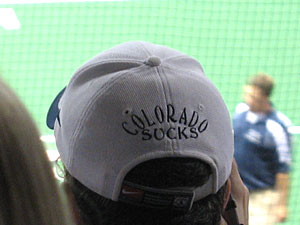 I love this hat!
Before we left, I noticed a guy sitting a couple rows ahead of us wearing the hat you see above. It was a Rush hat with "Colorado Sucks" embroidered on the back (they are in our same division and part owned by John Elway). There was also a sign shown during the game that said "John Elway, leave our game alone!" (You can bet that sign was NOT shown on ESPN).

As seen on some AFL discussion forums
John Elway is an AFL team owner and has served on the competition committee. In fact, he is primarily the one who pushed through the
removal of the Ironman rule
, which was at the core of the AFL system. Now there are rumors that he wants to change the AFL even more to resemble a light version of the NFL, especially with the demise of NFL Europe. Needless to say, he is not well-loved by AFL fans.
But since we are talking about selling out, it's time to revist that classic
SteveandAmySly.com
topic of AFL advertising, which you will recall we've covered twice this season (
here
and
here
). The advertising universe changes during the playoffs, as the league itself takes over the advertising in the venues, resulting in national AFL sponsors getting pretty much all the visibility, with just a couple of local sponsor signs seen.
Let's start with the television-visible north side of the field:
---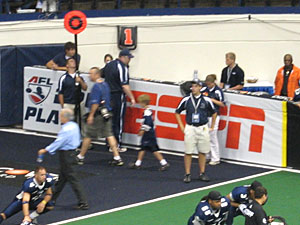 ESPN
ESPN owns a percentages of the AFL
now and is the primary broadcasting partner. Yes, we are slaves to dumbed-down sports journalism and Disneyfication.
---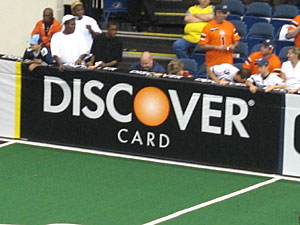 Discover Card
Hey, what a surprise, we are sponsored by
Discover Card
. Did you know that you can get a Discover Card with a Chicago Rush logo on it now?
---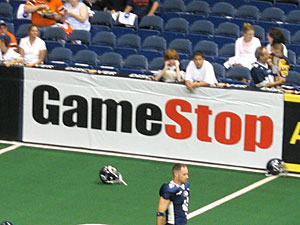 GameStop
Anyone remember the old computer store Babbage's? Well, that's who
GameStop
started as. Through a bunch of mergers and buyouts, including Software Etc., Funcoland, Electronics Boutique, and Barnes & Noble, we got the store we have today.
---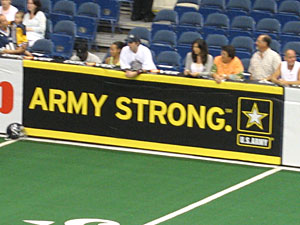 U.S. Army
Hoping to con more recruits into signing up, the
U.S. Army
rolls out a illiterate slogan ("Army Strong") and advertises during the AFL playoffs and ArenaBowl.
---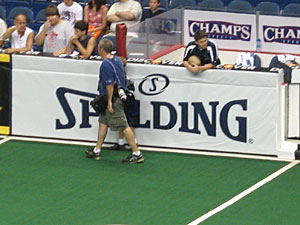 Spalding
Yes, once again the official football of the AFL has a sideboard. Thanks
Spalding
!
---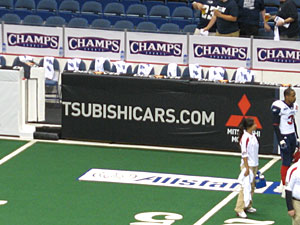 Mitsubishi
One of the newest AFL sponsors is
Mitsubishi
, thus they are getting center of the field branding. They've seemingly also have the naming rights over the AFL divisions, now. The Mitsubishi American Central Division?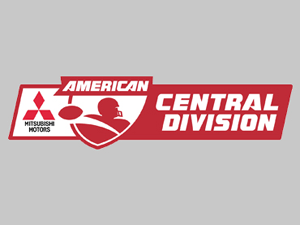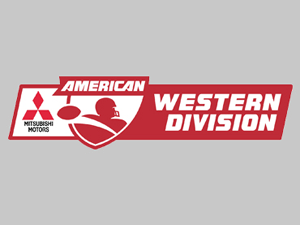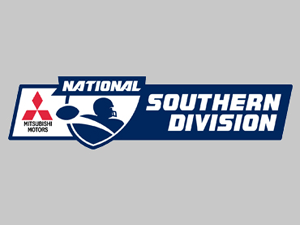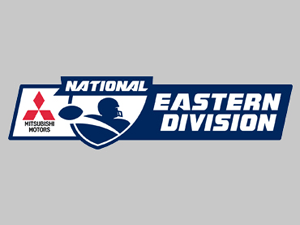 ---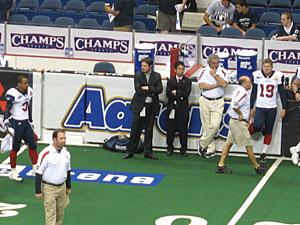 Aaron's
Feel like going into debt just so you can buy that new widescreen TV? Then
Aaron's
is for you! You can rent to own. And then smile when they take it back from lack of payment. It's great! Aaron's has their name on away uniforms for all teams during the regular season.
---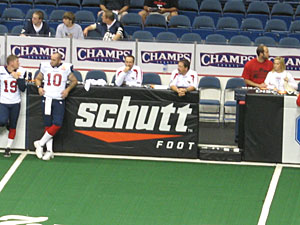 Schutt
Need your head protected from turning into mush? Then wear a helmet provided by
Schutt
. They also sponsor 4th down stops, in which it's referred to that you've "Schutt down" the other team.
---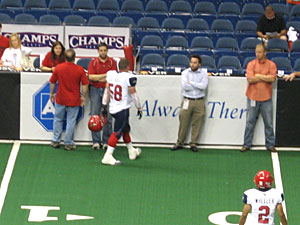 ADT
ADT
is the official sponsor of marital affairs in the AFL. Seriously, watch their advertising. It's messed up. Every commercial features a wife and kid in distress, only to have the husband show up at the end. Where the heck has this guy been the whole time his family has been terrorized by burglars every night?
---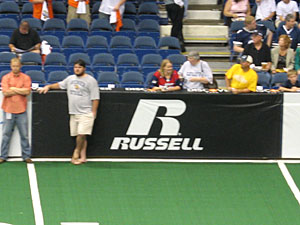 Russell
The official uniform sponsor of the AFL is
Russell
, a company that I swear only has like 2 templates for uniforms and makes every team use them. Gross.
---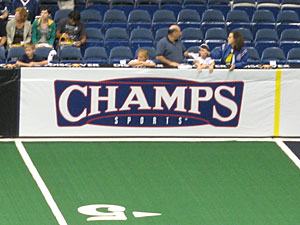 Champs Sports
Blah blah blah,
Champs Sports
. Horrible retail partner with the AFL. We got the shaft on this deal. They don't care to actually carry product. It's pretty lame.
---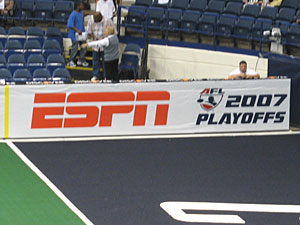 ESPN
The Worldwide Leader in Sports... like spelling bees, poker, and fluff. Thanks
ESPN
!
---
Now let's look at the opposite side (south side), which is not seen on TV. In this case, most of the same advertisers are displayed:
---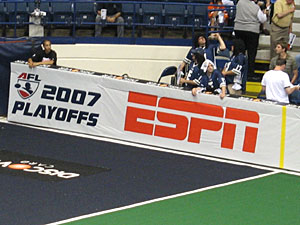 ESPN
Seriously, do they even show sports anymore on
ESPN
? It's like 20 hours a day of
SportsCenter
, filled with anchors who think they are clever, making up catchphrases and stuff.
---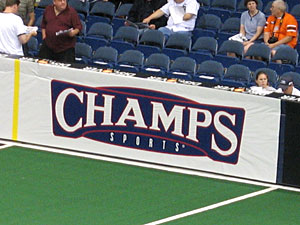 Champs Sports
Champs Sports
-- Bad athletic retailer of the AFL.
---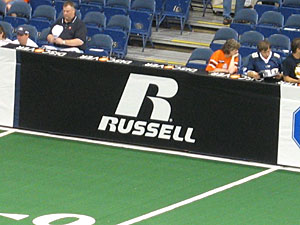 Russell
Russell
-- Bad uniform provider of the AFL.
---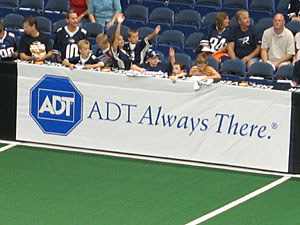 ADT
ADT
-- I'll give them credit, actually. They've stuck with the AFL for a long time and I respect that.
---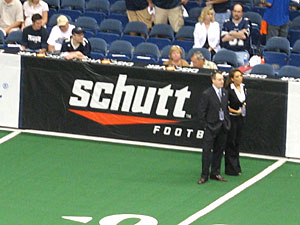 Schutt
Schutt
-- Does anyone recall who the previous helmet provider to the AFL was?
---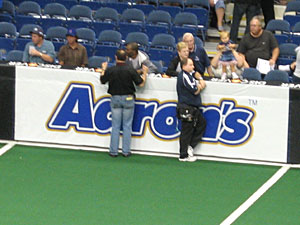 Aaron's
Aaron's
-- Another sponsor that has been around for a few years now.
---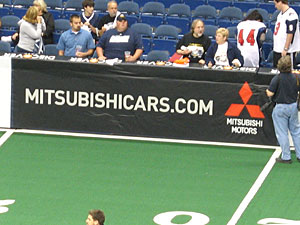 Mitsubishi
Mitsubishi
-- Filling the role dropped by Honda. Thanks Japanese car companies!
---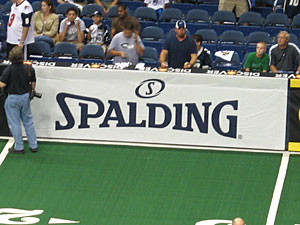 Spalding
Spalding
-- Home of gimmicky footballs!
---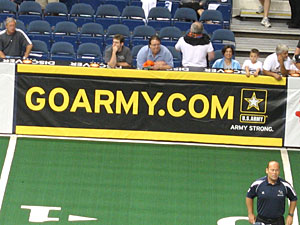 U.S. Army
U.S. Army
-- Advertising their GoArmy.com URL on a sideboard. Ever wonder who owns
Army.com
? A company called FanMail.com, L.L.C. out of Huntsville, AL. And now you know!
---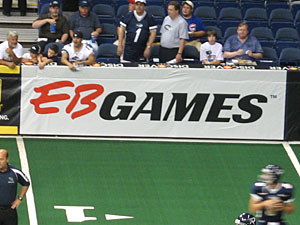 EB Games
EB Games
is the same company as GameStop. They operate under dual brands still for some reason. Kinda like how Macy's and Marshall Field's operate under... oh wait. Rats!
---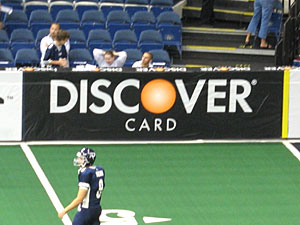 Discover Card
Discover Card
-- Official credit card of the AFL... and for people who can't kick field goals.
---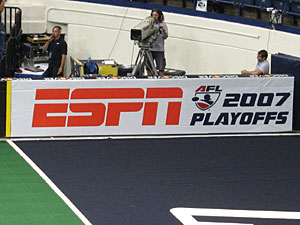 ESPN
Back in the day, Michael Ei$ner proclaimed that the company owned two great brands, Disney and
ESPN
. He then branded everything one way or the other. That's how we got "ESPN on ABC". Weird stuff.
---
Now let's hop over to the west endzone to see what's going on there:
---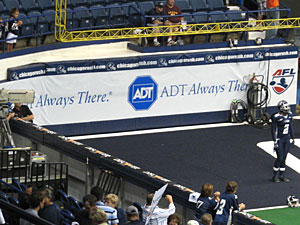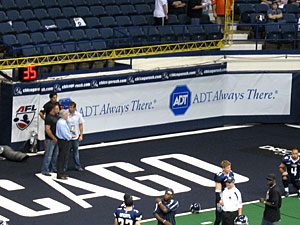 ADT
Over in the west endzone,
ADT
has been given exclusive rights over all the walls. It's not as much space as you think, as there is an opening in the middle of the way for field access.
---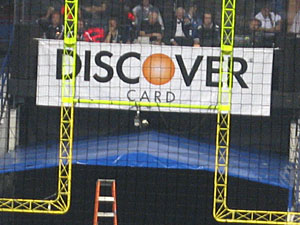 Discover Card
Above the field access tunnel,
Discover Card
has a large banner. It's located right below where the stadium PA announcer sits.
---
And then over to the east endzone... note that unlike during the regular season, there is no advertiser on the open floor area here (typically, this is Bud Light).
---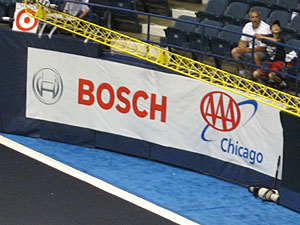 Bosch
Bosch
was thrown a bone and given some signage in the east endzone. Though they have to share a panel with...
AAA Chicago
AAA Chicago
is also a local advertiser. Need a tow out of the parking lot?
---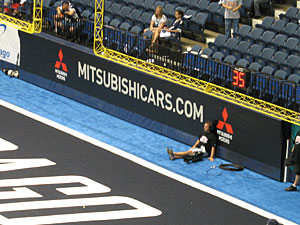 Mitsubishi
Mitsubishi
gets the bulk of the wall in the east endzone. Score a touchdown and buy a car!
---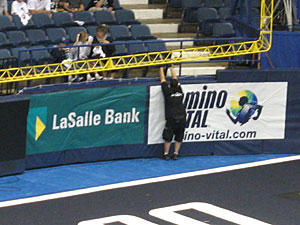 LaSalle Bank
Let's not forgot the bank that is part of a huge investigation by the European Union these days,
LaSalle Bank
.
Amino Vital
Who could forget our favorite official
steroid
nutritional supplement sponsor,
Amino Vital
?
---
Finally, let's take a look at the advertising panels embedded into the field itself. In the case of these photos, I shot them from the opposite side of the field and then flipped the photos 180 degrees for improved readability... thus some folks might seem upside down!
---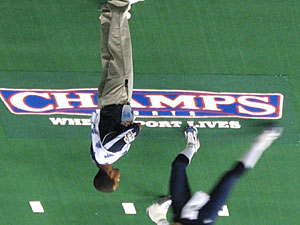 Champs Sports
Champs Sports
quality is so great, it enables you to walk upside down!
---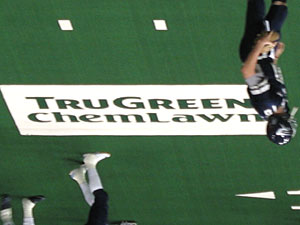 TruGreen ChemLawn
Like chemicals? Like poison? Call
TruGreen ChemLawn
! One sniff and you'll think these guys are walking on the ceiling too!
---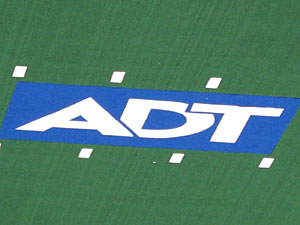 ADT
It's big. It's blue. It's the
ADT
logo!
---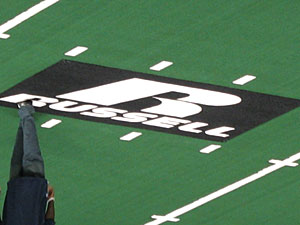 Russell
More advertising from
Russell
, who I will stick hold responsible for providing the Rush with ugly number fonts on their jerseys this year.
---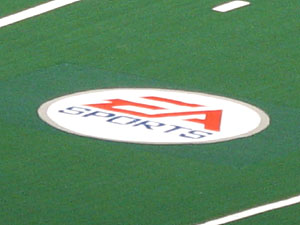 EA Sports
Looking for a sports videogame monopoly to suite your tastes? Look no further than
EA Sports
. They don't innovate. They just purchase competition.
---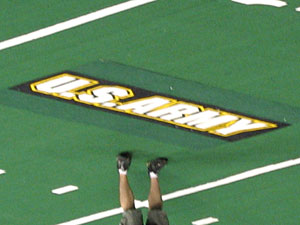 U.S. Army
Ah, the
U.S. Army
. They pulled out of advertising in the AFL for most of the season this year because "it wasn't meeting their goals." Or AFL fans aren't dumb enough to want to get killed in Iraq.
---
Oh, and before I forget, the endzone and top sideboard advertising remains unchanged, with...
---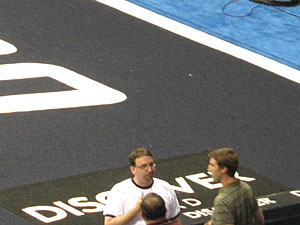 Discover Card
As always,
Discover Card
maintains their advertising on the floor of both endzones and on top of the sideboards along both the north and south ends of the field.
---
And that was our playoff game. The Rush now travels to San Jose to take on the
SaberCats
on Saturday to determine the winner of the American Conference. The victor in the Rush/SaberCats game heads to ArenaBowl XXI!