July 26th, 2007, 11:10 PM
| | | | |
| --- | --- | --- | --- |
| | Head Tanner at TannerWorld | | |
Save the Spindle
Last year,
I wrote about The Spindle
while we were traveling on our
Motoring Illinois' Route 66
trip.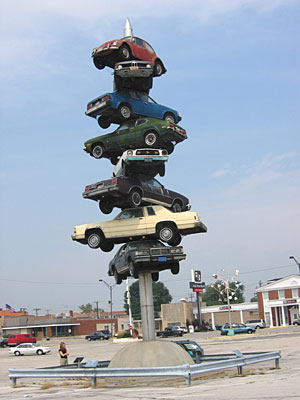 "The Spindle" stands in Berwyn
(Can you find Amy in this August 2006 photo?)
The structure is a piece of "art" found in the Chicago suburb of Berwyn. Basically, it's a 40-foot spike with 8 cars skewered on it, found in an old shopping mall parking lot.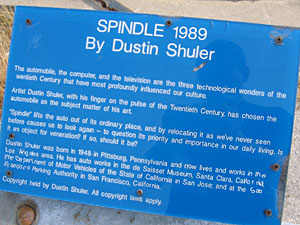 Sign at the base explains this "thing"
(August 2006)
Now, it's a rather unique structure. Some like it. Some hate it. But given that Berwyn is pretty much known for... nothing, it's one of the only iconic things the town has. And when
The Spindle
was featured in the film
Wayne's World
, well, it gained quite a bit in popularity.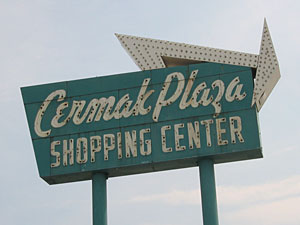 Dated, are we?
(August 2006)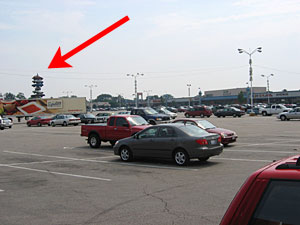 Arrow denotes location of "The Spindle" in parking lot
(August 2006)
That said, when we took at look at it last year, it was obvious that it wasn't maintained. Just observing the shopping center where it was located, one could argue that you could bulldoze the entire area and no one would miss it. In fact, it might actually IMPROVE property values around there.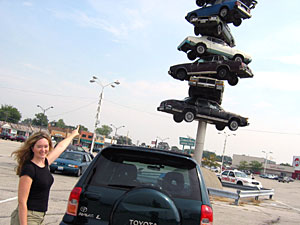 Amy points out "The Spindle"
(August 2006)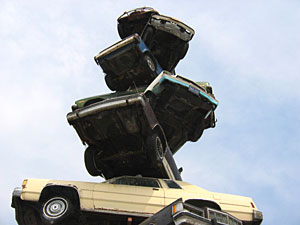 Yup, those are cars!
Nevertheless,
The Spindle
has become one of those roadside attractions that you just need to check out, like a lot of the iconic structures found along Route 66 in the early days. And now, its very existence is endangered. It would appear that the current owners of the rather run-down open-air shopping center are attempting some redevelopment. One of these projects includes adding a freestanding Walgreens...
on the very site of The Spindle
!
So now you have folks who are rallying to
Save the Spindle
, pushing for it to be saved, restored, and relocated.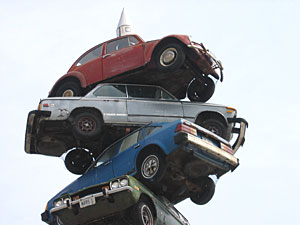 Top of the stack...
(August 2006)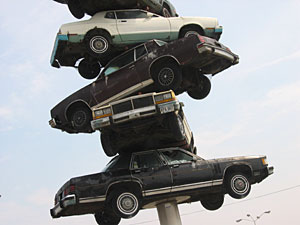 ... and the bottom
(August 2006)
I kinda hope they are successful. (I haven't had a lot of success in "saving" campaigns, as
some may already know
-- though I guess we did "
Save Disney
", didn't we?)
What do you think? Is a structure that looks like this worth saving?
July 26th, 2007, 11:10 PM
| | | | |
| --- | --- | --- | --- |
| | Head Tanner at TannerWorld | | |
Here's a story about the issue from the
Chicago Tribune
:
Quote:
Berwyn's 'Spindle' car sculpture set to fall
Tribune staff report
5:36 PM CDT, July 10, 2007

The 40-foot sculpture of eight cars stacked in the middle of a Berwyn strip mall parking lot—immortalized in books, postcards and the movie "Wayne's World"—will be coming down this summer to make room for a drugstore, officials said today.

But one of the Chicago area's unique pieces of art could be resuscitated, depending on the cost, said Michael Flight, president of Concordia Realty, which manages Berwyn's Cermak Plaza.

"We are trying to completely restore the 'Spindle' and relocate it within the shopping center," Flight said. "The major hitch to that is the first two estimates came in at more than $350,000."

Birds have used the sculpture for a toilet, and weather has started rusting the cars.

The sculpture, sunk in the ground in 1989 in a project that went over its $75,000 budget, will likely come out in August or September to make way for a free-standing Walgreens, he said.

California artist Dustin Shuler, who built the piece, questioned Flight's estimates, saying the sculpture could be restored and moved for less.
August 3rd, 2007, 04:26 PM
| | | | |
| --- | --- | --- | --- |
| | Head Tanner at TannerWorld | | |
Our former state treasurer/political crook Judy Baar Topinka shared a commentary with the
Chicago Tribune
regarding her take on
The Spindle
.
Needless to say, she's not a fan.
Quote:
Spindle in need of a tow truck
No town wants to be known for 'public art' that would be more at home in an auto graveyard, writes Judy Baar Topinka
August 3, 2007

Berwyn is a west suburban treasure.

It has solid bungalows and beautiful Victorian homes. It is great for commuting because of the Metra and its location between two major expressways. It has great ethnic restaurants. And finally, it has good, community-oriented citizens.

But what is it known for? It is the "Burrrrr-wyn" of "Svengoolie," and the site of a vertical, auto graveyard known as "Spindle."

Yes, the "Spindle" did put Berwyn into the movie "Wayne's World." But no other community is bucking to be in something as spoof-oriented and goofy as that film. You don't see Hinsdale or Bolingbrook or Riverside seeking something like the "Spindle" to get notoriety. No community of standing wants to be known for having something better placed in a used-car lot.

Yes, tourists come with cameras and pose in front of the stack of deteriorating cars. These photos are probably sent to homes around the world. And what is the message? That Berwyn prides itself on having a pile of junk cars as its claim to fame. How disrespectful of all that is good and worthy in Berwyn to shout about.

In my days as a reporter and as an Illinois legislator, I received numerous complaints about the "Spindle" and some of the other alleged works of art at Cermak Plaza. People recognized that the "Spindle" was just plain junk. But it was not as bad as "Big Bil-Bored." That piece of expensive garbage, facing busy Harlem Avenue, was a three-story concrete pork-chop-shaped "sculpture" with pieces of landfill trash stuck into it. What a commentary it and the "Spindle" were about Berwyn, sort of a one-two punch.

I spoke to David Bermant, the now-deceased owner of the plaza, when these "works of art" first started appearing there. I noted that there were complaints, especially that the artworks encouraged bird droppings and provided a breeding ground for mosquitoes. An elderly, rather acerbic gentleman, Bermant was not put off by the complaints or my comments. In fact, he said I was representative of the "rednecks" who inhabited the area. If anything, he was going to show us what good art was. He was going to "educate" us, if you will, to appreciate art.

There was no way to get at the junk legally since it was on private property, and I certainly did not want to limit what people could put on their lawns. And so, the "Spindle," "Big Bil-Bored" and other assorted alleged artworks plagued Cermak Plaza until they fell apart on their own or were removed when plaza ownership changed.

The "Spindle" is all that is left, eight cars shish kebabed one on top of another as they rust and rot.

Walgreens wants to put a drugstore on the spot, giving the cars their just reward -- a spot in the auto graveyard where they can disintegrate out of public view.

Sure, the "Spindle" has its supporters, and they are circulating a petition to save it in some way. But to what end? The cars are old and falling apart. Where would the "Spindle" go? Remain at the plaza? Be relocated to the front yard of a school or by the south Berwyn train depot? Do we really want this thing?

The "Spindle" was a pipe dream of a gentleman who felt he could impose his taste in art on others. All he did was to trivialize a great community like Berwyn.

Berwyn deserves better.
Source
April 14th, 2008, 11:07 AM
| | | | |
| --- | --- | --- | --- |
| | Head Tanner at TannerWorld | | |
Apparently,
The Spindle
is now for sale on eBay. Starting bid is $50,000, plus $100,000 shipping costs.
View the auction
April 15th, 2008, 08:58 AM
Assistant Terminal Trainmaster

Join Date: May 2002

Location: Chicago

Posts: 449
Ha. I remember that thing. I have seen it many times, though I have no memories of when or why, probably a magic show in that area. I once had a thought in college (when it was new) that a group of us were going to go at night and climb it and leave something at the top (a flag, etc.) to prove we climbed it.