Where To Go?
To celebrate our second wedding anniversary (
02/02/02
+ 2 = 02/02/04), Amy and I decided to take a trip to
Nashville, TN
. Whereas last year we traveled
north to Wisconsin
, this time around we desired to find a location just a little bit warmer.

That's right, Music City USA
Why Nashville? A couple factors played into this decision:
OK, so maybe that fourth factor played more heavily into our decision making than we admit.
But since our Smoky Mountains trip last year, we've been trying to find ribs that were just as good as Jack's. No one has come close (though
one has tried
). Thus, it was time for a trip back to
Rib Mecca
. Amy booked our flights via
Orbitz
, our hotel via
Priceline
, and landed us a rental car with
Budget
.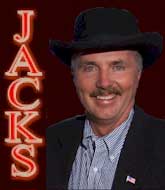 Jack + Ribs = Good!
To take advantage of prices and our own personal schedule, we decided to travel during the week. Thus our trip lasted from Monday, February 2 through Wednesday, February 4. Amy booked us an early morning flight for that Monday, which was painful considering that we were up pretty late for
Super Bowl
Sunday the night before.
Let the adventure begin!
Story Navigation:
1 2 3 4 5 6 7 8 9 10 11 12 13 14 15 16 17 - Next