Live from the Station Inn
Day: 1
Amy had done a lot of research on stuff to do in Nashville, and one hotspot we wanted to check out was the
Station Inn
, a small bar that featured live bluegrass music. Even though the live entertainment wasn't going to start for a few hours, after dinner we decided to locate the bar.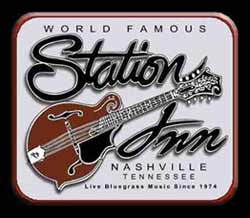 Nothing beats the Station Inn
We drove up and down the street where it was supposed to be located, but all we saw were buildings that looked abandoned. Finally we just parked and started walking, and wouldn't you know it, one of those dumpy buildings was the Station Inn! A quick look inside showed that no one was there yet, so we left and headed back to the hotel. But at least we knew were to return later.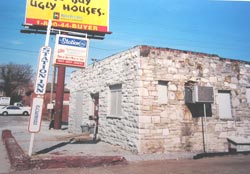 The building sure looks like a dump
After a nap at the hotel (for Amy at least... I don't take naps), we headed back to the Station Inn. Our expectations weren't really high given the appearance of the place. Visualize a bar scene from an action movie, when there is about to be a big brawl. Dark, neon lights, crowded space... that's what it looked like. On the plus side, it was smoke free. We paid the cover charge and found some seats at an empty table. Then the place started filling in. We looked around and quickly found that everyone was older than us.

Monday nights feature The Time Jumpers
Then the music started up, featuring a group known as
The Time Jumpers
. It didn't take long to change our initial perceptions regarding the Station Inn. This place was awesome! It was actually some sort of bluegrass mecca in Nashville.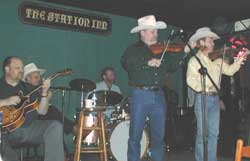 Fiddles, guitars, drums...
The Time Jumpers are a group of folks who by day are studio musicians for the recording industry in Nashville. Then they get together on Monday nights at the Station Inn to just relax and play their own style of bluegrass/swing music. And it's a wonderful experience to listen to them live.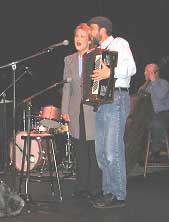 ...accordian, vocalist, bass...
Here you have artists who aren't trying to advance their band or their careers... they are just playing for fun. Guitars, fiddles, accordions, bass, drums, slide guitar, and voices all made for a great time.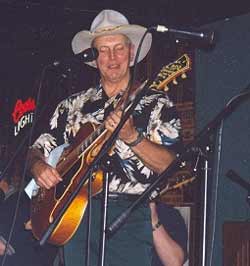 ...and a legend, "Ranger Doug" Green
A special guest who often plays with The Time Jumpers is
"Ranger Doug" Green
, who is also a member of the popular country/western group,
Riders in the Sky
. This group recorded the song "Woody's Roundup" for Disney/Pixar's
Toy Story 2
- which later landed them a Grammy Award for Best Children's Album in 2001.
We thoroughly enjoyed many hours of lively entertainment at the Station Inn... staying until the band was finished. After purchasing a CD (
listen
to some samples), we headed back to the hotel to crash for the night. It had been a very long day!
Story Navigation:
Previous - 1 2 3 4 5 6 7 8 9 10 11 12 13 14 15 16 17 - Next