Hangin' at The Hermitage
Day: 2
It was time to leave the downtown area and head east of Nashville to
The Hermitage
, home of President Andrew Jackson (you know, the guy on the $20 bill).

I love the signature integrated into the logo
If you are ever in Nashville and have an inkling to see some classic architecture and grounds filled with gardens, you might want to stop by the mansion of "Old Hickory" (as Jackson was often called).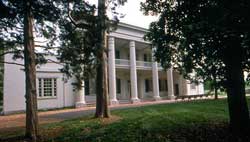 Front of The Hermitage Mansion
What really surprised us was that this facility has been in operation as a museum since 1889, still privately funded. That's a long time, but the advantage is that a lot of history is preserved as it exactly was back then. Due to fire and other renovations, the building has changed its look 3 times throughout history.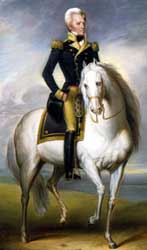 Old Hickory rides!
Jackson first bought the property in 1804 and was farming the land with up to 44 slaves by 1820. He converted the 1,000 acre area into a prosperous plantation for growing cotton and other food stuffs. Jackson became the 7th President of the United States in 1829 and let his son manage the affairs of the Hermitage during this time. (Jackson was also the only President in American history to pay off the national debt and leave office with the country in the black.)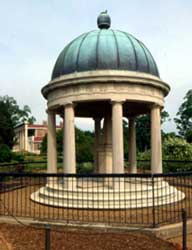 Tomb of President Jackson and his wife
In 1837, Jackson retired from the U.S. presidency and returned to The Hermitage, eventually dying on June 8, 1845. An interesting bit of trivia is that both Jackson and his wife are buried on the property in a domed limestone tomb with a copper roof. Many members of his family are also buried there. At the time of Jackson's death, 161 African-American slaves operated the cotton plantation and resided in dozens of slave cabins.

Former slave Alfred Jackson is buried here as well
Amy and I got to explore some of these cabins, which were really quite small. A unique story that was told to us was that of a slave, Alfred Jackson, who lived at The Hermitage longer than anyone, white or black. He worked as a handyman and tour guide for the Ladies' Hermitage Association when the house opened as a museum. He died in 1901 and his funeral was held in the center hall of the mansion. Alfred is buried in the Hermitage garden, near Jackson's tomb.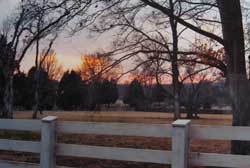 Capturing a Hermitage sunset with our camera
Our visit to The Hermitage was a bit rushed, as it was closing at 5 p.m. that day, so we only had a little more than an hour to see a lot of things. You could easily spend an entire day exploring all the exhibits, architecture, and grounds found on property. It's a well-run operation.
I should note here my motivation in wanting to see The Hermitage. As many of you know, I have written a couple sets of
custom information inserts
for a series of DVDs called the
Walt Disney Treasures
collection. These DVDs contain archival footage from many Disney properties, including classic
Disneyland
TV shows and original Mickey Mouse shorts.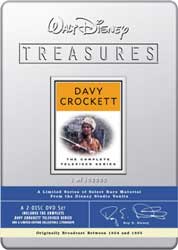 "Davy, Davy Crockett... King of the Wild Frontier"
One of the sets featured all 5 episodes of the original
Davy Crockett
series. During the 2nd episode of this series, Davy visits Andrew Jackson at The Hermitage in Nashville. The Disney producers were allowed to film the actual exterior of The Hermitage for the series. So I felt a small connection there and wanted to check it out in person!
Story Navigation:
Previous - 1 2 3 4 5 6 7 8 9 10 11 12 13 14 15 16 17 - Next