Wild Times at the Wildhorse Saloon
Day: 2
Amy and I returned to our hotel and took advantage of the free late afternoon snacks they offered there. Nothing like some
Chex Mix
to hit the spot when you are between meals. We opted for a late dinner, and in doing so, killed some time at the hotel room doing research on things we had yet to explore in Nashville.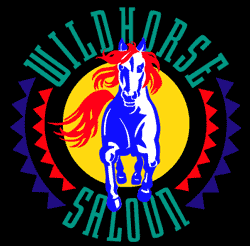 Vibrant logo, bland food
Eventually, around 8 p.m. we headed downtown to the
Wildhorse Saloon
(yup, a Gaylord property!). The Wildhorse has a large stage and dance floor, where line dancing is often taught. Up-and-coming music acts also perform there, so it's a lively environment.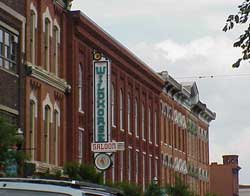 Exterior during the day
Unfortunately, during our visit no dance lessons were taking place. On top of that, a really annoying band was playing. To make matters worse, the food was quite awful. It's a popular tourist destination in Nashville, but we weren't all that impressed, which was disappointing.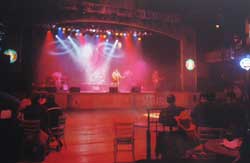 Talentless band performs for us
Perhaps if a better selection of talent and activities were taking place, our opinions would be different. Amy did, however, buy a drink and take home a very nice souvenir glass. But stay away from anything that contains their "famous barbecue sauce"... uggh!
Here's what we ordered so you don't repeat our mistakes:
Tumbleweed Onion - Thin onions battered in buttermilk, fried golden, piled high and served with ranch dip.
Steve & Amy's Take: This is the Wildhorse Saloon's version of Chili's Awesome Blossom or Outback's Bloomin' Onion. You are best to stick with those. The only good place for the Tumbleweed Onion is dumped on the ground with the tumbleweeds.

Kickin' Chicken Salad - Seasoned chicken breast, corn, roasted red peppers, red onion, cheddar cheese and cayenne buttermilk dressing.
Steve's Take: It doesn't get more "blah" than this. Way too much iceberg lettuce with no flavor! Comparably, the chicken salad at Chili's is 100 times better.

Southern Fried Chicken Tenders - Southern fried crispy chicken tenders (Traditional or Barbecue) served with French fries and spicy cole slaw.
Amy's Take: She ordered these with the "famous barbecue sauce," which must only be famous for tasting like crap. Plus, I don't think chicken is supposed to taste like rubber.

Boot Scoot - A two-steppin' tango of Peach Schnapps, Amaretto, Southern Comfort, cranberry and pineapple juices.
Amy's Take: Very good!

Lemonade - Duh, it's lemonade
Steve's Take: Probably Minute Maid Lemonade from the soda fountain. I just wanted something caffeine-free.
In conclusion, cool place - bad food. If you visit, just buy a drink at the bar and soak in the environment. It's your best bet (and the most affordable one!)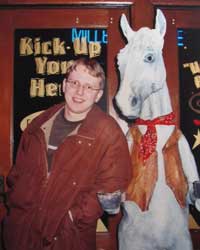 Steve and a wild horse!
Oh, and before you throw the question my way, I pulled this from the restaurant's frequently asked questions:
Quote:
Does the Wildhorse Saloon have a mechanical bull?
No.
Story Navigation:
Previous - 1 2 3 4 5 6 7 8 9 10 11 12 13 14 15 16 17 - Next